A Year of Healthcare for Jenny & John
Jenny Hope and John Michalski are my friends from church choir here in Iowa City, a funny, warm-hearted couple who love cats, books, and singing, and who've spent their careers helping others. They're both suffering from chronic illness and are un-/under-insured.
My goal is to raise $12,000 to cover a year's worth of their out-of-pocket medical expenses, enabling them to start new treatments, take the stress of medical debt off their plate, and help them return to health. Here's their story.
From an Iowa farm and Chicago respectively, Jenny and John met in an online group for fans of "The Office." Through the chat they figured out they had a lot in common: they were both living in Iowa, she worked in public health and he in social work, and of course they both loved "The Office," not to mention their pets, Indian food, and social causes.  Emails led to phone calls, phone calls led to dates where they completely "clicked," and they married a year later, in 2010.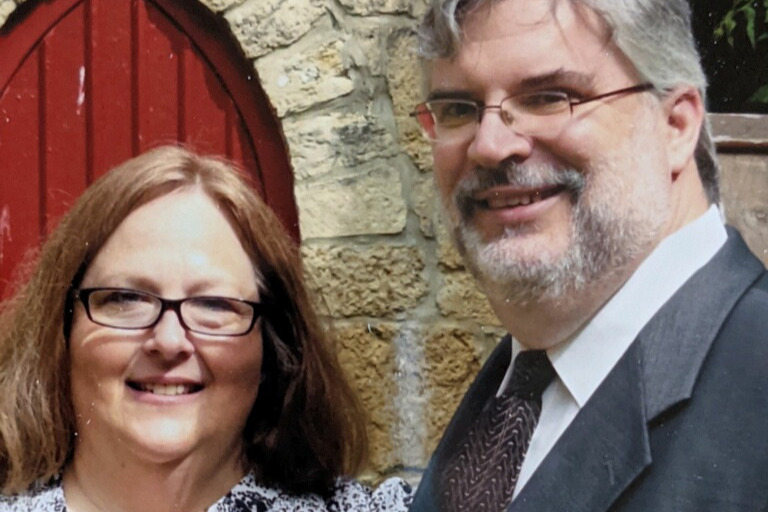 In 2016, Jenny started suffering from mysterious, excruciating sores on her legs. Over the next three years, her condition deteriorated while she went from one misdiagnosis to another. In 2019, a dermatologist determined she has pyoderma gangrenosum, a rare autoimmune condition in which painful skin nodules become ulcers which swell, burst, easily become infected, and require painful daily dressing changes.
Elevating her legs to prevent the ulcers bursting meant that Jenny became less and less mobile and was finally forced to leave work. Her doctors' decision to manage her chronic pain with Ibuprofen resulted in kidney damage and 7 harrowing hospitalizations in 2019, including terrifying bouts of a-fibrillation and the looming threat of dialysis, which thankfully she has so far avoided.
In September 2019, John left his job to become Jenny's full-time caregiver, but in the summer of 2020, he began developing his own health problems – chronic pain, fatigue, and weakness. Initial evaluations point to an underlying autoimmune problem, possibly polymyalgia rheumatica, but doctors need more blood work to make a diagnosis, and without insurance, John cannot afford these tests.
Jenny and John are at a real impasse, both financial and medical. Keeping up with medical bills has taken an emotional and fiscal toll. Jenny has seen more than 10 specialists in the last 5 years, and for the last two years her medical care has consisted only of symptom and pain management, neither very effective. She and John both need help to start a course of treatment that will address the underlying causes of their autoimmune problems.
A great match for their needs exists here in Iowa City, at Upstream Functional Medicine, the practice of Dr. Julia Buchkina, MD, MPH, IFMCP (www.upstreamfm.com). Dr. Buchkina uses a patient-centered, evidence-based approach to identify and address the root causes of chronic disease, focusing on helping the body function optimally through food, mindfulness, movement, sleep, and relationships, in addition to supplements and prescription medication when needed. She has extensive experience treating a range of auto-immune and inflammatory diseases such as Jenny's and John's.
The $12,000 I am trying to raise would cover a year of outpatient health care for Jenny and John: an intensive 6-month medical program for each of them at Upstream Functional Medicine, including medical appointments, periodic health coaching, courses, and online support meetings ($3,497 each, not covered by Jenny's insurance), an additional 6 months of ongoing medical support at Upstream ($249/month each), and $2,000 for out-of-pocket medical expenses such as wound care supplies and medical tests.
Years of chronic pain and dead-ends have been disheartening, but Jenny and John are optimistic and determined about embarking on this new phase of their health journey. Jenny says that she is eager to see a Functional Medicine physician "who will attack the auto-immune condition with a holistic approach, including diet and lifestyle." She is ready to do whatever she can to heal and "get my life back – I refuse to accept being an invalid for the rest of my life." John wants to find a diagnosis for his condition and embark on his own holistic treatment so he can support Jenny on her road back to health.
If you have health insurance that enables you to get the medical care you need when you need it, I'm asking you please to share that gift with Jenny and John by donating to this fund. Thank you so much for whatever you are able to give. I am giving to this cause because after being with Jenny and John on this journey for the last three years, I believe it is the only way to help my friends move forward and recover their joy, energy, and quality of life. I want to see them both up and about and able to sing in choir, attend our parish's 20th anniversary celebration, and socialize with friends again as we all emerge from the pandemic.
To help get out the word, please share this link on social media. Thanks so much!
                 Jenny and John getting received into the Eastern Orthodox Church, Holy Saturday 2019.
         Fellow St. Raphael choir member Kristi Abuissa gives John a COVID-era haircut at home, April 2021.