Surgery and Adoption for Wei Er
Without life saving surgery Wei Er will not live to see her second birthday.
Wei Er is only 16 months old, but has already had a challenging life. She was abandoned by her birth family in rural China, most likely due to her tumor (which was visible on her face at the time). She was transferred to a private foster home in Beijing, Dew Drops Little Flower, which cares for medically fragile children with complex medical needs. During her entire time at Little Flower, she had frequent fevers and trouble putting on weight. Little Flower was able to get her a MRI and biopsy in Beijing, but after reviewing her scans, it was clear that the surgery to remove her tumor was going to be very complicated and not possible in China. It was determined that no more could be done for Wei Er and she was returned to her orphanage in rural China where the doctors in Beijing estimated she would die by the end of the year unless we can get her surgery in the US.
If you are new to the fundraiser we had originally needed to raise $283,000 to give her life saving surgery as an orphan on a medical visa to the US. China has recently completed her paperwork for international adoption; we now only need to raise $35,000 over the next 30 to 60 days to pay for her adoption and surgery costs (because once adopted, our medical insurance will cover the majority of her medical costs. Please see our previous update for more information on the change in costs.
She has an invasive neurofibromatosis tumor (NF1) growing in her face, head, and neck; she requires an entire surgical team with experience in with NF1 tumors in children in order to safely remove the tumor. There are only 3 or 4 pediatric hospitals in the US that have a experience doing these sorts of surgeries.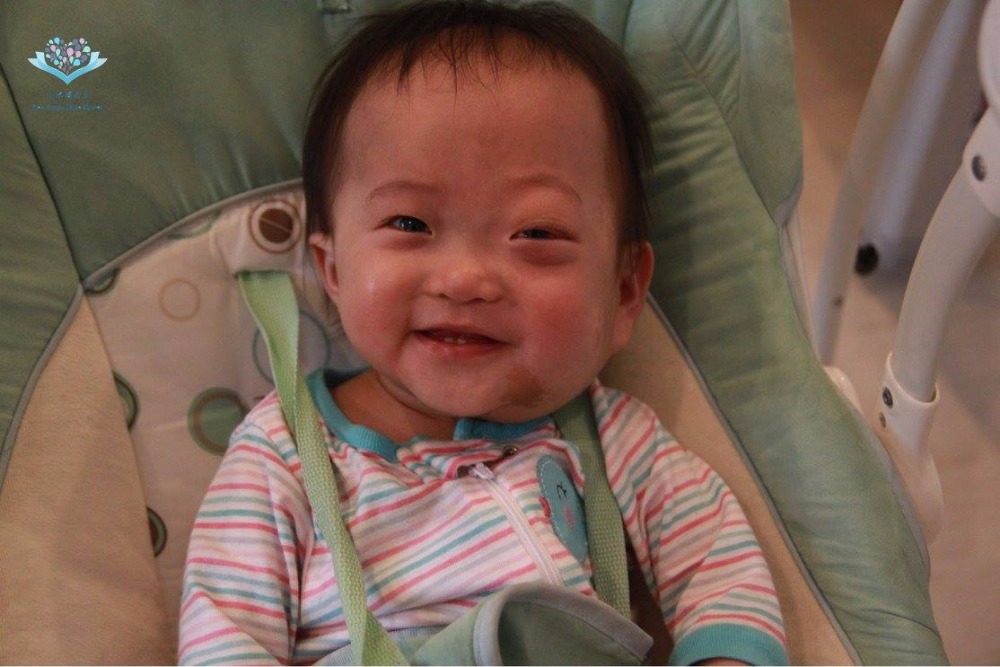 The amazing team at Seattle Children's Craniofacial Center will be performing her surgery. After reviewing her MRI and medical history, they are the only surgical team that would even attempt the surgery. God bless them!
In a meet-cute designed entirely by God, we met Wei Er while in China.  We are Patrick and Lauren Childers, from Marietta, Georgia. We have four daughters, the youngest two were adopted from China in 2014 and 2016. We were traveling to adopt our second Chinese daughter, and fourth child in September 2016. We took an extra day to deliver some medical supplies and meet with a few foster homes in Beijing. My husband, Patrick, works for a non-profit which connects doctors in the US with children like Wei Er so that doctors in the US can consult on their treatment. Meeting a child in need changes everything. We are doing everything in our power to save her life.
Please join us by praying over Wei Er, her doctors, her medical team, this chance at life, and, if you are able, to contribute to her medical and adoption expenses. 


Thank you for all your gifts and prayers- every dollar matters, every prayer is moving mountains. It's humbling to be a part of her story. 
The estimate costs for her surgery and adoption is:
$13,300 for the surgery in Seattle
$13,700 in Adoption and legal fees
$8,000 in International Airfare, Hotels, Local guides, and in-country flights/train fees
Thank you so much for your generosity!!


Any funds given above our actual medical and adoption expenses will be donated to Childspring International, a non-profit that provides life-changing surgeries for children in developing countries.
We understand this is a lot to fundraise, but we know she is worth it. Thank you for every penny. God is writing her story, and we are so grateful to see His mighty hand at work in this tiny child's life. 
"I will not forget you.
Behold, I have engraved you on the palms of my hands...
I will contend with those who contend with you,
and I will save your children...
I am the LORD your Savior"
Isaiah 49: 15-16, 25, 26

Organizer