A microscope for amateur science in Wales
Help independent scientists unveil an extraordinary new fossil deposit... and watch the results!The short version
An incredible new fossil site has been found in the centre of Wales, discovered and studied by a local married couple who are prominent independent (i.e. generally unpaid) scientists. To reveal it to the world (including public updates that will give you a front-row seat to the whole scientific process), we need a research-quality photomicroscope...
The microscope will also be made available to anyone who needs it. This not only has a real impact on uncovering a new chapter in our knowledge of ancient life, but provides a currently unavailable resource for the whole of the region. Please support us now, and watch the results flood in!
This is a big ask, we know... so we've tried to cover all the bases in our proposal below. Thank you in advance for your attention; we believe it will be worth the effort!
To get to know us and how we work, please scroll down for lots more detail about us, the microscope, and likely questions you'll have... and also have a look here (it was a lot of fun to do, but we don't claim to be film-makers..!):
The scientists
We (Joe Botting and Lucy Muir) are a husband-and-wife team of research palaeontologists. We're well-known researchers, with PhDs, a lot of postdoctoral research experience, and seriously high standing within the field (see our researchgate profiles:
Joe
  and
Lucy
  ). We are responsible for the discovery of some of the most important fossil sites in the UK, including the Afon Gam Biota and the Llanfawr Lagerstätte (Lagerstätten are the rare fossil deposits that preserve delicate skeletons and soft tissue remains, as well as hard parts like shells). We are at the forefront of global research in our field, which includes understanding how the earliest animal ecosystems in the Cambrian Period changed into the more familiar, later world. We have published in major journals such as
Nature
,
Current Biology
,
Nature Ecology & Evolution
, and
Geology
, and have published nearly 100 scientific papers between us. We have carried out fieldwork on five continents, and published papers on fossils from some of the most iconic deposits around the world, such as the Burgess Shale (Canada), the Fezouata Biota (Morocco; we were involved in the discovery), the Sirius Passet Biota (Greenland), the Hetang Fauna (China) and the Anji Biota (also China; we also discovered this one). We are also regularly asked to collaborate with researchers around the world, and have ongoing projects in China, the Czech Republic and Morocco.
Most of the time, though, we are not paid to do science (and no, scientists don't get any remuneration for publishing papers). We sometimes work in China, on short-term fellowships, and have Honorary Research Fellow (i.e. unpaid) status at the National Museum of Wales, but we earn a living in other ways. Lucy is a freelance editor, whereas Joe is a freelance musician (mainly busking!), natural history tutor and occasional insect surveyor. It's not a luxurious life, but we make ends meet well enough, even if we don't have much spare cash. We live in a slightly crumbling old house in Llandrindod, in the middle of Wales, which is a place that we love... and although we moved there for the fossils, we are now also heavily involved in the community (for example, organising the local community orchard, the transition town group and the repair cafe).
photo: yes, Lucy and Joe are always this happy when they've got really exciting fossils to study... (in this case, the Anji sponges of China, with Lucy holding a modern 
Euplectella
.
In Llandrindod, we run a local amateur fossil group, provide public talks and workshops, visit local primary schools, and run field trips. We even offer our personal space, time and equipment to anyone who has need of it, simply to encourage a love of the natural sciences. This includes our microscopes, camera equipment, teaching collections of specimens, and an extensive library, all of which we have either purchased ourselves (or collected, in the case of specimens!), or have had given to us by supporters. Joe also contributes significantly to natural history in the UK, being one of the two people behind the popular website
British Bugs
  – which is also done on a voluntary basis, including answering all the ID queries that come in every day!
We self-fund our work in Wales, and have been able to continue publishing new research on the wonders of this extraordinary place and its unique fossil heritage. Until recently, it was enough.
photo: low-tech but effective... Lucy demonstrating superior fossil-finding
skills
.
See here for popular write-ups of some of our most important discoveries:
Welsh radiodont National Musem Wales blog 2020
Anji Biota discovery on LiveScience 2017
Welsh Llanfawr Biota BBC 2011
Fezouata Biota discovery LiveScience 2010
The new discovery
Our needs have changed due to the discovery of a new fossil deposit that has enormous potential, and is probably much more significant than any we have found before. The site is a small quarry owned by Ben Douel (also an enthusiastic organiser of this campaign), which Joe and Lucy have been studying for some time because it contains numerous fossil sponges (Joe's main specialism). It has recently become obvious that the fauna is a genuine Lagerstätte: a site that contains a wide range of truly extraordinary fossils, complete with soft tissues, and entirely soft-bodied animals that would otherwise not be seen in the fossil record. Most of the fossil species are new to science.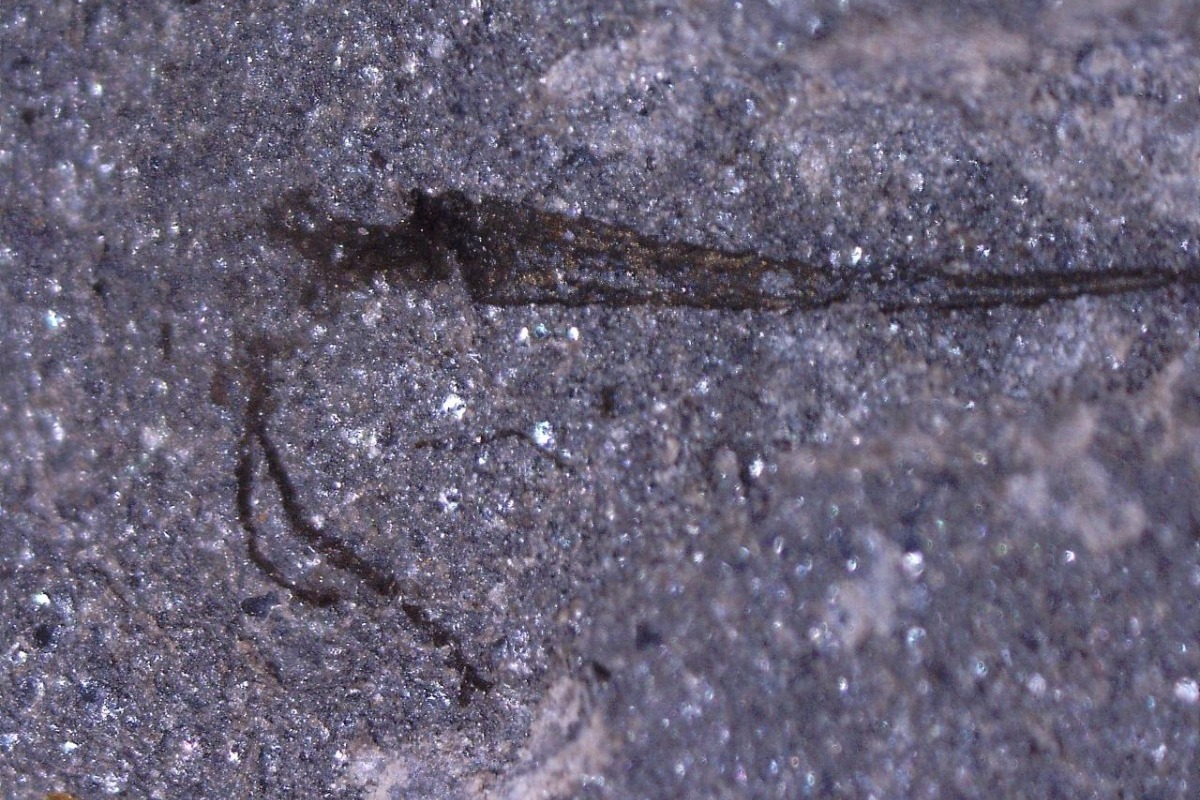 photo: a tiny, tube-dwelling animal with tentacles, just waiting to be described...
The fauna includes a huge diversity of exquisite fossil sponges, together with arthropods, worms, small animals with tentacles... all fossilized with remarkable detail that rivals the great Cambrian fossil deposits like the Burgess Shale and Chengjiang. In fact, there is a striking similarity to
the Chengjiang Biota
  (which is among the most important of all fossil sites on Earth) in the types of sedimentary rock layers, and how the fossils were preserved.
Such discoveries come along much more rarely than a blue moon, and give us enormous amounts of new knowledge. Studying the fossils takes many hours of detailed work using microscopes, and photographing minute details to a level fit for publication. With larger fossils this is not so difficult, but the smaller the details, the more challenging it becomes. Papers will be rejected if the illustrations are not of high enough quality.
The level of detail in these fossils, and also the small size of many of them (down to sub-millimetre worms with minute spines and bristles) makes photographing them extremely challenging. Our personal set-up is just not good enough... and that's where you come in.
We would like you to support our work, in order to purchase a research-quality photomicroscope
. This will allow us to photograph the small details at the level necessary for publication, as well as creating beautiful images for popular publications and news releases.
The microscope would also be a resource for amateur scientists of all types, through the system we already have in place for people to use our facilities.The microscope
There are various levels of microscope. The one we have already is extremely useful on a day-to-day basis, but it has insufficient magnification for this work, and we can't take photos with it; for that we rely on a DSLR camera with macro lens, and a little USB digital microscope. Sadly, they just won't do the job.
At the next level up there are 'affordable' photomicroscope systems that cost a few thousand pounds, but are not necessarily perfectly made, and have limitations in what they can do. This would still be a big improvement on the system we have here, and if we receive that sort of level of support, we would be very grateful, and would make the best of it!
What we really need, though, is cutting edge equipment, because this is the only way to understand and convincingly image the fine details of these fossils in all their glory. Our ideal choice is the Leica M205C: a truly wonderful piece of equipment that will serve all our purposes, and this is what the target is set for. We have used this type of microscope before, and know that it will answer our needs.
photo: Joe using a research-grade microscope in Nanjing, China
This stereomicroscope will have a dedicated camera system, zoom magnification up to around 240x (dependent on the exact lenses we can afford), extremely high-quality optics for sharp images, a camera lucida drawing tube (essential for some of our work) and dual lighting options for high-angle (to highlight differences in colour or reflectivity) or low-angle (to show slight relief) light. We will supply the necessary PC to run the imaging software.
Our pledges
Having support to enable us to purchase this magnificent resource is no small thing, and we are already humbled by the encouragement that the proposal has received. The least we can do is make the best possible use of the microscope and the project, and to that end we make the following pledges:
1.
The results of this research will be made available not only through the published papers, but also, as far as possible, at a popular level through online platforms such as Youtube (once confirmed, links will be provided via an update to the proposal).
2.
The microscope will be available to anyone who needs to use it, by appointment. It will be in our house, and we can't guarantee we'll be available at any particular time, but anyone, whatever their field of interest (archaeology, botany, geology...) will be welcome to make use of this resource. We will also (as we already do) share our extensive library on natural history subjects, and other resources, in order to encourage independent research across the sciences.
        If we receive a relatively small amount of support that means we can't stretch to the microscopes we really want, we will find another option that will increase our potential for imaging to a lesser degree. There are other possibilities, even though they are not nearly as good.
       If we are overwhelmed with support, there are all sorts of enhancements and additions that can extend the imaging capabilities: extra objective lenses, filters,  and so on. If we get near to double the target, we can start looking at a desktop Scanning Electron Microscope as well - and that truly would be a dream..! So whether we fall short or overshoot, we will have ways of making the donations all count towards the same goal.
Questions you might have...1. Can't we apply for money officially?
Being independent researchers (i.e. not university/museum employees), we are not eligible to apply for the sorts of grants that would enable us to buy such equipment (e.g. the UK research councils). This is a major problem for amateur and independent researchers, who have to buy all their own equipment, and which ends up limiting their abilities to do the research. By going through this route, we can let other amateur researchers across the region bypass the same problems... which many will be experiencing.
2. Don't we have access to microscopes at the National Museum of Wales?
Yes, we do have access to a similar microscope in Cardiff (without
camera lucida
, though...) but it's a four-hour journey, and we can only study a few specimens before we need to come home. We can do that occasionally (and do, when we need an electron microscope, for example!), but can't afford to do it regularly. We can stay a few days, but then need accommodation, food... all of which are very significant costs for us, especially as this is time that we can't spend earning a living. In short, we can't afford to use this equipment regularly.
3. How much time do we really need using it?
It's not just the imaging that's crucial: it's the time spent studying the specimens in order to understand them. This can often be many hours for a single complex specimen, and using camera lucida to make interpretative drawings takes a loooong time. And we have thousands of specimens. You get the idea; this machine will be a significant part of our life.
4. Can't we get collaborators in universities to do the imaging for us?
Well, sort of... and we will, for the groups that they specialise in and where they will lead in the writing up. That doesn't help us with the groups that we're studying personally, though, or with our understanding of the fauna. As very much the lead researchers on this project, we need to be able to lead from the front and understand the fauna as a whole. This means being able to make useful photographs and interpretations of the fossils to start with, so that we are not dependent on others for the whole process. In short, it just doesn't work for most of the fossils.
5. Why don't we have academic jobs?
Unfortunately we fell into a gap of several years when no university lectureships in palaeontology became available in the UK, just when we needed one. Nonetheless, between us we've held fixed-term research positions in the University of Cambridge and the Nanjing Institute of Geology and Palaeontology, and have held jobs in the Natural History Museum, London, and Leeds Museum. We came very close to being given permanent university lectureships on a couple of occasions, but after two years in China, moved to Llandrindod as a stop-gap. After a while, we realised that we could earn a living and carry on research independently... and that's what we decided to do, partly as a conscious decision for our quality of life. We're still treated as academics, though, by our colleagues... and have an international reputation for our skills in finding fossils, and for our expertise in our particular areas.
A new species of primitive starfish, a mere 2 mm wide. And no, we can't see the detail that we need to!
Thank you for your support!
Fundraising team (3)
Joe Botting
Organizer
Raised £5,353 from 39 donations
Llandrindod Wells, Wales, United Kingdom
Benjamin Douel
Team member
Raised £1,630 from 12 donations
Lucy Muir
Team member
Raised £170 from 3 donations