A CHRISTMAS CAROL Remount at the Campbell House!
The Three Ships Collective, with the support of Soup Can Theatre, is remounting our 2018 site-specific smash-hit adaptation of A CHRISTMAS CAROL, and we need your help to make it happen!
Cast of "A Christmas Carol". Shot by Graham Isador, 2018ABOUT OUR PRODUCTION
The Three Ships Collective's A CHRISTMAS CAROL is an
original
and
immersive
adaptation of Charles Dickens' story, set in the historic
Campbell House Museum
  located at the corner of Queen and University in downtown Toronto. Written by
Justin Haigh
, directed by
Sarah Thorpe
, and with musical direction by
Pratik Ghandi
, this production invites audience members to step into the world of Victorian London and follow flinty miser Ebenezer Scrooge on his ghostly journey of redemption. It was first staged in December 2018 and was an immediate success;
selling out the entire run
even before the first public performance, and receiving
rave reviews
from both the press and public alike. The production was recognized at the
2018 My Entertainment World Theatre Awards
 , with lead actor
Thomas Gough
winning for '
Outstanding Leading Performance in a Play (Independent)
', and director Sarah Thorpe and actor Alex Dallas nominated for '
Outstanding Direction
' and '
Outstanding Supporting Performance in a Play (Independent)
' respectively.
Our adaptation includes new scenes, characters, historic details, and narrative twists that do not exist in Dickens' version, as well as songs and musical elements written specifically for this production. Our fresh take on this classic tale allows us to evoke contemporary issues and themes of social justice through the lens of the past, as well as to emphasize the universal, secular, and humanist themes of the story, making it appropriate holiday fare for Torontonians of all backgrounds.
Illustration of the Ghost of Christmas Yet to Come and Scrooge by John Leech, 1843WHY SUPPORT THIS PRODUCTION?
Our inaugural production was an entirely self-funded labour of love, and although we are delighted to be heeding the many enthusiastic calls for its return, our goal is to build a more sustainable financial framework around this year's production so that we are able to present the highest quality of work possible, while also ensuring that our production remains accessible to audience members of all socio-economic backgrounds by keeping tickets moderately priced.
The site-specific nature of the Campbell House means that our audience sizes are restricted compared to a traditional theatrical venue and limits our potential for revenue from ticket sales even further. The expenses associated with this ambitious production are, however, no less significant and include, but are not limited to:
·  Suitable fees for all artists involved·  Venue and rehearsal space rentals·  Period-appropriate costumes and props·  Production Insurance and other administrative costs·  Photography and videography·  Marketing and publicity·  and much more!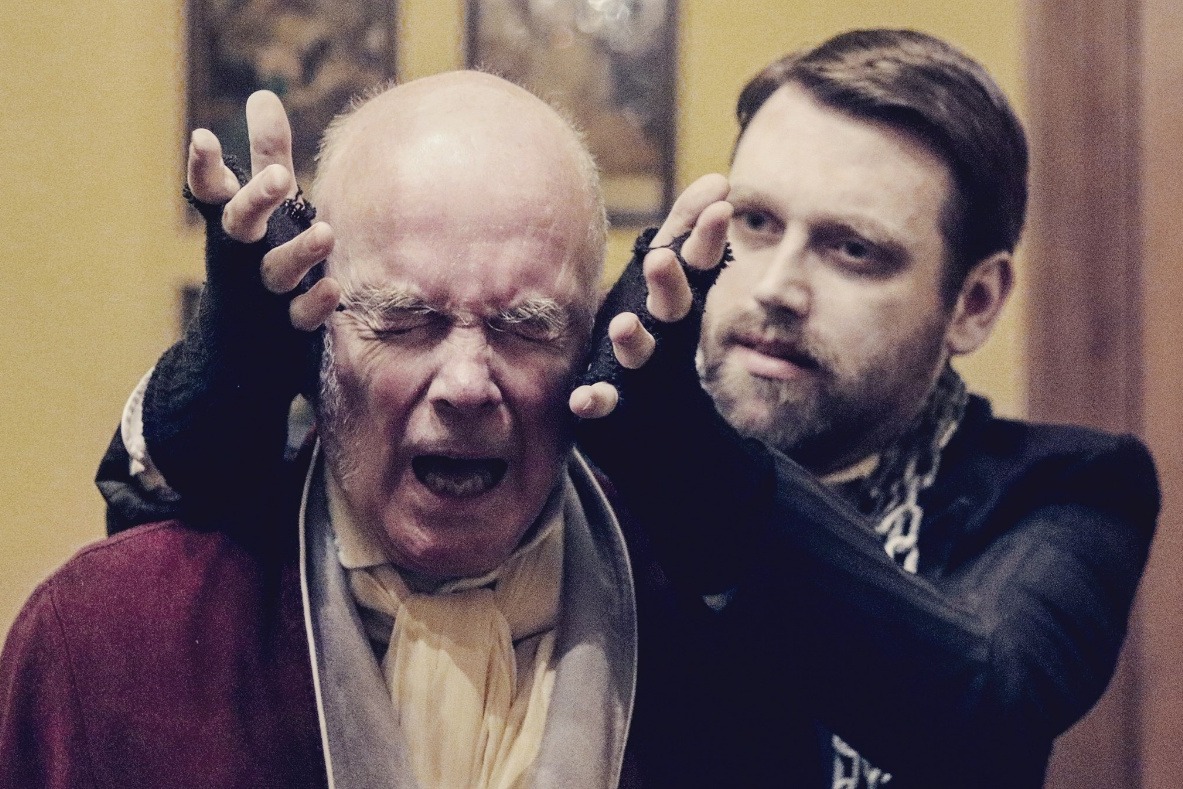 Thomas Gough as Scrooge and Christopher Fowler as Jacob Marley. Shot by Graham Isador, 2018
We also plan to honour A CHRISTMAS CAROL's key tenets of charity and giving by holding a sock drive in conjunction with registered charity,
Socks4Souls
. Socks are the most needed but least donated clothing item in homeless shelters; we will encourage all ticket holders to bring a new pair of socks for us to collect on behalf of Socks4Souls who will distribute them to local shelters.
If we can reach our fundraising goals through this campaign and other efforts, we will able to commit to even more ambitious accessibility initiatives like participating in
TAPA's citySPECIAL program
 which distributes complimentary performing arts tickets to residents of at-need communities and to offer one or more ASL interpreted performances for the D/deaf community.
Campbell House MuseumPRESS AND REVIEWS
Here are just a few of the very kind words Toronto's critics have written about The Three Ships Collective's A CHRISTMAS CAROL:
NOW Magazine – NNNN
"Charles Dickens's A Christmas Carol is so ubiquitous at this time of year that it's hard to approach it with any sort of freshness. Thankfully the ingenious folks at the Three Ships Collective and Soup Can Theatre have done just that. … Brilliant … Impeccable …  A one-of-a-kind production which deserves to become an annual event."  [Full review
here
]
MGT Magazine - ★★★★
"Delightful … Charming … Taut and propulsive … I had a tear in my eye … This production is extravagant in ways that a Scrooge would not approve of."  [Full review
here
 ]
Sesaya Arts Magazine
"It is a most unusual experience – and it is excellent.  …  You feel as if you are inside the Victorian world that the characters inhabit  …  A unique and truly wonderful production. … "[Full review
here
 ]
Slotkin Letter
"One of the best productions on offer … Uses the gift of setting the story in the Campbell House Museum to its full advantage … Exemplary and magical."  [Full review
here
]
Thomas Gough as Scrooge, Kholby Wardell as Peter Cratchit, Makenna Beatty as Tiny Tim, William Matthews as Bob Cratchit, Margo MacDonald as Emily Cratchit, and Tamara Freeman as Martha Cratchit. Screen shot by Laura Dittmann, 2018.ABOUT THE THREE SHIPS COLLECTIVE & SOUP CAN THEATREThe Three Ships Collective
is an artists' collective formed in 2018 for the purpose of creating and staging this production of A CHRISTMAS CAROL. It is comprised of accomplished and critically-acclaimed artists and production team members whose credits include (among many others) the Off-Broadway musical "Ride the Cyclone", notable film and TV productions "Murdoch Mysteries", "The Umbrella Academy", "Reign", and "The Strain", and blockbuster video game franchise "Assassin's Creed".
Soup
Can Theatre
is a Toronto-based company that explores and comments on contemporary issues and societal challenges, offering audiences a theatrical experience that is both entertaining and enriching. Founded in 2009, Soup Can Theatre has been producing truly independent theatre, garnering critical acclaim, multiple awards and accolades, and a dedicated following of theatre-goers. Shows have included ambitious and immersive musical productions ("Love is a Poverty You Can Sell" I & II), contemporary re-imaginings of iconic works ("Marat/Sade", "Antigone", "A Hand of Bridge", "No Exit", "The Threepenny Opera in Concert"), intimate original creations ("HERETIC") and unique and daring collaborative concepts ("Circle J*rk"). Soup Can Theatre is a proud member of TAPA (Toronto Alliance for the Performing Arts).
Both the Three Ships Collective and Soup Can Theatre operate on a not-for-profit basis.
Thomas Gough as Scrooge. Screen shot by Laura Dittmann, 2018.
We are accepting donations from now until the end of the production's run. Donate today, and help us make our ambitious plans for this remount a reality! A CHRISTMAS CAROL will run November 30 - December 22, 2019.
Tickets for the 2019 production are ON SALE NOW! To purchase tickets and for more information, please visit ChristmasCarolTO.com. 

Stay tuned to Soup Can Theatre's social media for updates on the production, ticket sales, and more. @SoupCanTheatre on Facebook, Twitter, and Instagram. #ChristmasCarolTO


Ensemble with Jim Armstrong as Fezziwig. Screen shot by Laura Dittmann, 2018
Organizer
The Three Ships Collective
Organizer
Toronto, ON