Youth Empowerment: AVB Supporting DC Young Marines
Dear Community Members, Private Donors, and Local Businesses
The American Veterans Ball (AVB) seeks your generous support for our GoFundMe fundraiser, which aims to assist the Potomac River Young Marines program of the Greater Washington, DC, area. By contributing to this initiative, you will help us achieve our goal of connecting past and present military professionals with the future leaders of America.
At the heart of (AVB) lies our mission to honor and support our veterans while empowering the next generation. The Washington, DC-based Potomac River Young Marines program bridges the rich legacy of our military and the aspiring young individuals who will shape the future of our nation. It instills in them the values of discipline, leadership, and patriotism, creating a solid foundation for personal growth and development.
To ensure the continued success of the Washington, DC-based Potomac River Young Marines program, we aim to raise $10,000 through our GoFundMe campaign. This amount will be allocated to support their various initiatives, including registration of new applicants, educational programs, leadership training, community service projects, and opportunities for personal enrichment. Regardless of size, your donation will play a vital role in providing the necessary resources to empower these young individuals and pave their way to a bright future.
1. Public: As active members of the community, we have a collective responsibility to invest in the success of our youth. By donating to this fundraiser, you directly support the development of future leaders who will carry forward the values of our military professionals. Your contribution will enable these young individuals to gain valuable skills, expand their horizons, and positively impact society. Your involvement will help forge a strong bond between our veterans and the younger generation, fostering understanding, respect, and a shared commitment to service.
2. Private Donors: Your contribution to this cause will demonstrate your unwavering commitment to the future of our nation. By supporting the Washington, DC-based Potomac River Young Marines program, you are bridging the gap between past, present, and future generations, ensuring a seamless transition of values and knowledge. Your donation will empower these young individuals to become responsible citizens, ethical leaders, and compassionate societal contributors. Through your generosity, you will help shape a brighter future for America.
3. Businesses: As a local business sponsor, you have the unique opportunity to make a lasting impact on the community that has supported your growth. Donating to this fundraiser demonstrates your company's commitment to social responsibility and community engagement. Your contribution will directly support the Washington, DC-based Potomac River Young Marines program, enabling them to provide quality educational experiences and leadership development opportunities. Your involvement will benefit these young individuals, enhance your brand reputation, and foster strong connections within the community.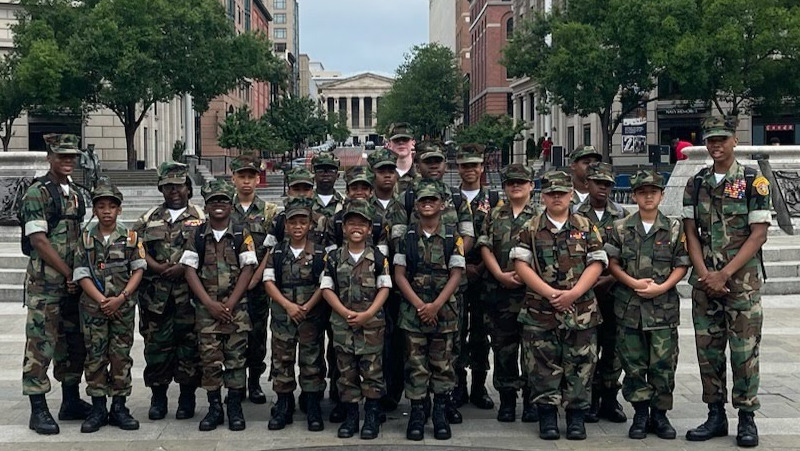 We value your support and believe we can significantly impact these young individuals' lives and our nation's future. We will proudly recognize your donation and display your company's name and logo as a prominent sponsor of the Washington, DC-based Potomac River Young Marines program at our events and in various promotional materials. Your contribution will showcase your dedication to connecting our military professionals with the leaders of tomorrow. We believe that investing in our youth and future leaders of America is an investment in the future of our nation, and your generosity will contribute to shaping them to carry forward the values of service, integrity, and honor.
We sincerely appreciate any amount you can give, as it will bring us closer to our goal of raising $10,000 to support the initiatives of the DC-Based Potomac River Young Marines program.
Thank you for your unwavering support, commitment, and belief in the potential of our youth. Together, let us build a stronger future for our community and nation, have a lasting impact on the lives of these young individuals, and honor our veterans meaningfully.
With heartfelt gratitude,
#SupportOurFutureLeaders #YoungMarinesofDC #PotomacRiverYoungMarines #CommunityStrong #AmericanVeteransBall #AVB #AVBCares #AVBStrong #WherePASSIONmeetsPURPOSE #WhereVOCATIONmeetsCALLING
Ozzy Ramos
Founder, AVB
Donations (2)

Become an early supporter
Your donation matters

Organizer

Ozzy Ramos
Organizer
Stafford, VA

Registered nonprofit
Donations are typically 100% tax deductible in the US.