At my twelfth week ultrasound, we found out that our baby had a hygroma. We were told that a hygroma indicated a chromosome defect, and if my amniocentesis would come back normal, then she would have some type of heart defect. I went ahead with the amniocentesis the same day we found out we were having a girl. It was March 14, 2013.
On March 26 we recieved the results from the test, and were told she was cleared of any chromosome defects. In April, we found out she had a heart defect. She had an ASD and a VSD and the blood from her heart to her lungs was not pumping properly. Until my 29th week we were told she was going to die of heart failure. We were also told, because I had polyhydramnios, that when a hygroma is detected and a chromosome test is cleared, there are always various other problems, besides the heart defect, that we were just not able to see on an ultrasound. For 3 1/2 months I had 2 ultrasounds and Non stress tests a week,
I had a fluid reduction done 2 weeks before she was born because my excessive amount of fluid was cutting off her blood supply and putting us both at risk for placental abruption, and went to the hospital once for preterm labor and received medication to stop my contractions. My due date was August 25 and my Csection was scheduled for August 19. On August 1, during my regular NST and U/S, I was told to arrive at the hospital two hours later because once again she and I were both at risk for placental abruption.
Xiomara AnaRosa was born August 1, 2013 at 5:53pm. She was 36 weeks 4 days gestation. She weighed 6lbs. 7.1oz and was 19 3/4 in long.
She is what is called a late-preterm. Hard thing is, none of her problems have anything to do with her being 3 days early to what is considered full term.
The moment she was born, she didnt cry. There were tears, but no sound has ever escaped her lips. She has extremely low muscle tone and was unable to move any part of her body. She never even opened her eyes. As time has passed she has opened them just a few times but for no longer than a few seconds at a time, which has acquired her the name Sleeping Beauty Xiomara began her journey that very next day. A feeding tube was inserted and various tests and procedures started being performed.
She was tested for various other chromosome defects but they all came back normal. We started seeing her improve the first few days. She began drinking from a bottle, and she was doing well sustaining her own oxygen. We began talking about discharge.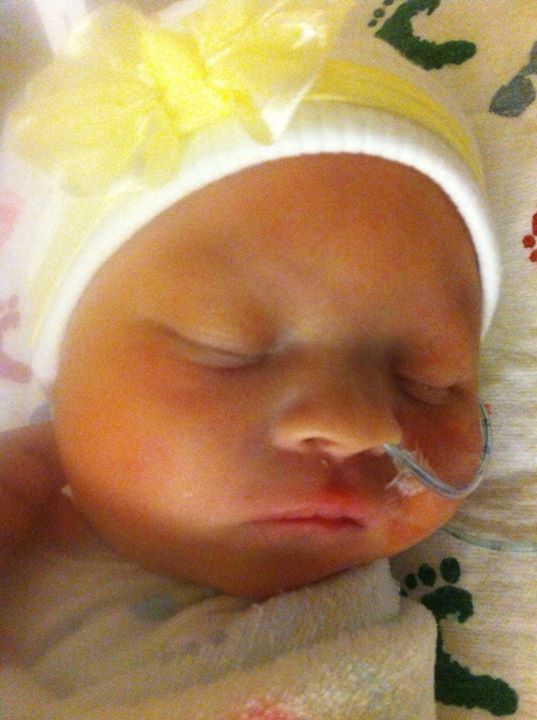 On August 16, as she was sleeping, she had her first arrhythmia, an Atrial Flutter. Her heart rate spiked to 260 and didnt come back down for 5 hours. She recieved a Cardioversion that same day. Two days later she had another arryhthmia, called an SVT (supraventrical tachycardia) She recieved ice to her face which brought her heart rate back down.
Ever since her arrythmias she has completely regressed. She was no longer able to sustain her own oxygen and required CPR three times. She was unable to swallow, and would vigorously gag and lose more oxygen every time we tried to bottle feed. She began aspirating, and her face was completely drained of color. She also lost an extreme amount of weight due to her difficulty breathing and has been unable to gain any without the use of breathing machines.
They did so many tests, procedures, and made so many plans that failed. One day the neonatologist that was taking care of her case sat down in front of me and plainly said, "I am so sorry. We have no idea what is wrong with your baby." That was when I knew we needed a second opinion.
Because the hospital we were at was not well equipped to handle babies like her, we put a transfer request in.
On August 23, 2013 Xiomara was flown to the Children's Hospital of Philadelphia, with me, as an emergency transfer.
The moment we got to C.H.O.P she desatted. (desat is when someone loses oxygen and their oxygen levels drop very low) They started making plans for her the same night. And have been doing everything possible for her ever since. They believe she may have some type of syndrome that ties all of her symptoms in together, but because there are not enough babies like her in the world, and so far she is the first case they have ever had like her, there is no diagnosis for her. So the genetics team said they will be following her development as she gets older.
She has had various brain scans, and also had an MRI which all show some developmental delay of motor skills. Scariest part about it, is that they dont know if she will have mental retardation or not. At this time, there is no sign of it, but because she loses so much oxygen so quickly, only time will be able to tell us.
On August 28 she recieved an Endotracheal Intubation after having her fifth CPR episode since birth (it was her second one at CHOP).
Two days later, she went in for her very first surgery, a SUPRAGLOTTOPLASTY. The date was August 30, 2013 at 3pm and lasted 1 1/2 hrs. This surgery was to correct her obstructed airway and help her to breathe. Although the surgery helped with many of her other problems, it didn't, sadly, help her breathing problem. She was extubated on September 4, and did not do well at all. So they inserted a nasal trumpet, and placed a CPAP mask over her face.
A few days later they removed it, after weening her from it, and placed her on a nasal canula with the nasal trumpet. She did not respond well to this and had two horribly bad episodes and required CPR twice in the same night. They were forced to intubate her once again.
Today Xiomara is 7 weeks 2 days old, and had her second surgery performed on September 19,2013 at 8am. It was a 3 hour surgery.She received MANDIBULAR DISTRACTIONS to bring her recessed jaw forward. It is an extremely painful procedure, and the process can take anywhere between 6-8 weeks. Her jaw bone was seperated and metal plates were inserted that are attached to the metal poles sticking out behind her ears. A special tool will be used to turn the screws 1mm every 12 hours and as her jaw moves forward, her new bone will begin to grow and later the metal plates will be taken out. This procedure has the potential, not only to help her eat properly, have a better suction and to later be able to speak properly, but it also has the potential to allow her tongue to move forward. Her tongue sits so far back in her throat, that it cuts off her air supply as well.
They told us that they doubt this will help her, but with my consent they went ahead and did it. The 10% chance they are giving that this might work, is a lot to me. If this surgery doesn't work for her airway she will be undergoing a surgery to insert a Tracheotomy.
Before she is due to go home, Xiomara will be undergoing a stomach surgery to prevent her from aspirating, called a Nissen Fundoplication. And then they will insert a Gastrostomy Tube into her stomach. Later in the future, she will also be undergoing surgery to correct her heart defect. She is not expected to leave the hospital for another 2-3 months and when she is able to leave we will have to see numerous specialists, and have many appointments on a regular basis here at CHOP as well as in York, Pa where we live. We have an extremely long road ahead of us.
We are looking to raise money to help our family during this terrible time. I am no longer working, and Darren has been missing a lot of work so he can be here for her surgeries, procedures, and whenever we are called for an emergency. We have a son, Xavier, 4 years old who we have to worry about as well. He has been having an extremely hard time dealing with the stress of our new life due to the fact that he is always either without me, or without Darren. It is a lot for such a young child to have to deal with.

We have the most AMAZING support system of family and friends and have received tons and tons of help from all of them. But financially, it has definitely taken its toll on our bank accounts. We live just about 3 hours away from CHOP, and I have been living at the hospital when we cannot get a room at the Ronald Mcdonald House. Anything you can donate to help us is so appreciated. Even if it is only a quarter. For every one of you that donate I will personally thank you. If we reach our donation goal, we will be taking a portion of the donations, after all expenses for Xiomara and our family are paid, and paying it forward to the Ronald McDonald House Charities in honor of all the families who are living through the struggles of having a sick child. And for those of you who cannot donate, please just spread our story. Maybe someone out there who's baby is suffering something similar will see this and we can come together and try to find a diagnosis for our babies.


So Far These are the Diagnosis for Xiomara (she is now 9 months old, but i have not had time to go back and update all of her information on here)

-Pierre Robin Sequence (High Arched/Cleft Pallate, she has the high arched, Recessed jaw known as Micrognathia which creates a very narrow airway. The micrognathia is what the mandibular distractions fixed. And Glossoptosis which means her tongue falls back into her airway)
-Moderate to Severe Laryngomalacia
-Periventricular Leukomalacia
-Hypotonia (which creates much difficulty breathing, feeding and swallowing. Any type of movement, coordination, and even her breathing is more of a work out for her and creates for a constantly tired and cranky baby. It also makes it difficult for her to gain weight, but she is so far doing wonderful overcoming that!)
-Stridor
-2 ASD and a PFO
-Developmental Delay- As of now Xiomara's complete development is that of a slower 2-3 month old infant although she is 9 months old (8 months old corrected)
-Congenital Eyelid Deformity with other Dysmorphic Features
-She is solely tube fed and has tubes in her ears.

Thank you so much and God Bless you all!
Love Always,
Veronica, Darren, Xavier, and our little warrior princess




Organizer
#1 fundraising platform

More people start fundraisers on GoFundMe than on any other platform. Learn more

GoFundMe Guarantee

In the rare case something isn't right, we will work with you to determine if misuse occurred. Learn more

Expert advice, 24/7

Contact us with your questions and we'll answer, day or night. Learn more