WHO are Marcia and the Cubbyhole?The Cubbyhole
is a lesbian bar in New York City. The mix of customers ranges from gay/straight, regulars/tourists, through all genders/sexualities, yellow stripes/pink polka dots, and anything/everything else in between. Pretty much if you don't cause a problem, odds are nobody else will; everyone literally rubs shoulders with each other, since it's a small, narrow space.
Marcia Gilbert
is a bowtie-wearing artist and a regular at the Cubbyhole, with graphic arts expertise and publishing experience from freelance jobs over many years.
WHAT is this book about?

This book has been a work in process much like the author and her dates, which have all been languishing...
A woman walks into a bar . . . if she's a lesbian dyslexic, she might walk into a bra . . . if the bar is the Cubbyhole, well, you never know what might happen next or what the punch line might be. But when you walk in, you'll encounter a lively scene. Its narrow space and overflowing ceiling have been privy to many stories over the years. It's a stage where chance encounters, prospects of a rendezvous, breakup tribulations, even plain old drama have played out. Mix in a few of the author/designer's own escapades and past relationships . . . all are inspiration for these 26 cover-story titles. Join our un-named protagonist as she alphabetizes her way through the ups and downs of being a heart-on-her-sleeve, sometimes tongue-tied, always dapper-tied, romantic raconteur.
Dating is a mysterious, often frustrating, and even comical process. As a regular at the bar known to volunteer as barback and bouncer, I've collected quite a few dating stories, survived several of my own mishaps, and met other women with their own stories. Being too shy to perform a standup act in public [insert laugh track here], I decided to collect the anecdotes into an illustrated coffee table/comic book and salute to Lesbian Pulp Fiction.
While this project could be seen as a tribute to the bar, I believe that it has a broader reach about dating in general, meeting people in any kind of bar, and the mishaps of regulars, visitors, and staff. What this book is NOT is a self-help dating book, nor is it a recounting of pickup lines that do or do not work. It is a collection of distilled anecdotes of dating situations, not answers.
Unlike the earlier pulp fiction authors, who had no control over cover design or copy—or even how the stories ended—I have undertaken all aspects of these titles (cover design, back copy text, bar codes, marketing quotes, etc.) — well, except for actually writing the books! "They" always say to write what you know, which is often what I did on my way home or the next morning. I would often find wads of cocktail napkins with text/story fragments on my bedside table. But instead of writing the stories, I've visualized the covers of a collection of often raw, frequently funny experiences, pages from my journal, scribbled napkins, notes, etc.
Each "page" is a book jacket branded as a series: front/back cover, promotion quotes, even bar codes (no pun intended). Sample titles include: Analyzed by Anna, Cheated on by Christine, Jilted by Jane, KO'D by Katie, Wingman for Wanda, etc. Margeting quotes are from: The Cleavageland Plain Dealer, Andy CubbyCohen, GoGo NYC Magazine, Tim Gunshy, Les Ms Magazine, RuPeterPaul Mary, Rita May Sepia, etc.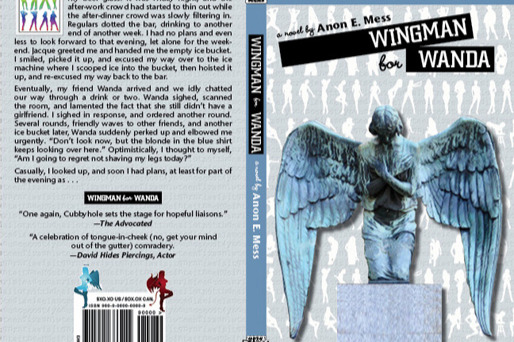 While this project could be seen as a tribute to the bar, Cubbyhole is merely the setting for this collection of (cover) stories. I believe the book has a broader appeal to anyone dating, meeting people in any kind of bar, and experiencing the mishaps of regulars, visitors, and staff. What this book is NOT is a self-help dating book, nor is it a recounting of pickup lines that do or do not work. It is a collection of distilled anecdotes of dating situations, not answers.
While the cover stories are offered alphabetically, none of them took place in such an ordered, chronological way. Or perhaps like scrabble tiles, they were collected randomly and then pieced together. . .  in an effort to make sense of life, romance, wishful thinking, dashed hopes.
So belly up to the bar, order a tasty beverage, find a seat, and try to tie a cherry stem while you follow the exploits of the . . .
Women of Cubbyhole A to Z
.
WHERE is the bar; will be book be published; 
will it be available?
The bar is in New York City's West Village at the improbable corner of West 12th and West 4th Streets.
The book will be printed by BookBaby.com.
There will be a book signing and after that, it can be purchased on a Bookshop web site (my direct ecommerce sales page; link to come), Amazon, and other booksellers.
WHEN will we be able to buy the book?
In May of 2018, Tanya Saunders, the beloved owner of Cubbyhole passed. To honor Tanya, take advantage of the anticipated crowds for Gay Pride 2019 (the 50th Anniversary of Stonewall), and to take advantage of the holidays, I'm aiming for a book rollout and signing on
December 13, 2018
(new date)
.
With that in mind, I have to get the final manuscript to the printer by
November 26th (new date)
; it takes them 10 days to produce and ship. The largest/longest task is to buy the images and replace all of the low-resolution ones in the layout.
WHY are you doing this?
Many years ago, my friend Betty offered to cancel her cable TV contract if I would come over at least twice a week and share my latest stories/escapades. She would also throw in dinner, which was a great lure since she loves to garnish, but I digress . . . . I was too busy bashfully prowling the lesbian scene, spreading my wings after a breakup, and refining my dapper outlook.
Years passed, relationships blossomed and fizzled, and I found myself once again checking out the lesbian bar scene. Once I began hanging out at Cubbyhole, I started collecting/living stories again. I didn't really intend to become a "Relationship Raconteur," but an idea for a coffee table book of cover designs and short stories was always in the back of my brain. Then one evening, the semi-infamous incident of the "Other Woman in Pearls" sparked the idea of merging that coffee table book with bar anecdotes, wry humor, and that aforementioned standup act I'm too shy and inexperienced to do [replay that laugh track here].
Besides, the world needs a bit more humor given the raw political climate.
HOW much am I trying to raise: $7,200
Your donations will contribute to the final production, printing, and promotion of the book:
Copyrights/Trademarks:
the book; Dapper Not Butch, and rights to use the lyrics to "A You're Adorable"
Equipment
to streamline production: replace my antique HP laser printer from 1999 and my aged iMac from 2008
Fonts:
3-4 fonts used in the document
Images:
buy the stock images from various clipart/image sites
ISBNS:
one each for paperback and hard cover editions
Printing:
100 paperbacks and 25 hardcovers
Promotion:
mailings, coasters, posters, postcards, etc.
WHICH donation levels are available?
$15
: a set of 6 coasters based on the cover
$30:
an autographed paperback and a set of coasters
$50:
an autographed hardcover and a set of coasters
$250
if donated BEFORE the book printing
(November 26th, a new date):
an autographed hardcover, a set of coasters, and will be acknowledged and thanked by name in the book
$500:
a "Wingman Happy Hour Hangout" with Marcia; either a Thursday 4:00 to 7:00 or Saturday 4:00 to 7:00 (TBD), an autographed hardcover, and a set of coasters
STAY tuned for the book signing December 13, 2018 (new date)
. . . which of course will be held in NYC at Cubbyhole.
GET in on the ground floor
. . . and under the decorative ceiling.
I look forward to tying one on with each of you!

Organizer
#1 fundraising platform

More people start fundraisers on GoFundMe than on any other platform. Learn more

GoFundMe Guarantee

In the rare case something isn't right, we will work with you to determine if misuse occurred. Learn more

Expert advice

Contact us with your questions and we'll answer, day or night. Learn more