The Wandering Que Goes National
2017, our #YearofKOSHERsausages has come to a close and oh what a trip it's been! 
*We moved to a new and expanded factory in NJ  * Launched a retail line of Wandering Que Sausages in Stores nationwide *Purchased a 28ft BBQ Trailer/Food Truck set to hit the road this Spring for offerings at 12 stops - 5 days a week*Recieved our custom built J&R Oyler Smoker from Texas - The largest wood burning Smoker made in the USA with an 1800lb cooking capacity*Provided Disaster Relief in Texas alongside James Beard legend Louie Mueller Barbecue*Smoked the first ever Kosher Brisket at Franklin's Barbecue with Aaron Franklin *Recieved the 2017 Kosher Pioneer Award at KOSHERfeast*Gave a Masterchef cooking class at the legendary De Gustibus Cooking School in NYC*Served more Kosher BBQ, to more people, in more town and cities then ever before!
Stick around this 2018 and see just how much we have in store for y'all.    To check out our whole story, pour a drink, kick up your feet and enjoy the ride.     To be a part of our story check out these new packages that include
FREE SHIPPING
and help us bring the Wandering Que from sea to shining sea.                   
~  ~  ~  ~  ~   OUR STORY   ~  ~  ~  ~  ~
Since our
very first Texas Smokehouse BBQ Pop-Up
in the Bronx 5 years ago, Southern BBQ has enjoyed a stupendous renaissance earning it's rightful place back at Kosher Tables around the country and beyond.  
The country's leading BBQ historian and Texas Monthly's BBQ critic, Daniel Vaughn, uncovered BBQ Brisket's Jewish roots dating back to 1911 and from my own hometown of El Paso, Texas
.  Helping to bring that same authentic wood-smoked BBQ, the way my great grandparents experienced it 100 years ago, back into the fold has been an honor and my life's mission for the better part of a decade.  
In 2013 with the addition of our newly koshered 18ft, two ton Gatorpit from Houston Texas, we
hit NYC's ground running, sending waves through the Big City'
s smoked meat and kosher keeping communities.   As if the lines around the corner every week were not validation enough, that first year out of the gate saw us (operating as Hakadosh BBQ) awarded a spot in
New York Magazine's top 10 BBQ joints/Cheap Eats edition
as well as our first invitation to the annual Brisket King of NYC competition.  In both cases, I stood proudly as the only Kosher contender in one of the most competitive culinary arenas in the country.  
2014 was as strong ever
with another return invitation to Brisket King and just enough excitement and controversy surrounding the BBQ pit's moniker, formerly Hakadosh BBQ, translated as Holy BBQ, but also as was argued by some, a blasphemy of God's name.  Not everyone appreciates my sense of humor.  
I'm alright with that.  The letter explaining our
name change and introducing the Wandering Que sums it up
.      
2014 would also go down as my first foray into USDA production of kosher lamb bacon.   A project that would crash and burn with the company we hire to produce it did the same.   Some lessons are hard learned.  
Our 2015 Brisket King of NYC entry, two years later, would earn the top prize in our category and 2nd place overall at the Brisket King competition judged by the FOOD NETWORK.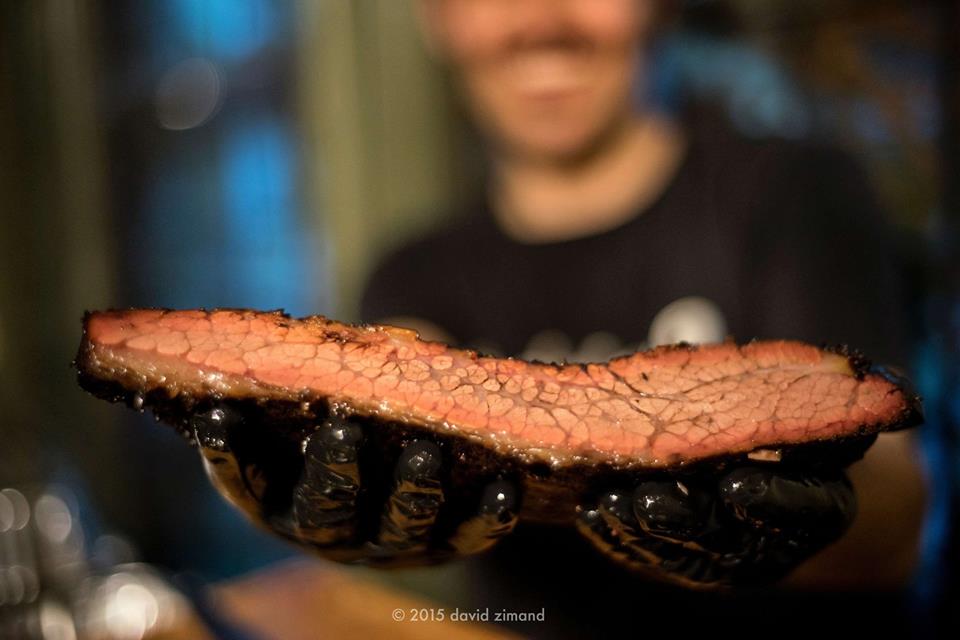 At that point, the needle had moved in the kosher world and the emergence of Kosher BBQ on a national front was undeniable. "BBQ" items could be ordered from a majority of NYC's best kosher menus and became a staple in the catering world while Southern bbq reigned supreme .   
Even Israel saw it's first Texas BBQ Joints opening up.
.   No less then 10 new kosher BBQ themed restaurants could be seen sprouting around the country,
most notably Izzy Brooklyn Smokehouse who's Pitboss Sruli Eidleman
tasted his first bite, nay bellyful, of oak smoke smooched meats and would later stage for 6 months with the my roaming crew before opening his own joint in Crown Heights.   The dude's passion and alacrity, his zrizut in general, were always a welcome addition to my motely pitcrew.   If 6 months of back breaking hustle in the daily grind that is traveling outdoor BBQ life didn't scare him off, nothing ever would.  After nearly a year of red tape 
Izzy's finally opened for business.

The 2016 Brisket King NYC competition would see us, taking 1st and 2nd place
, landsman reclaiming a preeminence in BBQ Brisket not seen for 100 years.  
For a first time in decades, the Kosher world was not 10 years behind everyone else
but standing shoulder to shoulder with wood burning fire whisperers nationwide in what Bon Apetit would describe the following year as a "recent trend." 
"It's funny to call this return to cooking with fire a trend. If it is, it's certainly the oldest trend in the book. And yet there is no arguing that the burning hearth has of late gripped the restaurant world, seeming to bestow the imprimatur of "serious chef" on anyone who embraces it. Over the past few years, live-fire cooking has gone from the province of backyard barbecuers and homesteader-type chefs... to a national phenomenon. It's become de rigueur among casino kitchens in Las Vegas and scene-y restaurants in Miami and Michelin-star hopefuls in Brooklyn. But no one's saying it's easy. 
Easy or not, that year's events were bigger and busier then ever.
Whiskey Jewbilee
had taken on a life of it's own in the 5 years since the
WSJ covered our first David v. Goliath against a Whiskyfest intent on a Friday night move effectively preventing religious Jews from attendence.
Like wise the entire nature of annual summer fundraisers had been redefined by
Fleishfest then going into it's 4th year
. Invitations to FOX's Hell's Kitchen, the Discovery Channels BBQ Pit Masters FOOD NETWORK's Iron Chef Michael Symon's Burgers, Brew and Que didn't hurt either even when answered with no three ways; Hells No / Sabbath Restrictions / Requested day of the 17 Tamuz fast day
2016 was a doozy for the Wandering Que!
A ConEd gas leak outside our Yonkers commissary ended all traditional gas cooking at our
kitchens forcing us to do all cooking outside on the Gatorpit and with our new cVap thermalizer. 
  #CavemanCooking meets #SpacemanCooking would be our mantra for the snow filled weeks and months to follow.   Not only were we cooking everything outdoors during the coldest months of that blizzard filled winter, but the Lincoln Park Jewish Center would be sold later that year with the new landlord doubling our rent in a final non-renewable lease extension.  I know the feeling of getting bucked off the mechanical bull and in what felt like a 6 second ride, our decade cooking just past NYC's outer boundary was at it's end.  A new commissary would need to be found or built and the time had come for the Wandering Que to transform  into teams of BBQ Trucks and trailers fueled by a single home base.   
Weekly Wandering Que pop ups continued to sell out and after getting fed up without a single passable sausage for an outfit like mine priding itself on old world technique over commercialized mediocracy, I set my eyes (and brisket trimmings) to making a badass kosher sausage.  
A newly purchased Kosher USDA location set up for hot dog production presented itself.  The that last month of 2016 was abash in sausage debauchery, research and development. 
  Italian salumi, Texas hot links, French charcuterie and all things from the German, Polish and ex-Soviet bloc.   We would explore them all and bring the best of them BACK to the kosher market after generations lost.   I could not have imagined then what 2017 had in store for us.
2017 rolled in like a Mack Truck and the #YearOfKosherSausages was upon us. 
   Weekly sausage specials took a front seat at the Wandering Que while aged specimens found their way into kiddush clubs around the Metro area.  
At the Kosher Food and Wine Experience we launched with 1000lbs of sausage served to the 2000+ crowds in attendance over the day. 
Kosher BBQ was as strong as ever
with first time
BBQ competitions popping up all over the country,
a half dozen new BBQ joints set to open up and the crowning of a Kosher Jewish Brisket King of New York City for the second year running meant that after 100 years, serious kosher BBQ was here to stay.  
Traditionally the reigning Brisket King has sat as judge as
Duck Eatery's Will Horowitz
and
Hometown's Bill Durney had judged my offerings
in the years prior.    Needless to say, with only one kosher contestant of the two dozen, I was not their new judge.    Without even knowing it, the string  of events to follow would snowball into epic adventures to follow.    Bill Durney would keep his seat at an expanded judging table where my shoes would be more then filled, many times over in fact by none other then
Texas Monthly BBQ critic
and
author, Daniel Vaughn
,  John Marcus, the producer of 
BBQ Pitmasters
and arguably the most popular bbq pitboss in the country,
TV Show host
,
NY Times best selling author
, brisket whisperer and Austin weirdo par excellence, Aaron Franklin.  It was not a contest that mighty night, but rather a slaughter.
Izzy's BBQ slew it
with a first ever unanimous decision by a now expanded all star judging panel.  
What would follow no-one could have envisioned.    Franklin was so taken aback and impressed by the caliber of Izzy's execution of BBQ brisket without being able to taste all must much less any of the real McCoys locally or anywhere around the country (no offense was taken).  Magnanimously, he wanted to provide that experience.   Vaughn and Texas Monthly were on board (
must read article here
) and an invitation from the newly crowned Brisket King to join this all star jam was too good to pass up.
Everything moved so fast from then on.   We purchased every last inch of kosher sausage casings available in the United States and began production delivering to a few local supermarkets to test the shelf life, market reception and product line viability.   Next we landed the contract to provide Citifield with their kosher Sausages meaning 
The Wandering Que would become the New York Met's kosher sausage!
After escaping a Shark Tank or two with my skin still intact, I took private investor loans to back the casings purchase and sausage launch.   At the same time we found a new homebase of operations moving into a 4000 sq ft factory in Hackensack, NJ operated by Kosher Hind Quarter specialty butcher and Sephardic Rabbi/Schochet/Menaker
Rabbi Avidan Elkin of Bisra Meats
.
May began with the first of what would be 23 truckloads of equipment to unload and set up at our New Jersey HQ.  
May 22nd saw the landing of our next BBQ Food Trailer,
a 28ft behemoth with a full kitchen and
Big Bubba "Hog Cooker"
  meant to bring the Wandering Que on the road 5-6 days a week.    The only missing piece, or so I dreamed at the time, was a nearly 10,000lb BBQ Pit, the largest commercial unit of it's kind in production by
J&R Manufacturing of Taylor Texas.
It arrived by trailer on what was by far the most stressful erev Shabbos of my year and
took two fork lifts to get off and inside our new homebase.
   Here is where the story was supposed to have a happily ever after ending.   It did not.    In an apparent parallel with Izzy's prolonged buildout and construction permit nightmare, the bureaucratic red tape of both our local Hackensack departments as well as that of PS&G would tire our hands and keep the 1800lb cooking capacity smoker cold and silent for the 4 months to follow.   
Temporarily unable to operate fully at our new homebase, we were saved by the new mobile kitchen trailer which became our offsite satellite production space in tandem with our older Gatorpit.   The Star-K helped connect us with a local NJ operation also under their supervision who would rent our space in their massive kosher event space in Passaic,
Factory 220 / Great Bistro Falls
.  Our production capacity had been slashed, and daily Wandering Que pop ups would have to wait until Spring.    Life seemed tougher then ever.   
Disaster struck the week before our trip to Austin Texas for that epic kosher BBQ.     Hurricane Harvey was pounding the Texas coast and causing havoc far inland.    
Franklin's Barbecue took a direct hit with heavy winds from Harvey causing a fire during the early morning smoking hours.
  While thankfully no one was hurt in the blaze, Franklins was shuttered. Texas as a state had taken one heck of a beating  with Houston and her surroundings still under water.   I could not imagine any way that our bbq trip back home was still happening.   My own challenges and seemingly insurmountable barriers seemed like nothing compared to what I saw my friends, relatives and bbq bretheren experiencing down South.    Aaron would prove to us what "Texas Tough" was all about.  Even with his place in ashes, canceling was not an option.     
It took a national disasater to remind this Son of Texas how to handle yourself during a crisis.    In the vacume of federal help Texans came out to their own rescue.   Where no National or Coast gaurds could be seen, local hunters and fishermen roared in from every direction to help.    Race didn't matter, nor did political leaning, sexual preference or religious beliefs.    The same PETA protestors that picket outside of ranchers homes and rodeos were being saved by those brave cowboys and ranch hands on horse back shoulder deep in flood waters.   Real life super heroes like
Stan Hays of Operation BBQ Relief
were already on the ground feeding over 370,000 meals over those 11 days.   
When I saw that even within the kosher bbq world selfless men and women were stepping up to plate
, I knew in an instant what we had to do.   Chaim Goldfeder or Texas Smokehouse BBQ and Joseph Mutterpurl of Lakewood NJ's Southside Sandwich Shop were already in Houston serving 1-2000 meals a day.   Meat was scarce and I had our first newly packaged runs of Wandering Que chorizo, sweet Italian and beef pepperoni sausages ready to ship out to a half dozen new stores.   New Yorkers would have to wait.    On September 3rd, Sruli and I flew from Queens to Austin muling almost 400lbs of my Wandering Que sausages to join in the disaster relief and smoke some kosher BBQ with living legends.
The next day was a grueling one.    There were not any rental cars as most people had fled inland, nor was their much gas anywhere, as well, most people had tried to leave before the storm and nobody was getting deliveries of anything.   Sruli hadn't gotten an invitation to join Wayne Mueller the heir and operator of Texas' oldest and most venerated "cathedral of smoke",
Louie Mueller Barbecue
We spent the day in 98 degree dry heat, with nothing but bottled water and pickle flavored pringles to hold us over, helping Wayne's crew dish out thousands of pounds of baby back pork ribs, his masterfully smoked briskets and ample sides to the devastated town of Garland Texas which got body slammed when Houston opened their floodgates to save the big city decimating small towns like Garland in the wake.   A flooded chemical spill at a local plant had rendered the town water table poisoned.  The devastation was heart breaking.   I haven't been hugged by so many complete stangers in my whole life and spending the day with Wayne Mueller was a rare gift.
He is a larger then life renassance man who not only spent his holiday weekend off serving complete strangers 100 miles from his home on his own dime, but did so with a smile 10 miles wide.
  His love of and dedication to helping humanity paralleled by his love and mastery of all things smoked left an indelible mark.    It was a big hearted Texas toughness that is impossible to not look up to.    That night's kosher hot dogs from Austin's Kosher H.E.B. supermarket never tasted so good.   
5am found Sruli and I tailing Aaron Franklin's twin bbq trailer, dubbed Lavern and Shirley, through Austin's pre-dawn abandoned streets to the lot behind a burnt out Franklin's BBQ where TMBBQ's Daniel Vaughn was already waiting for the thin blue smoke that defines that particular block to return, even if for only us alone.    Within the hour, one of his brand new backyard bbq pit prototypes would be fired up with Sruli trimming the ALLE kosher briskets he had shipped over.    Even with the 500 people in line at Franklin's every morning, i think its a good chance we were the first to daven netz with tallis and tefilin in that fam
While our three briskets cooked low and slow under a hot Texas sun, I would be blown away by the attitude and operation at Franklins.    His team shares his passion and dedication.   Like his simple rub of salt and pepper, the pitboss stood out made of equal parts wit and wisdom with a turn of phrase for every occasion and pun for any reply.   His scientific approach to smoking and attention to the most minute details are what set him apart from the pack.
   What was most striking however as we sat literally amongst the ashes of his dream burnt down was the sheer determination in the face of everything thrown his way.    Moreover, in between visits from the Dept of Zoning  and Health ,  Austin's mayor who all came in to check on him them and actual demo work (Franklin likes working with his hands) he made time to smoke batches of figs for a local brewery out on Lavern, or maybe Shirley, I'm not sure which was which, organized with his staff not just one but multiple bbq fundraisers for affected locals and first responders.   In the midst of this organized chaos was guy who could not help but to help everyone around him while his whole world had burnt away to nothing.    I don't know if cooking a kosher brisket or three for two kosher keeping pitbosses in from New York counts for anything in the grand scheme of things, but again, it was that spirit of Texas Carl Sandburg touched on when aptly observing that "Texas is a place of Valor and Swagger."  
With the 400lbs of sausages we muled from NY already being served to the Jewish and Muslim communities in Houston, we smoked the few sausages left behind for lunch while the briskets got wrapped to push through the stall.     The snap on those bad boys hit the spot as we had already long since switched from high octane coffee to local brews and the occasional Big Red.     The briskets once rested were sliced amongst a newly found feast of friends.    Without sounding overly sappy, I can say that I saw for the first time over that short trip the power of BBQ to unite communities in both the best and worst of times.    The power of BBQ to inspire, challenge, sustain, hone, unite, heal, bridge, exalt, bewilder and comfort.    We would fly out the next day with a leftover brisket, onions slices and tortillas.     The only people on Earth that week to get to enjoy Franklins BBQ would ironically be to Jews at an altitude of 20,000 ft.
With the holidays no around the corner and my first batches of packages sausages donated, our national launch would have to be pushed off by another 6 weeks but a new found fire had been ignited in me.    There is a saying that goes a Texan outside of Texas is a foreigner and that a born Texan has instilled in his system a mind-set of no retreat or no surrender.   Whatever challenges laid in waiting back on the East Coast, I'd hit them head on with every tool at my disposal.
In mid November at Kosherfest, the largest industry trade show in the county, the Wandering Que officially launched our line to the public 
with distribution set up by industry giant, Nassau Kosher Foods.  Sales were strong that next morning after being awarded the 2017 Kosher Pioneer Award at
Kosherfeast, the industry gala dinner
that night prior.    Every week since has come with new stores carrying the line.   Passover production likewise begins mid-January with the STAR-K turning over the USDA plant in Newark
2017 ended with an additional  in my first Masterclass at the now 75 year old  iconic  De Gustibus Cooking School at Macy's in NYC along my good friend Naftali Hanau of Grow and Behold.
~ ~ ~ ~ ~ ~ ~ ~ ~ ~ ~ ~ Packages  ~ ~ ~ ~ ~ ~ ~ ~ ~ ~ ~ 

We are so excited to be set up for shipping nationally.     In general these orders (Except Passover and Purim Packages) can be shipping same week.  
Orders will be shipped out every Tuesday for next day - three day deliveries.   All meats are fully cooked and vacuum-sealed to preserve peak flavor and moisture.

Although each box is carefully packed with ice packs and picked up for immediate shipment, it is normal for the meat and ice packs to partially or fully thaw during shipment.

Upon receipt, please cook, refrigerate or place in the freezer.
Upon arrival, place item in fridge if you plan to consume within 4 days. If you plan to consume it after, place in freezer and consume within 6 months.
Detailed storage and heating instructions are included with each package.
Organizer
Ari White
Organizer
Hackensack, NJ