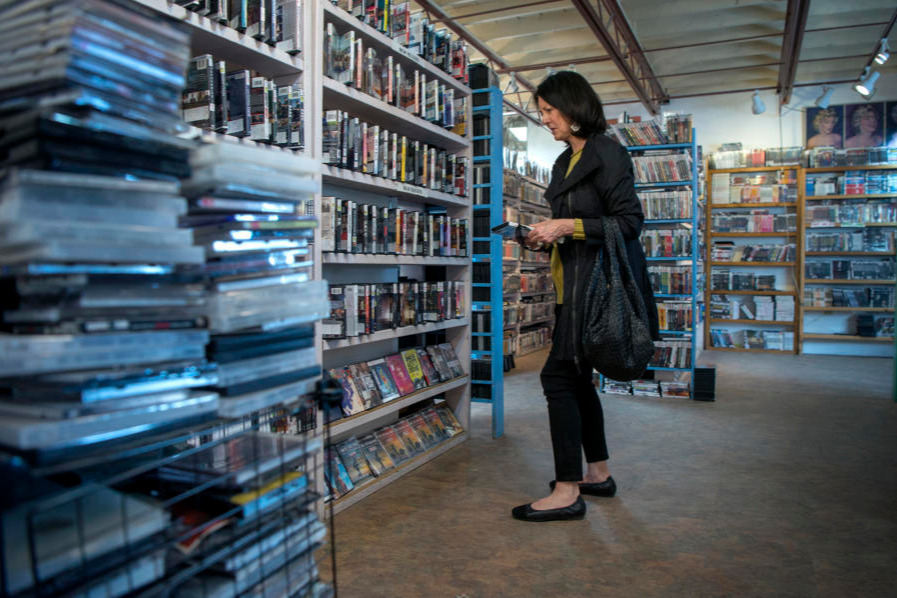 WHO WE ARE:
Lisa S. Harris opened Video Library in August, 1981, as Santa Fe's 1st video rental boutique. Today, the Vid is the last video store in town, still serving the film buff audience after all these years. It has long been a destination for locals to meet up at the counter, and discuss movies, dogs, and life itself
.
WHY WE MATTER TO THE COMMUNITY:
Lisa's movie collection--amassed over four decades--numbers in the tens of thousands, in Blu-ray & DVD, plus rare and hard-to-find VHS. Specialties include extensive holdings in Shot in New Mexico, Fantastica, Documentaries, Classics, International Cinema,  and American Independents, as well as some of the best movies you've never heard of.  We have titles you truly cannot find anywhere else, including online! And Lisa and her knowledgeable staff (Luke Henley, Devin Horne, Rae Lesinski, Beth Dunphy) specialize in dispensing good movies, personal service, and video therapy. Staff picks are more individualized than any algorithm.
WHAT WE NEED:
We launched this campaign on Sunday January 6th, 2019...Epiphany. Seemed appropriate. Because every single day, someone thanks Lisa for keeping the store going, and it brings her great joy to do so. But as the world goes streaming, and physical video rental dies screaming,  frankly, the Vid will fade without your support. We face constant shortfall. We're non-profit--but we sure don't mean to be! Kindly consider making a donation to our GoFundMe campaign. Or at least come in and rent a couple of movies. Bring your dog, too--we always have treats behind the counter. And please share this with folks as a community effort to get it out there. Many Thanks, The Vid
BY THE WAY
:
We never were, are not, and never will be, computerized. Just as we did in 1981. business continues to be conducted on file cards with pen, and notations made on post-its. No membership cards, either. You are not a barcode.
Please help this longtime institution to continue serving Santa Fe!
Operators are standing by ;-).
Organizer