Please donate to help improve UG!
Please make at least a $20 donation to help fund minimum expenses for UG faculty and staff during their ongoing strike.  Let us stand with them as they insist on fair compensation and an improved university for all students.
UG Employees have received no salary increase in over 20 years (since 1994) .
All proceeds from this campaign will be donated directly for disbursement to the University of Guyana Senior Staff Association [UGSSA] via their account with Republic Bank.


UG UNIONS HAVE BEEN ATTEMPTING TO NEGOTIATE FOR A LIVABLE WAGE SINCE 2012
The University of Guyana ("UG"), in Georgetown, Guyana, is a public university established in 1963 by the Government of Guyana. It was created to educate Guyana's future Leaders in Science, Medicine, Law and Agriculture as well as professionals within the private and public sectors. Thousands of Guyanese students depend on the University of Guyana for a tertiary level education.  
UG is critical to Guyana's future. There is no hope for progressive development in Guyana if the university is ineffective, underfunded, understaffed and its administrators are compromised.

UG employees have received ONLY cost of living adjustments since 1994!

Today the University of Guyana is a broken institution plagued by a lack of priority with respect to funding and the current government's developmental goals. 
Broken and missing windows in classrooms


Classrooms are feature many broken windows, dilapidated furniture and exposed electrical outlets, while stray animals roam the grounds.

PLEASE DONATE AT LEAST $20 AND HELP TO FUND FACULTY AND STAFF BASIC EMERGENCY EXPENSES DURING THE INDUSTRIAL ACTION

"salaries are uncompetitive and the university is unable to attract experienced faculty"
Salaries are so low that the University is unable to hire quality professionals. Those professionals who choose to serve the university and its students are exceptional. They are willing to sacrifice themselves to educate the next generation of leaders.
YOUR CONTRIBUTION WILL MAKE A MATERIAL DIFFERENCE. YOUR DONATION MAY BE ANONYMOUS
As the university's environment deteriorates, so does the quality of its academic staff. UG has become an institution abandoned to the whims of politicians who see the university as another front in the ongoing battle for political domination.

Open dumping of trash on overgrown campus grounds


UG STUDENTS DESERVE BETTER!!!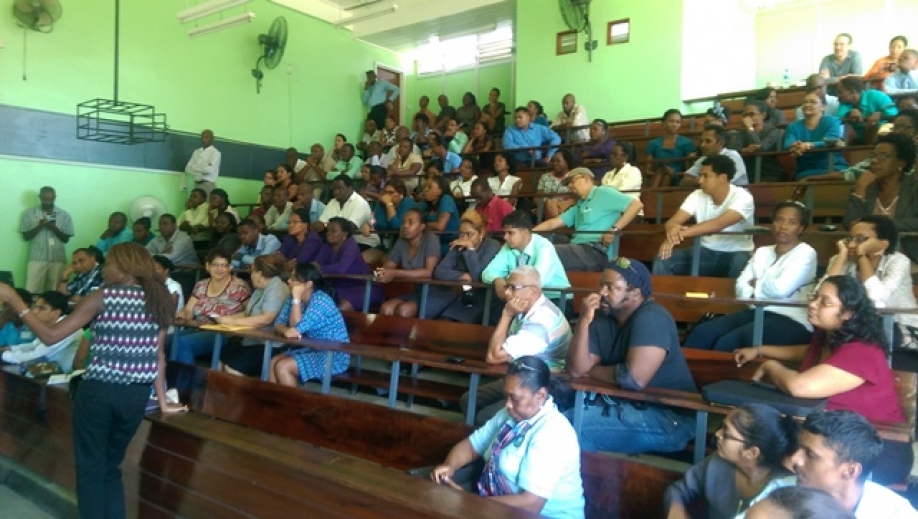 UG FACULTY AND STAFF DESERVE BETTER!

The following facts are critical to note:
1) UG staff have not had a salary increase in 12 years;
2) UG unions have attempted to negotiate with the administration on several past occasions;
3) A PHD Lecturer II in Guyana earns a starting salary of around $800 USD per month, a similar position at UWI Cave Hill pays $4775, at UWI St Augustine $3500 and at UWI Mona $2066;
4) Experienced faculty members continue to leave the University of Guyana for greener pastures;
5) The quality of education students receive will depend on the quality of faculty and staff available to support them;
6) The University's accreditation depends not only on research, and governance but also on an acceptable level of experienced and accredited faculty;
7) Experienced faculty will drive the research and development Guyana desperately needs to support innovation in Agriculture, Mining and other local industries;
8) Innovation, research and development at UG will bring international prestige, and develop industries which will increase jobs available for students after graduation; and
9) Guyana's future development depends on the preparation of high quality graduates from the University of Guyana

THE DIASPORA SUPPORTS THE CALL FOR IMPROVEMENTS AT THE NATION'S PREMIER UNIVERSITY

WHY SUPPORT THE UG FACULTY AND STAFF ACTION?

1) UG is in desperate need of change and those who are courageous enough to step forward to insist on change should be supported;
2) An improved University will contribute materially to the quality of life for all Guyanese;
3) Diaspora support for UG will empower and energize the struggle on the ground and reassure UG faculty and staff that we in the Diaspora care and support their struggle for positive meaningful change;
4) UG faculty and staff are not wealthy and many of them will not be financially able to stay away from work for the extended period of time it will take to get the attention of University of Guyana Administrators.
5) Support from the Diaspora will allow faculty and staff to receive minimum financial support for transportation, food and minimum household expenses.

LET'S HELP DRIVE MEANINGFUL CHANGE IN GUYANA!  PLEASE DONATE AT LEAST $20 TODAY.



Organizer
#1 fundraising platform

More people start fundraisers on GoFundMe than on any other platform. Learn more

GoFundMe Guarantee

In the rare case something isn't right, we will work with you to determine if misuse occurred. Learn more

Expert advice, 24/7

Contact us with your questions and we'll answer, day or night. Learn more