TravlerPack: Keep Refugees Warm
1/9/22 Update:
Hi Everyone, it's been nearly 2 years since our last update and almost 5 years since this campaign was first started.

To date, we've distributed over 1,300 TravlerPacks with nonprofit partners in Syria and Lebanon. TravlerPack has been covered by the Associated Press, the LA Times: La Canada Valley Sun, Forbes, NBC News, CBS News, and MIT News. We even gave a TEDx Talk about our story.

We completed another distribution of 200 bags in Syria over the late winter / early spring of 2021 with NuDay Syria, one of our nonprofit partners. See below :) 

The impact we've been able to create would have never been possible without your initial support and help. Thank you so much. It means the world to us.

I want to let you know, that we're not done. In fact, we are more ambitious than ever. 

We have just launched a new fundraising campaign on LaunchGood (a Muslim founded and run fundraising platform). We are aiming to send another 1,000 TravlerPacks to nearly double our current impact.

Donations to the campaign have been approved to be Zakat-Eligible (Zakat being one of the five pillars of Islam in which one donates on average 2.5% of their wealth each year to certain charitable causes) and tax-deductible.

I would like to ask one last small favor from you. Would you be willing to share our new campaign (launchgood.com/travlerpack) to any communities who might be interested? 

And if you know any community organizers // individuals (especially in the Muslim community) who could help us spread the word about our new campaign, please do not hesitate to reach out to us.

Best,
Vick and Max (Team Leads of TravlerPack)




Summary: Below you can find more information about our project, our impact, our press coverage, and our story.  If you are curious, you can also take a look at our website .



Quick Summary: We're a team of MIT students who designed a quality, multi-purpose sleeping bag to meet the specific needs of refugees in Syria and to help keep them warm during the winter. We call it TravlerPack. For every $50 we raise, we are able to send one TravlerPack to Syria. To reach our goal of sending 300 TravlerPacks to Syria, we need to raise $15,000.  Our nonprofit partner, NuDay Syria, will then distribute TravlerPacks within resettlement areas across Northwestern Syria.


Press Coverage:

We've been fortunate to be featured in a few news outlets: Associated Press , LA Times , Washington Post , CBS News , NBC News , MIT News , World Journal , and LinkedIn .


There are two main ways you can help:
1) You can share our GoFundMe campaign through Facebook, Twitter, email, word-of-mouth, etc. (Facebook and Twitter "share" buttons are right above)

2) You can contribute some money to our campaign! Since every $50 sends one TravlerPack to a refugee in Syria, even $5 makes a difference.

So, what's going on in Syria?

In 2011, anti-government protests in Syria transformed into an all-out civil war. Those most affected by the ongoing violence were not the government nor the protesters, but the civilians who have been displaced from their homes.



What are the conditions like in Syria?

The Middle East has been known to have brutal winters that can have devastating effects on refugees. Temperatures drop below freezing frequently and snowstorms plague the area. High costs in both fuel and wood, poor housing conditions, and lack of alternatives for staying warm make life even harder during the winter.



We asked our Non-Profit Partner, NuDay Syria, to help us learn more about the situation on the ground. Amal, age 9, revealed her greatest fear: "that the winter will come back, because during the winter, the cold and illnesses will come back as well."



There are very few ways to stay warm in Syria: burn fuel,  wood, or whatever is available. Even worse, both fuel and wood can be expensive and hard to come by in certain areas.

Multiple interviews with refugees revealed just how hard it is to stay warm:

Ibrahim, age 32, told us "an organization gave us a wood heater, but we did not have money for wood so we could not use it."

Abu Yusuf, age 42, and his family started "gathering old clothes and burning them in a wood heater to protect ourselves from the cold weather since we could not afford fuel."



Amin, age 35, faced a similar situation when they heated their apartment by "burning old stuff we gathered from the streets as fuel was too expensive."

Abu Ahmad, age 59, also emphasized the lack of resources in keeping them warm: "we were always freezing since we did not have fuel and could not pay for it."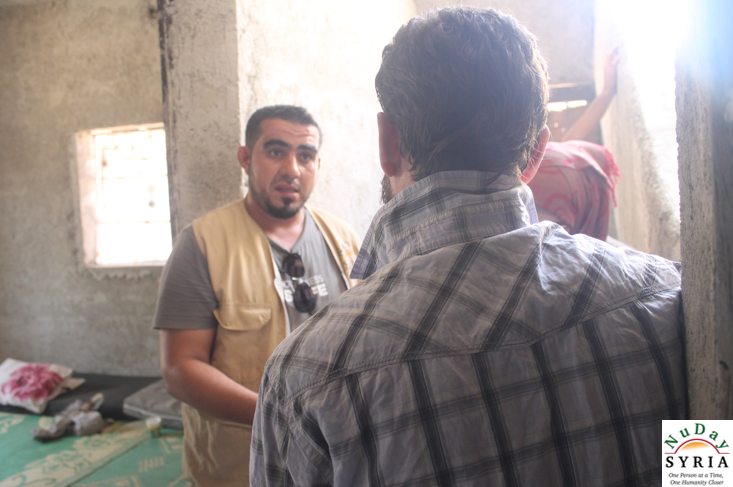 How do refugees like TravlerPack?

When these refugees were asked about TravlerPack, they were very enthusiastic, stating that TravlerPack could help protect them from the cold and illness. TravlerPack doesn't require fuel or batteries, making it an ideal solution to the current alternatives to stay warm.

We know that TravlerPack can make a difference, and we appreciate your help and support in making a tangible impact in the lives of those whose needs far exceed our own.



The Product—TravlerPack: TravlerPack is a one-of-a-kind, all-encompassing hybrid sleeping bag-blanket. We designed TravlerPack to be as versatile as possible with the ability to meet the many needs of refugees in any number of conditions.



What are some of the important features?

Shoulder Strap:
A messenger-style shoulder strap makes TravlerPack easy to carry. When on the move, refugees are still able to wear a backpack and keep both hands free.



Full length zipper:
A full length zipper increases the versatility of the sleeping bag, allowing it to be completely unzipped and unfolded into a blanket.



Mosquito net:
The detachable mosquito net provides basic protection against mosquitos. The net can be completely removed via a zipper and stored in one of the pockets.



"Mattress" sleeve:
It's important to stay above the bare ground in order to keep warm and even a carpet underneath helps. TravlerPack features a "mattress" sleeve that allows refugees to slip any additional layering directly below the bag.



Outer and inner storage:
In some cases, it may be hard for a refugee to safely and securely store personal belongings like money, travel papers, cellphones, etc. TravlerPack features a storage pocket on the outside and 5 pockets on the inside all secured with velcro.



Pillow pocket:
A pillow pocket at the head of the sleeping bag is big enough to store a jacket or additional clothing. It can also double as a pillow during the night.



Foot zipper:
If it gets too stuffy in a TravlerPack, there is a second zipper at the bottom that allows refugees to stick their feet out and cool off while still keeping TravlerPack zipped around their body.



Blanket capability:
TravlerPacks can be fully unzipped to become a blanket. This allows for flexibility and makes TravlerPack useful for refugees who might already have a mattress but are looking for something warm to cover over more than one person.



Combinable TravlerPacks:
An even number of TravlerPacks can be combined together—if one has a left zipper and the other has a right zipper. This allows small families and couples to sleep together and preserve heat.



Our Story:
Our story begins in August 2016 when a group of MIT students heard about the difficulties that refugees face during the winter and wanted to see what we could do to help keep them warm.



We began researching designs and materials to use. Countless nights were spent mocking up designs on chalk boards and erasing them in frustration.

We stored our grant-funded sewing machine in one of our closets and our raw materials underneath one of our beds. In January 2017, we began sewing together our first prototype.



We originally wanted to use sheep's wool as our insulation material so we began reaching out to shepherds in the local area. We were lucky enough to get in contact with Aaron, a shepherd who was really excited about our project and even more excited to introduce us to his herd. We ended up buying a few pounds of raw wool from him. No sheep were hurt in the process! :)



After hours of planning and sewing, we had our first prototype.



To see how well the prototype would insulate, one of the members slept inside of it overnight during a snowstorm with a low temperature of 15˚F (-9.5˚C).



The next morning, we were able to snap this picture before he got out of the prototype. He survived!

We knew we had something with potential so we also started talking to refugees on the phone , learning more about additional features we could build into TravlerPack.



We started working with a manufacturer to make lighter, more compact TravlerPacks that had duck down instead of wool. We put in more features and continued to revisit the design as we received more feedback. Our final design ended  up being so much more compact and lighter as you can see below.



Finally, we started talking to non-profits to distribute TravlerPacks. In June, we established a partnership with NuDay Syria to distribute TravlerPacks in Syria to refugees.

Where are we now?

We've confirmed through multiple channels that there is a need for TravlerPack and we can now produce and distribute TravlerPacks to refugees. Now, it's time to raise some funds and start sending TravlerPacks to refugees.

This campaign is as simple as it can get. It costs us $50 to make and deliver one TravlerPack to a refugee in Syria, and we want to send 300 or more TravlerPacks to Syria this winter. This sets our goal at $15,000.

Team:



Vick: Vick is a sophmore at MIT. Before college, Vick spent 7 years as a Boy Scout camping and backpacking on a regular basis with Troop 174 of Temple City, California. He would become an Eagle Scout in October 2015. The years of experience in the backcountry and character development in scouting would ultimately inspire Vick to start TravlerPack in hopes of making a small, but tangible impact in the world.



Rachel: Through internships in multiple media and marketing companies, Rachel has learned how to create branding and content that connect with a large range of audiences, a skill she now leverages to raise awareness for issues she cares about. With previous work in campaigns for STEM gender equality, Rachel is excited to be applying her experience to advocating for a product that she truly believes can improve the quality of life for refugees: TravlerPack.



Carson: Currently a sophomore at MIT, Carson has been sewing for 10 years and has always wanted to use that skill for positive change. She hopes good design can have a strong impact on meeting the basic needs of refugees.



Yun: Yun is a sophomore at MIT. She took a class in high school called Global Issues that explored the beginnings of the Arab Spring and conflicts in the Middle East. She was always interested in the affairs in that region, and TravlerPack was the perfect opportunity to help those unintentionally caught in the conflict. She believes that TravlerPack will make a positive change in the lives of refugees.



Max: Max traveled extensively growing up. Through Spanish studies in Peru, fieldwork in the American Southwest, and cultural immersion in India he has fostered compassion for people and the world. Max has used his interest in filmmaking to create an effective outlet for positive change. He has directed several documentaries about environmental issues, traveling abroad, and life at MIT, where he is beginning his sophomore year.



Jessy: Ever since she got her first camera seven years ago, Jessy has been shooting every since. She's edited for Technique, MIT's yearbook and photography club, and photographed for HackMIT/ Blueprint and other popular events on campus. She's happy to be serving an amazing cause, and excited to see the impact TravlerPack will have.

Amazing Supporters

A number of individuals have each played a role in how far TravlerPack has come. The team would like to thank these individuals for their tremendous help and continuous support. TravlerPack would not have come this far without them. 

Robin Liu, Fiona Cheung, Benjamin Liu, Stanley Liu, Christien Williams, Ariel Brito, Daniel Carballo, Abby McGee, Megan Fu, Daniel Gonzalez, Vahid Fazel-Rezal, Erika Winter, Hamilton Evans, Marwa Abdulhai, Keely Swan, Colin Codner, Nicole Trevor, Laura M. Dee Elsmore, Hilary Dobel, Gabriela Wanderley Furquim Werneck, Betsy Dew, Huda Alawa, Martin Luther Culpepper, Charlie Wheeler, Manal Kahi, Angela Luna, 
Aaron Loux, Louis Goldish, Jerry Zadow, Eitan Glinert, and Ian Waitz.

Relevant Information

Funds raised will first be spent on manufacturing TravlerPacks. Next they will be used to ship TravlerPacks to NuDay Syria's warehouse in New Hampshire. From there, NuDay Syria will ship the TravlerPacks by sea to the Middle East where their teams on the ground will pick them up from a port and deliver them to resettlement areas in Northwestern Syria.

Learn more about our nonprofit partner, NuDay Syria:

One Person at a Time, One Humanity Closer. All you have to do is care and want change in Syria to happen, and together we can help and make a difference. NuDay Syria is dedicated to self-sustainability and long-term projects, keeping Syrian mothers and their priorities and needs in mind. Many of these women have crossed the Syrian border to avoid religious and political persecution or fled their homes to escape regime and extremist attacks - only to find themselves in dire circumstances with few options to safeguard their children and themselves with dignity. 

NuDay Syria is a non-profit organization focused on bringing humanitarian and medical aid to mothers and children inside Syria and in the bordering areas in Turkey. Emphasizing empowerment through dignified means of service, NuDay Syria aims to develop self-sustainable programs to provide possibilities for displaced mothers to obtain a means of income, while providing their children with educational opportunities, thus normalizing their living circumstances. 

Ultimately, NuDay Syria aims to ensure financial independence and a productive future through fostering a mentality of world citizenry amongst those we serve. 

For more information on NuDay Syria, please visit us at www.nudaysyria.net