Tom and Aurelio's Nursing Care Fund
I am a 74-year-old widowed father of two young men in their 30s with muscular dystrophy. They need around-mammoth the other picture the-clock nursing care. Despite the many complications associated with this diagnosis, my sons have beat the odds and managed to live into their late 30s, which was unheard of 15 to 20 years ago. I attribute this to their great nursing care at home and their positive attitude.
This diagnosis took the life of my oldest son over 20 years ago when he was only 18 years old.  
Mike 1976-1995
Josephine 1951-2007
The diagnosis of muscular dystrophy leads to a progressive deterioration of muscle tone, which causes a loss of bodily functions as time goes on. My older son was having trouble walking and he kept on falling down. After seeing countless doctors, he was diagnosed at the age of 6. My other two boys are also diagnosed at that time, despite not having any symptoms. By age 11, they all lost the ability to walk. By the age of 15, they developed a curvature of the spine resulting in metal rods inserted in their back to prevent further curvature. After my older son's second bout with pneumonia, he passed away at the age of 18.By age 18, my younger sons lost the ability to raise their arms and feed themselves.By the early to mid 20s, they both developed severe pneumonia leading to the placement of a tracheostomy site and the needed to use the ventilator to breathe for them.By age 30, they lost the ability to urinate on their own, which required to use catheters to empty the bladder.Over the last few years, they lost the ability to use a computer and now rely on voice recognition software to navigate the computer.Despite all their physical impairments, they both were able to obtain a college degree. The older son has a bachelor's degree in business administration with a Masters degree in professional accountancy. My younger son has a bachelors degree in finance and economics.
My sons cannot  breathe on their own, which requires a ventilator to breathe for them. They cannot do any basic needs for themselves, such as bathing, toileting, dressing, grooming, eating, and walking. My sons require several breathing treatments a day, along with chest percussion, in order to maintain a clear airway. These treatments are administered by the nursing staff throughout the day to minimize any shortness of breath, w. I feel like you mentioned is for the one
hich can lead to very high blood pressures. The key to their care is maintaining a clear airway allowing the equipment to keep them breathing comfortably and preventing infections. This can be a very challenging because their muscle weakness makes it very difficult to cough hard. Also, they are unable to urinate on their own, which requires them to use a urine catheter to empty their bladder. This must be done by the nursing staff carefully to avoid any trauma or frequent urinary tract infections.
The sensitive equipment that my sons use to keep them alive must be constantly monitored throughout the day by the nursing staff to ensure their oxygen levels do not drop to dangerous levels.The main equipment that they use is a ventilator, which does all the breathing for them. The process of keeping their airway clear three other pieces of equipment, one to administer the respiratory medication, the second one vibrates the chest allowing the loosening of mucus stuck to the chest wall, and the third one sucks out the mucus obstructing their airway.There is another major piece of equipment that is used to monitor their oxygen levels and heart rate. Besides that, they use a patient lift in order for them to be transferred from the bed to the wheelchair.
My wife, who was their primary caretaker, passed away almost 10 years ago. This was a devastating blow to our family since she handled most of their care. I was already upset with her passing, but I had to focus on learning about the equipment and the parts of their care that I was not used taking care of. I had to retire 2 years ago due to my own health ailments, such as open-heart surgery, diabetes, skin cancer, and gout.  Recently, I got diagnosed with melanoma for the third time, but this time it is worse because this time a malignant chest mass developed. I am awaiting test results and treatment. My health issues prevent me from giving my sons the care that they need.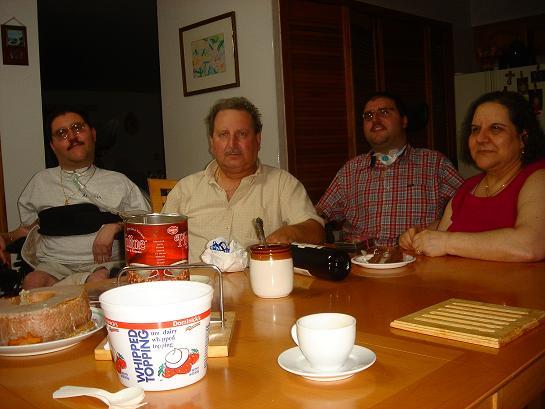 Since I retired, my sons have received skilled nursing care through my COBRA insurance. My COBRA coverage is ending on August 31 of this year. I am getting a little help from the state of Illinois, but the state is having financial problems and are unwilling to give me any further assistance. The funds raised will be used to hire a registered nurse to provide critical care that my sons need to maintain the best quality of life possible. Without any more coverage for this nursing care, it will cost around $100,000 a year to maintain the care to keep them alive. My wife and I have done our best to make sure our sons get the care they need and remain in our home.
As of September 1, it will become a very dire situation because it would break my heart to have to put them in a skilled nursing facility, especially knowing that they would not get the care that they need due to the lack of nursing staff in these facilities. The main problem with skilled nursing facilities is that my sons require mostly one-on-one care to maintain the best quality of life possible, while the skilled nursing facilities have as many as 40 patients for 1 nurse. The most upsetting part to me is that the skilled nursing facilities cost the state more money, while patients do not get the amount of care that is required based on their diagnosis.
About 5 years ago, my sons spoke at a convention for health insurance case managers. They did a presentation detailing the progression of their disease and the impact it has had on their lives and our entire family. They also laid out the problems they have had in their lives with getting the health care they need, along with the lack of understanding and knowledge of insurance case managers.
My sons are intelligent and educated and they do not deserve to be have their lives uprooted and thrown into a facility. My older son does a few taxes for family and friends and my younger son gives investment advice. The physical ailments prevents them from doing too much, but they tried her best.They are both huge sports fans and watch most games from their favorite teams. At this point, I am afraid that the lack of proper care will lead to a premature death.