Tiva Leigh's Pelvis Surgery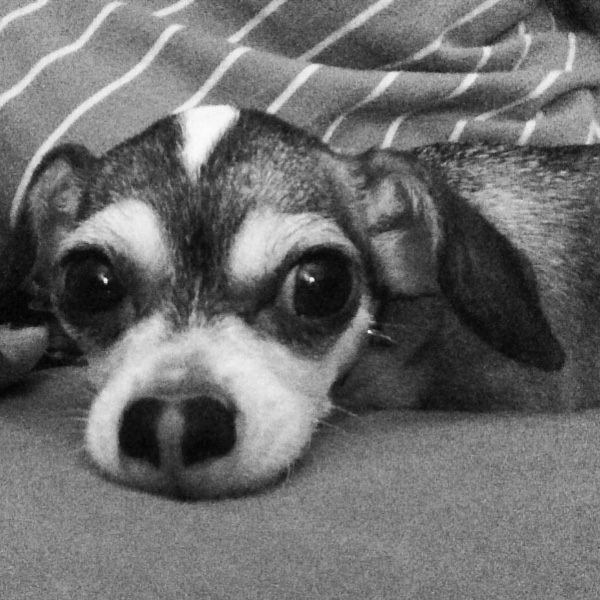 I'm Stacey Bedbury. I'm 28 years old and working full time in insurance claims. I'm an animal lover and proud parent to an adorable 4.8 pound Chihuahua, Tiva Leigh. I dont have any children of my own, just my fur baby. 
She came to me about three years ago. She was dropped with two pitbulls near a shelter in Sacramento. When I first saw her she was dodging traffic. After chasing her down, I found her covered in fleas. I took her home, cleaned her up. She was scared of everything. I took her to the vet where she was scanned for a microchip. After discovering that she had no home, I officially made her pasrt of mine. She has been my companion, cuddle buddy, camping partner, and best friend ever since. She has helped me through some tough times including the passing of our family dog due to old age, broken hearts, broken bones, and the tough days in general. She loves to sunbathe, run "hot laps" around the living room and snuggle up in blankets. She follows me everywhere and in the past 3 years, I have never been alone, Tiva has always been in tow. 
In an unfortunate accident on the afternoon of Sunday December 20th, she was stepped on. The force caused her pelvis to break. She has been unable to use her left leg since. After taking her for x-rays, it was determined that the only way to fix it is for an invasive surgery requring a plate on her pelvis and screws to hold the leg together. I was originally quoted $4-8k for the surgery, but now, after talking with the doctor and surgeon more, believe that it can be done for closer to $2.5k. I am hoping to raise $3,000.00 to cover the cost of the surgery, x-rays and medication. In order to keep the bone from fusing, the surgery will need to be done within the next 2 weeks. The timing happens to be horrible, as I'm unable to afford the surgery on my own at this time. I have almost $40k in student loans, and was in an auto accident this year which required me to purchase a car. I will be applying for any aid I can find in this process. 
I am asking, if you care about me, know Tiva personally, or are just an ainmal lover in general that you contribute whatever you can to help make this surgery possible. The thought of not being able to save the dog that saved me is breaking my heart. We will be forever grateful for ANY amount you are able to contribute. Please share this page with whoever you believe might be able to assist, and THANK YOU for taking the time to read our story.