Tiffany's Hurricane Harvey Recovery
My name is Amy, I live just north of Seattle, WA.  My niece Tiffany was raised in the Pacific Northwest and moved to the Houston area when she was a teenager. We are very close. Tiffany and her family live just outside of Houston, Texas in one of the areas most effected by Hurricane Harvey. After two days they were able to escape on an air bed to safety. Thank God! 
These are my niece's words about her son Landon: "He literally held on with all his strength and for his life to the other end of the thin line that David was pulling us with for over three hours. It was killing his hands, but he never once let go."
My heart is breaking for them and I'm trying to find  some way, however small, to help from 2,000 miles away.  My hope is that this GO Fund Me will help Tiffany, her husband and their son with their very basic needs. They have lost everything. They will need clothing, food and bedding.  While they are not yet back in their home, we know most of their house and their vehicles are under water. The few things they brought with them are ruined from the days of water damage.  I will update as we know more about their situation, but right now any money raised will provide clothing, food, bedding and shelter for their most basic and immediate needs.  Once we know the extent of the damage to their home, funds will be used to repair or replace appliances, food, furniture, linens or other needed items that are destroyed or to help with relocation and the costs that come with moving (deposits, etc.) I have set up the account so that Tiffany is the beneficiary and will be able to withdrawal the funds as needed. I will not access any donations.  
I know there are many that need help right now, and I thank you for taking the time to read about my family. Bless you and hold your loved ones tight. 
XO,
Amy
The view from the roof of their home. 
A video taken of their neighborhood.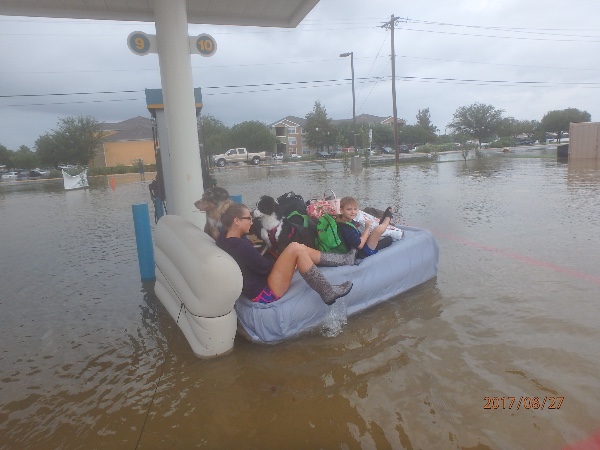 They had to stop and take a break while trying to reach higher ground. 

Tiffany and Landon just days before the hurricane, on Landon's first day back to school. 



Organizer and beneficiary