Arrrr....there be cancer in my booty!
Hello Everyone,

Hope this letter finds you all well & happy and that 2013 has been kind to you. And thanks in advance for visiting this site to hear my story.

As some of you are already aware I was diagnosed with Stage III colorectal cancer in December 2012 following a colonoscopy here in Houston, TX. Not to worry though, this cancer found the wrong asshole to mess with! (*pun intended*)

Appears this cancer has been present for 2.5 - 5yrs, although my 'symptoms' didn't begin until mid-2010, about 8mos after returning to the US from my Australian assignments. I started to get itchy blisters on my scalp & hands and about 6mos later I had an episode of facial paralysis; diagnosed as Bells Palsy at the time (these symptoms were later diagnosed as Sarcoidosis:.however:.) I also started experiencing more concerning digestive issues around this time. I saw many doctors (PCP, Neurologist, Dermatologist, Optometrist, etc.) for each of these issues as they occurred and was generally diagnosed as being stressed with IBS. Well NO SHIT I'm stressed!! Half of my face was paralyzed, my eyesight was periodically dodgy, I had random blisters all over my body, I was always fatigued and now I was pooping ALL the time! Who wouldn't be stressed??! And I was getting more stressed not getting anywhere with any of these doctors or feeling any better, just worse.

In discussing my ongoing symptoms with friends, family and beyond it was suspected I may have a gluten allergy (Celiacs Disease). I researched Celiacs/Gluten Intolerance and many of my symptoms were the spot on gluten allergy, including the temporary facial palsy. I began a gluten free diet in Aug of 2012 and had immediate improvements, but within 2 months my symptoms returned more aggressively and I decided to seek out a gastroenterologist who also specialized in Celiac's Disease. For the first time in 2.5 years I felt like a doctor really listened to me and although he also thought I might have a gluten allergy he still wanted to do an endoscopy and colonoscopy to rule out 'other things.' So after a few minor medical procedures we ruled out the gluten allergy, discovered I have Sarcoidosis, but will need to begin fighting Stage III colorectal cancer.

Since the colonoscopy I have had countless tests/procedures, met with a surgeon, oncologist and radiologist. All agree that with aggressive chemo, radiation and surgery that I have an excellent chance at making this cancer history and I have no doubt I will!! After all, I have the most amazing cancer fighting team around: including awesome friends, family and co-workers who support and encourage me every day. *Thank you*

So I began pre-surgery chemo on Feb 4th and finished on April 8th. My chemo was distributed via a portable pump I wore 24/7. Luckily, my chemo "˜cocktail' allowed me to keep my hair:.. AND reach my goal weight! :/ I began daily radiation treatments on Mar 4th and finished on April 10th. Radiation was tougher than I anticipated, but I made it through without any major complications. Surgery to remove the tumor and get a temporary colostomy is scheduled for June 5th. I will spend 5 days @ Methodist Hospital Willowbrook, heal for several weeks at home and then I begin 6mos of bi-monthly chemo.

Once post-surgery chemo is complete I will have another surgery to undo the colostomy. And although I will have 6mos of chemo after the surgery I anticipate getting a cancer-free diagnosis shortly after surgery #1. Besides, it's the only option I gave them.

Due to not finding this cancer until it was Stage III has resulted in these more aggressive treatments which have not allowed me to work as much as I want/need. Luckily for me my job has been incredibly supportive. They have allowed me to work from home when I can, however I have struggled to get a 40hr week since December 2012. I have taken actions to stay current with my financial obligations through these treatments; such as liquidating my IRA, but I truly don't know how seniors or others less fortunate make it through these difficult times. And although there is a donation option on this site to help financially support my battle, please do not feel obligated to do so. However, if you feel compelled to help support me in this way, I am deeply humbled and so very grateful. Donations here are safe, secure and tax deductable and will go directly to me.

Although many of you have known about my diagnosis by now, this discovery has not been the easiest "˜coming out' experience for me, but I knew it was the right thing to do. As I approach the most important surgery (and 6mos) of my life I know that ALL of your collective positive energy, prayers and love will greatly contribute to my cancer-free diagnosis. And if my story inspires any one of you to FINALLY get tested and/or not settle for a general diagnosis to your ailments than I am glad I shared my story. Don't dismiss the small stuff. Early detection is key. Be proactive!!!

And despite this unfortunate event I am completely overwhelmed by the amount of support, love & encouragement I get from my friends, family and co-workers. I couldn't fight this battle alone and I don't dare imagine what this experience would be like without them/YOU. Thank you.

Please come back to this website for future updates that I will be posting so you all can stay in the loop during my journey. My co-author to this site, Bobbi, will be posting an update here after my surgery (June 6th) to let you all know how successful my surgery was. Thanks again for taking the time to read my story.

Yours truly,
Amber
Picture time!!
Jan 18, 2013: Porta Cath installed! Plug me into some chemo! Let's do this!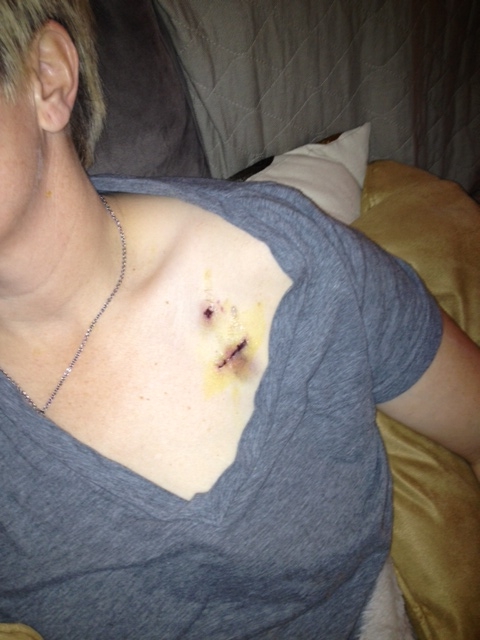 Jan 23, 2013 - Chest biopsy complete! Cancer has not spread, it's just that damn Sarcoidosis. Yays!


Feb 2013: Chillin at chemo (Texas Oncology)


Sexy fanny pack with daily chemo pump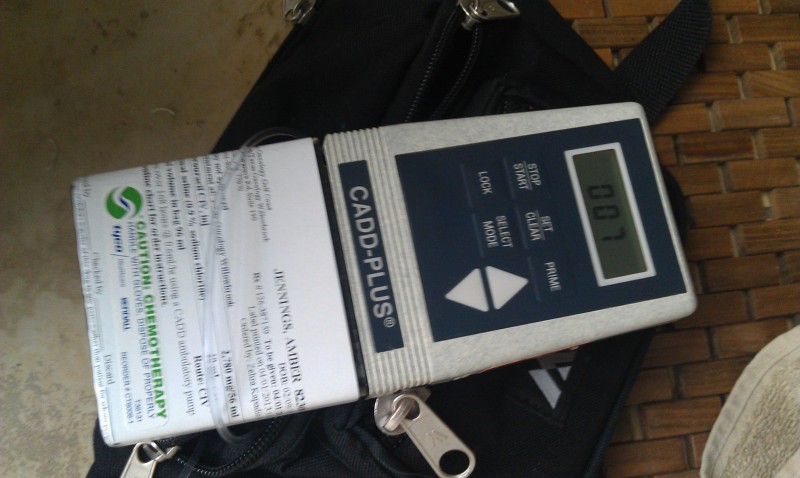 Mar - April 2013: THE BEAST! Daily radiation @ Memorial


Feb/Mar 2013: Arrrr... there be cancer in my booty!


What helps get me through the tougher days


What I plan to do after I kick cancers ass!!


Organizer
#1 fundraising platform

More people start fundraisers on GoFundMe than on any other platform. Learn more

GoFundMe Guarantee

In the rare case something isn't right, we will work with you to determine if misuse occurred. Learn more

Expert advice, 24/7

Contact us with your questions and we'll answer, day or night. Learn more