Raven was lost for 4 days earlier this week in Knoxville, and miraculously, she was found on Monday 12/7 and returned to her foster home. What a wonderful ending to a very stressful and anxious time. We are so grateful she is back home and survived the cold and is alive!!
Raven came to us at 13 months old, in September 2015, from a greyhound farm with a shattered femur. The broken bone nicked her artery. Heartland greyhound paid for her to undergo surgery, where she had a pin placed in her leg where the break was. The bleeding from the artery slowed her healing. Two weeks ago on November 23rd the pin was pulled. She was to be kept quiet with low activity for 6 weeks, a very slow recovery for a puppy her age. When Raven got away from her foster home, she was putting so much stress on her leg while she was lost, that the news now is not very good and we are unable to save her right back leg.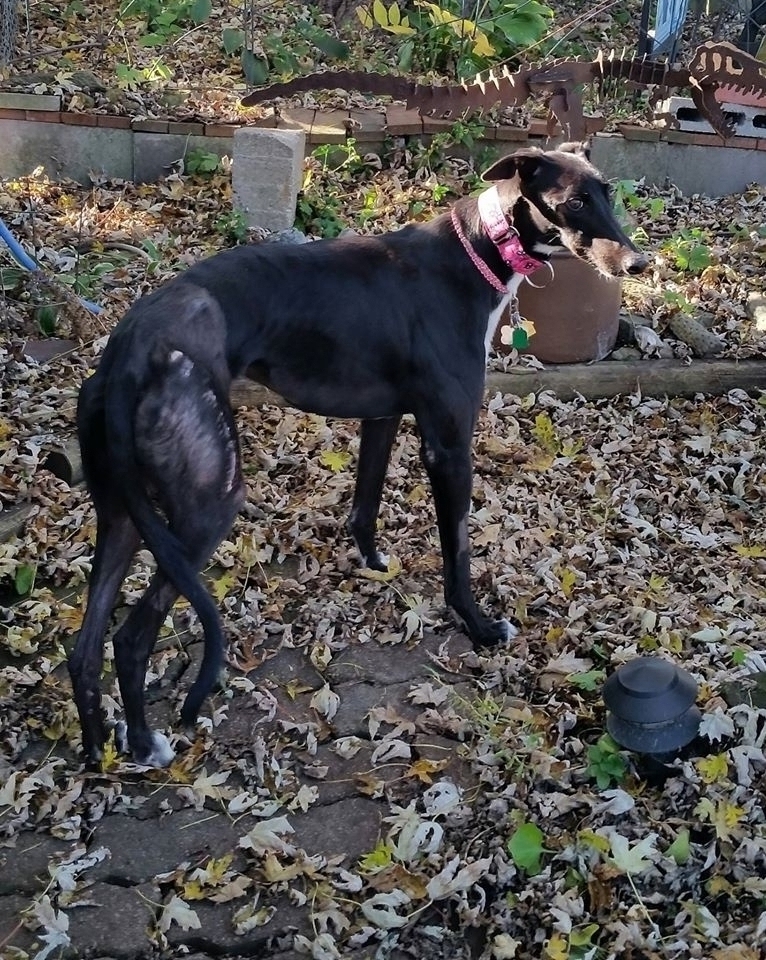 Raven went to the vet Tuesday, December 8 the day after she was found. X-rays show she has re-broken her leg. Dr. Henning is now concerned that there is still drainage from her original wound. He thinks one of the wires he used to put her femur back together may have come loose. Or there could be a bone fragment irritating tissue, causing the drainage. Either way, she's not putting any weight on her leg at all. It's going to be amputated Tuesday, December 15. We know because of Raven's will to live, she will be strong through the surgery and face her new found challenge bravely with this upcoming amputation.
We REALLY need your help. Heartland Greyhound is facing some real financial challenges with Raven and her surgeries. Our first bill for the initial surgery was $2150, and now we will be needing an additional $500 for the amputation. As a non-profit organization these are unexpected expenses, and now with the track closing in Council Bluffs December 18th, and the volume of dogs that we will need to help, we are calling out to you for some help. We will do whatever it takes to make Raven better, and we would be so grateful to all of you who could help us out financially at this time of our greatest need.
Thank you so much everyone.
Organizer and beneficiary
Grzech Fostering
Organizer
Johnston, IA