Tara Heaton Accident Recovery Fund
I've decided to update Tara's story now that we're two weeks past her initial accident date to give a better understanding of who Tara Heaton is, what happened and what she is now faced with.
WHO IS TARA HEATON?:
Tara is my 19 year old Niece who is an amazing young woman. Tara has 2 older brothers, one in college nearby (Tyler) and one living out in California (Thomas), and 1 younger brother (Robbie) and 3 younger sisters (Lexi, Morgan and Valerie) that live with her and are so much a part of her daily life and a younger sister (Ava) and younger brother (Austin) that live down in Florida that I'm sure she misses and can't wait to spend time with again. Tara has been a cheerleader most of her life along with Lexi, Morgan and Valerie and loves practicing cheers and teaching her younger sisters new ones.
Tara is a very hard worker as prior to the accident she worked full time at her Mother's day care TNT and also worked a second job at a gas station. Tara loves helping others and is adored by so many of the kids at TNT. I'm sure they all can't wait to see her back on her feet again playing with them and teaching them new things.
Tara is one of those people who just light up a room when she walks into it. She's very sweet, funny, caring and very intelligent. When you first meet her, her captivating smile and big dimples make you instantly like her.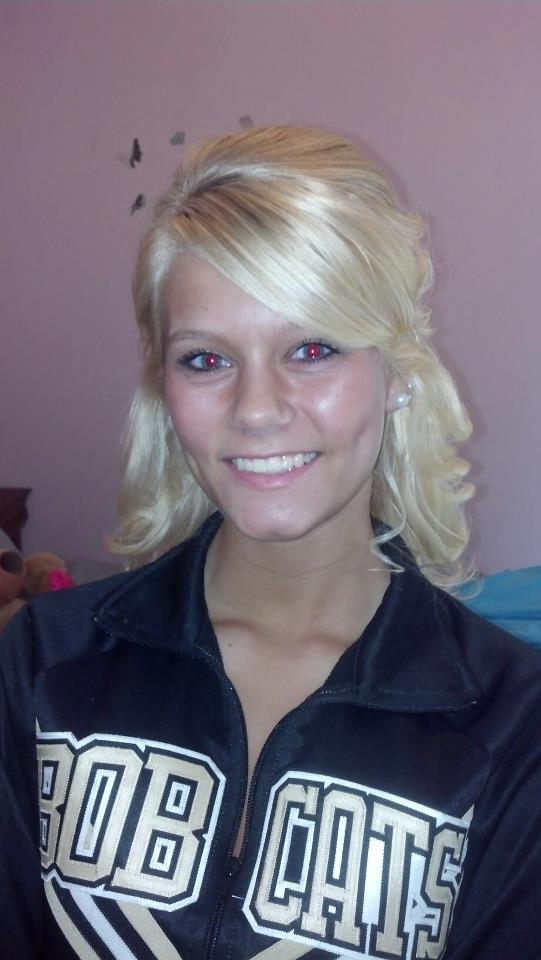 WHAT HAPPENED:
On June 16th., Tara was involved in a head on collision with another car on a two lane roadway where the speed limit I believe is 50MPH so you can imagine the impact that occured. 
Both cars caught fire and due to Tara's injuries she wasn't able to pull herself from the vehicle. Fortunately three men who were on their way to work, one of them recognized Tara's car and they all helped remove her from the vehicle before it became engulfed in flames. They truly are heroes and our family can't thank them and God enough for being there at the right time and place.
THE INJURIES:
Tara was life flighted to Vanderbilt hospital where she had been diagnosed with two broken legs, both of her hips were dislocated, her pelvis was fractured and had several broken ribs. It was also discovered that she had a complete occipital disassociation which is a complete separation of the head from the C-Spine which is usually fatal. Along with other bumps and bruises she had completely bitten through her bottom lip and had severe lacerations to her spleen and kidney.
WEEK ONE: (Vanderbilt)
Tara had a total of three surgeries while at Vanderbilt.
June 17th
- The first was to fix her broken left femur and left hip dislocation which was done successfully.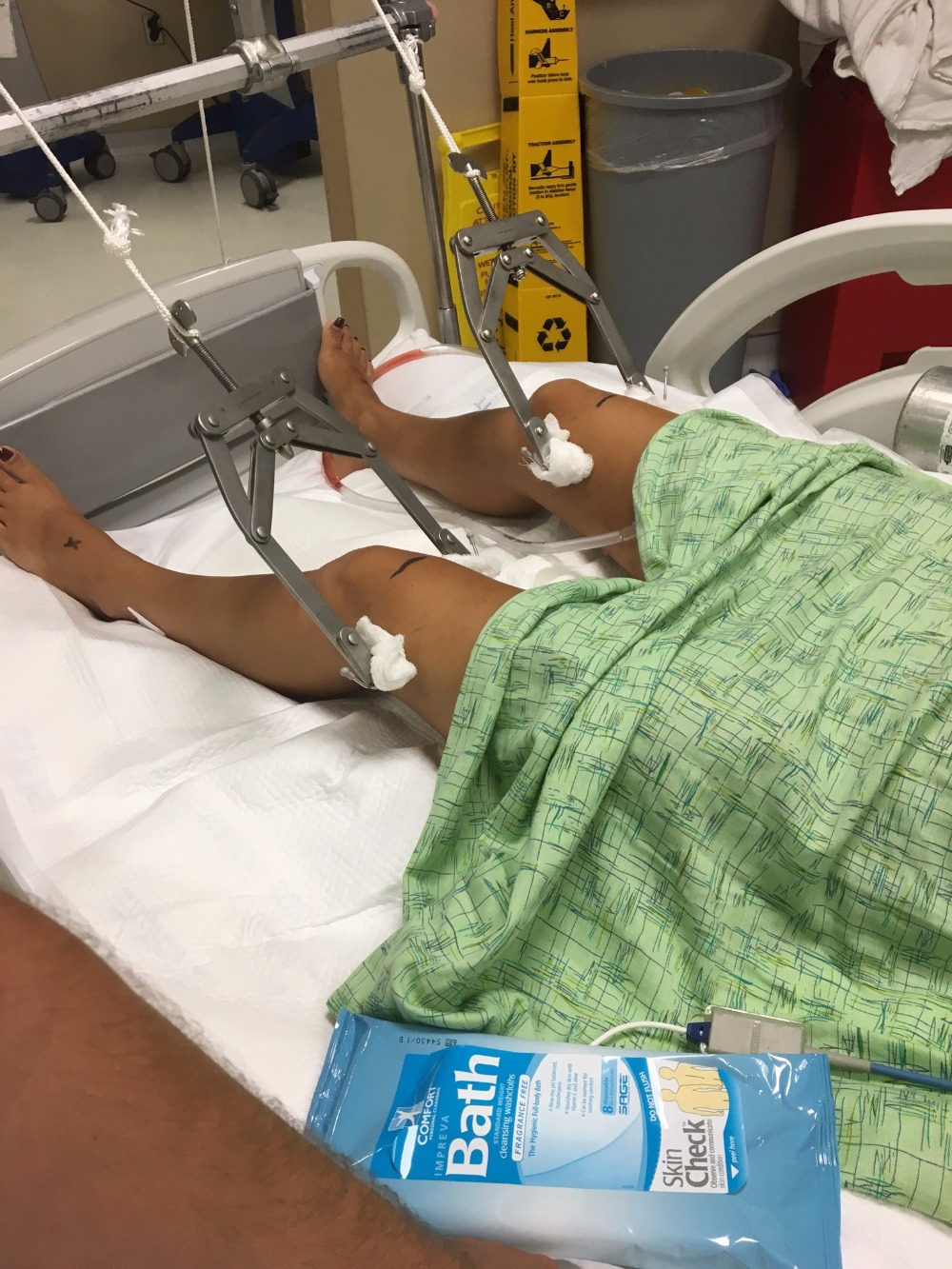 June 18th
- The second surgery focused on them installing two metal plates in the back of her head and installing the wires and screws to fuse to her C-Spine which occured without complication. Tara will have to wear a C-Spine collar for about 6 weeks.
June 21st
- What was to be her finally surgery resulted in a scary moment due to a complication with Tara and the anesthesia. Because of the facial trauma Tara suffered and the inflammation of her tongue from the laceration coupled with the decreased ability to intubate due to the decreased mobility from the c-spine fusion, her airway was closing and they had to perform a tracheostomy and put in a breathing tube and postpone the surgery.
June 24th
- The final surgery was performed to fix the acetabulum (pelvis) anterior and posterior and reduce the femur joint back into place.
WEEK TWO: (Vanderbilt)
June 25th 
- Tara is finally out of ICU and moved to another room where she still has her trach in place and doctors are still monitoring the grade 4 laceration on her spleen.
June 26th 
- Got some much needed love and support from two of her younger sisters that came to visit her. One of her older brothers came to see her as well.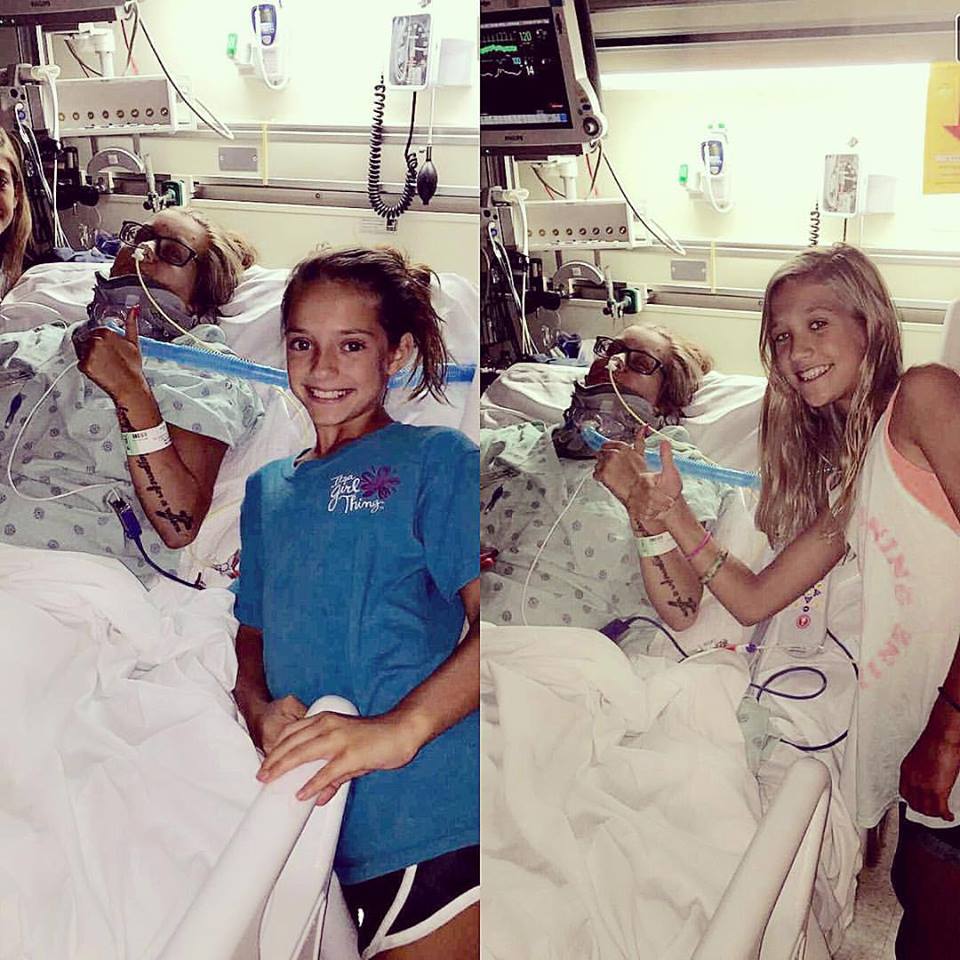 Tara was also pictured sitting up on her own without having to hold on to anything which was a great sign.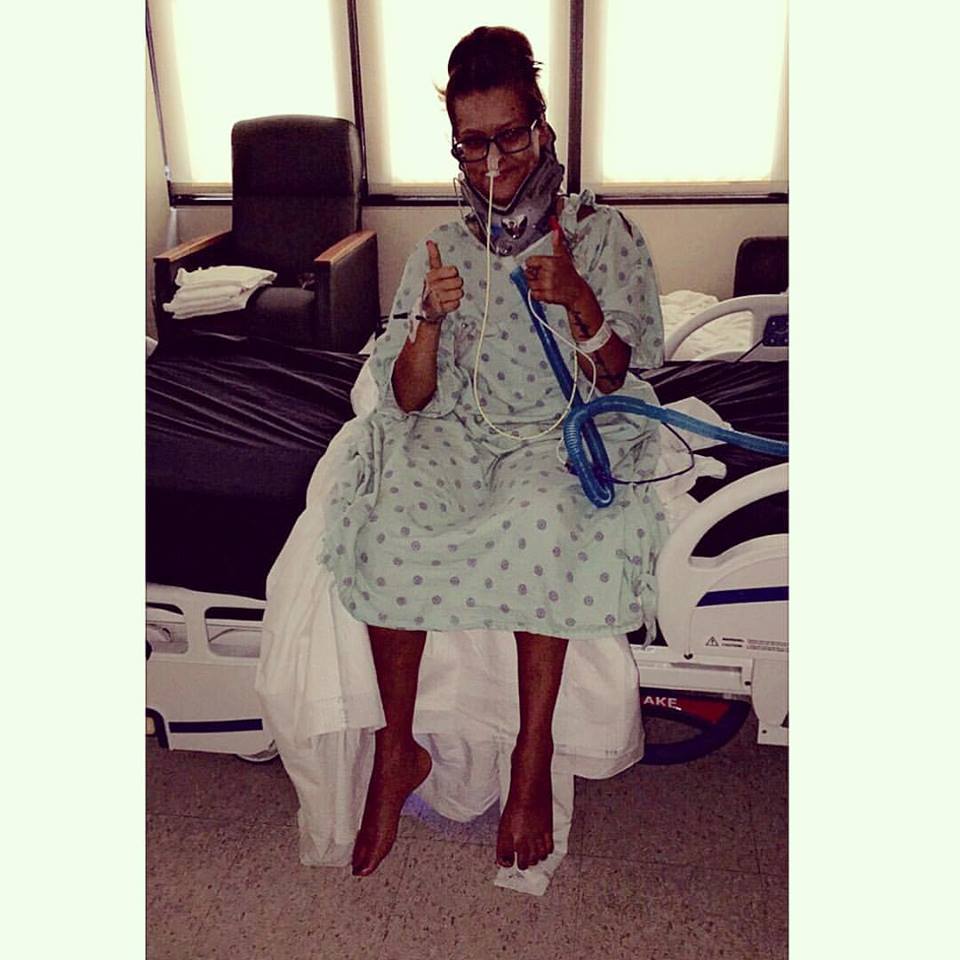 June 28th 
- Tara's feeding tube was removed and after passing her swallow study she'll be allowed to eat soft foods. After lunch time it was announced Tara would be released and be transported to NHC to begin her extensive road to recovery.
WEEK THREE & BEYOND: (NHC)

Tara now stays at NHC Pulaski which is thankfully so close to home now. Here she will begin her long road to recovery with physical therapy and rehabilitation. We're unsure exactly how long Tara will be here but just in the first few days shes been making progress and pushing herself to get better and stronger. Only July 2nd, Tara was able to get up and with the help of a walker take steps on her left leg.
HOW HER DONATIONS WILL BE USED:

Tara is setup as the direct beneficiary and withdraws the funds as she needs them. All donations will be used to help pay for her medical bills and any incidentals that the medical insurance doesn't cover that she'll need for her recovery. From what I've been told her medical bills will likely reach seven figures so any help is greatly appreciated.
As of July 3rd, we're only at 13% of our goal for Tara's fund. We still ask everyone to continue to pass along her story to as many people as possible in hopes of getting Tara back on her feet as quick as possible. All donations are appreciated no matter the amount. Whether it's $100, $10, $5, or even $1, it all helps. We'd rather see 100 donations of $5 each than a couple of $100 donations. So please don't think any amount is too small.
OUR THANKS:

Our family can't thank everyone enough for all their support, their donations, prayers and love that we've received these past two weeks. Your kindness has proven to be such an uplifting and has certainly helped not only us pull through this but helped Tara stay strong too!

Organizer and beneficiary
#1 fundraising platform

More people start fundraisers on GoFundMe than on any other platform. Learn more

GoFundMe Guarantee

In the rare case something isn't right, we will work with you to determine if misuse occurred. Learn more

Expert advice

Contact us with your questions and we'll answer, day or night. Learn more