Tamar-Volleyball Team Canada Women
Tamar is our oldest child of three and our only daughter that has a passion and gift for volleyball.  She is just under 6'3" (shoes on & still growing) that currently attends Grade 10 at MRSS (Maple Ridge Secondary
School).  This school year she once again earned Top Hat for her academic achievements.
The first few days of June had her attending a invite only 3 day tryout with some other 30 top athletes from Western Canada and was one out of 14 girls chosen of over 60 in the tryout process to represent Team Canada Youth U16 for Volleyball Canada.
It has been fun watching Tamar develop as a volleyball player.  She was first introduced to volleyball by her 6'7" dad, Chris and her Grade 7 teacher, Mr. Mac at Yennadon Elementary.  He encouraged her to try Infinity Volleyball Club in Langley where under the coaching of Joel and Heather for over three years and her fellow team mates, she has developed into a powerful player.  This allowed her to represent Zone 3 in Summer Games in 2016 and took home a bronze medal.  In May 2017 she received one of twelve AllStar Awards for the 2017 Club Season at Provincials voted on by other club coaches.
Tamar has two younger brothers, Noah & Caleb that are anxious to have her gone for a few weeks but her dog, Kona isn't so thrilled.
We really want Tamar to have this experience and asking for some help to off-set the costs.  Costs for Tamar alone are $2800 plus taxes and doesn't include a few necessary things. 
So, we are asking for a little help.  If you can contribute financially towards this experience for Tamar, we would appreciate it so very much.
For those interested, Tamar's itinary looks like the below:
July 8th-15th : Training @ UBC, Vancouver BC
July 15th-16th : Travel to Fort Lauderdale
July 16th & 17th : Training/Practice in Fort Lauderdale
July 18th-July 22nd: Compete at the US High Performance Championships
July 23rd : Return home
Provincial All-Star for the 2017 Club Season
Summer Games 2016 Zone 3 Bronze Medal
Club team mates who took home the Silver
Maple Ridge Secondary School - Gold Tier 2 & All-Star
Tamar and Chris hanging out in Mexico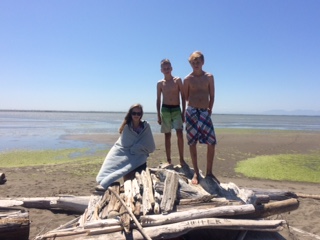 Tamar with her brothers: Noah & Caleb
Tamar and Kona hanging out
Organizer