"Three Turtles in Belarus" film documentary
Three Turtles In Belarus (2021)

Help the filmmakers tell this story of 'music as protest' in Belarus as the artists,  writers, and performers work for democratic reforms in their country.


In 1969 the songs "Ohio" and "Find the Cost of Freedom" by Crosby, Stills, Nash and Young galvanized a youth movement in the USA to speak out against and eventually end the Vietnam War. Today in Belarus a familiar protest anthem has re-emerged, one sung in school yards, in cafes, in army barracks, and if reports can be believed by guards and political prisoners together in the jails of Minsk.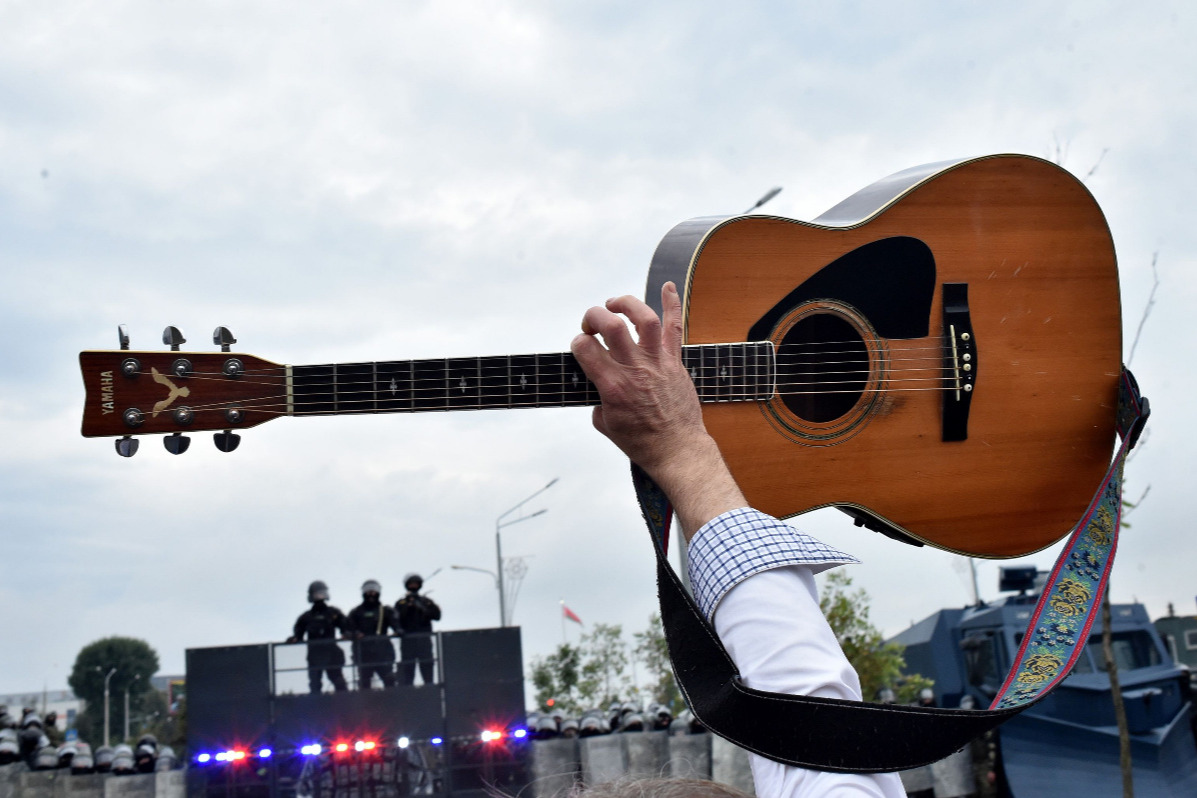 Armored vehicles and riot police meet peaceful protestors in Minsk, October 2020
  "Three Turtles," was first performed as a song of dissent in 1990 by the Belarus band N.R.M. and is today performed during protest marches by Pit Pawlaw, a member of the original band. Pete Paulau (his real name) is a man spectacularly on the front lines of the current civic unrest. With riot police and tactical vehicles arrayed against Belarus' peaceful protestors, Pawlaw stands and sings between them, as if music might be the bridge that can bind his country together.
October 23, 2020 in Minsk tens of thousands of peaceful protestors are met with military style force from police.
The lyrics are a call to civic action, satirizing government propaganda that promotes a strange Belarus origin story created by the current regime. It's an odd mix of homespun rural tradition and fabricated mythology originally crafted to pacify an anxious nation following independence from Russia. In the government's published fantasy of civic harmony three turtles pull the earth (and Belarus) through the universe supported by whales.
  "Three Turtles" tells listeners that immovable elephants have replaced the mythic whales. "Don't wait," to take civic action the song says, because waiting will not bring a surprise end to repression.
"When you have a smell of the municipal sewer,
And the state puts a noose around your neck,
You'll understand then that the three turtles
Still pull the earth."
"When you go out to the city or climb the mountains,
And get in touch with the people,
You'll understand then that today, as it was yesterday,
Our place is on three whales."
"Hey la-la-la-lai,
Don't wait, there'll be no surprises.
Hey la-la-la-lai,
Don't wait, don't wait."
(final verse)
"To love Belarus, our dear mother,
One must visit different countries.
Then you'll understand: under your feet
Three elephants stand motionless." 
Pit Pawlaw an original member of N.R.M. - the band that made the song a protest anthem in the 90's in Belarus.
In August 2020 Alexander Lukashenko was reelected President for five years - his sixth term in office. International election monitors have labeled all but the first of Lukashenko's electoral victories as "neither free nor fair." Mass demonstrations have continued unabated in the weeks and months since the election.
Lukashenko was first elected in 1994 and he immediately began exerting systematic government control of the press and cracking down on any form of dissent in music, art and public performance. According to the international media watchdog group, Reporters Without Borders, the state exercises complete control over all broadcast TV channels.
"In Belarus, critical journalists and bloggers are threatened and arrested, leading news sites are blocked, access to information is restricted and media diversity is unknown." - Reporters Without Borders, 2020
Original art: Pit Pawlaw, c. 2020
Consequences for violating strict censorship rules are so severe that huge portions of Belarus' popular culture, including contemporary music moved underground starting in the 90's. "Three Turtles" once again symbolizes resistance against the government.
In Belarus expressing dissent publicly or just singing a song can result in jail, a beating or worse by government enforcers. Artists, writers, poets, actors and performers of all kinds are risking their lives to make the voice of a society's cry for freedom heard. "Three Turtles in Belarus" shares the perspective of the Belarus creative class and supports their struggle to rid to world of yet another dictator-in-waiting in a free and democratic society.
Documentary film: "Three Turtles in Belarus"
  From December 2020 through June 2021 the producers will shoot and edit a short film under 48 minutes presenting the role played by music, art and performance in Belarus during the country's ongoing civil unrest. Seen primarily through the activities of Belarus' most notable protest singer, Pit Pawlaw, the film explores the communities created around public performances during times of protest. More than a dozen voices of dissent are heard including writers and artists, academics, stage and media performers with an emphasis on telling the stories of those who have been 'disappeared' from the streets of Minsk.
Production Outline
  Shooting begins in December 2020 and ends in April 2021. Two crews, one contracted monthly and one used on daily assignment will film a total of approximately 20 interviews, one dozen live events, a handful of musical performances, and a majority of the weekly activities of the film's protagonist, the performer and singer of "Three Turtles", Pit Pawlaw.
  Formal interviews will be conducted remotely via internet video link but shot on location with broadcast camera and sound equipment. Dailies will be shared with the U.S. based producing and post-production crew via a shared online storage link. Post-production will be ongoing with a scheduled 8 weeks of dedicated effort following the conclusion of filming.
  A festival preview draft edit, and online trailers will be completed by the end of June 2021.
Production Assets
1st and 2nd Units in Belarus
1.     1 senior camera operator
2.     1 camera operator
3.     1 senior translator
4.     1 translator
5.     1 senior sound engineer
6.     1 sound engineer
7.     1 senior producer
8.     1 producer
Production Estimates
  An approximate 5 month shoot with 20 interviews recorded within 50 minutes driving distance from Minsk, 30-40 minutes per interview. Event coverage: as often as three days per week to start, more or fewer days per week thereafter depending on circumstances. Performance coverage: multi-cam at 4 live events; single cam at 6 social events, and multi-cam at 6 social events (12 total). Pit Pawlaw coverage, 30-40 filming days out of the approximate 20-week shooting schedule (significant address to camera narration, with translation).
Crew 1 (Sr. cam, Sr. audio, Sr. translator, Sr. producer)
20 interviews/b-roll – 3 hrs. / .5 day each                       20 prod. Days
12 events coverage – 3 hrs. / .5 day each                        12 prod. Days
4 performance events – 12 hrs. / 2 days each                 8 prod. Days
30 days Pit Pawlaw coverage                                                30 prod. Days
Total Days Unit 1                                                                          70 days (of 100 days) 
Crew 2 (Cam, audio, translator, producer)
4 interviews/b-roll – 3 hrs. / .5 day each                          4 prod. Days
6 events coverage – 3 hrs. / .5 day each                           6 prod. Days
4 performance events – 6 hrs. / 1 day each                   4 prod. Days
12 days Pit Pawlaw coverage                                             12 prod. Days
Total Days Unit 2                                                                       26 days (of 150)
Production Cost Estimates
Above the Line Expense Belarus                                                $28,592
Below the Line Expense Belarus                                                $11,862
Production Costs Belarus Estimate                                         $20,000
Above the line Cost USA                                                                $30,000
Below the line Expense USA                                                        $14,000                  
Total Project Estimate                                                        $104,454
#1 fundraising platform

People have raised more money on GoFundMe than anywhere else. Learn more

GoFundMe Guarantee

In the rare case that something isn't right, we will refund your donation. Learn more

Expert advice, 24/7

Contact us with your questions and we'll answer, day or night. Learn more