"Be of good cheer. Do not think of today's failures, but of the success that may come tomorrow. You have set yourselves a difficult task, but you will succeed if you persevere; and you will find a joy in overcoming obstacles. Remember, no effort that we make to attain something beautiful is ever lost."
-Helen Keller
Hi Friends,
On March 29, 2016, a terrible
house fire
 occurred, causing roughly 90 people their homes, their livelihood and for the most part, their sanity.
Here's a
link
 to the incident. 
My name is Shateek S. Brown, and I was one of the victims affected by the
Bushwick fire
. Unfortunately I've lost everything (Personal items, documents, clothes and prized possessions), but one thing I haven't lost was my drive and my spirit to carry on and love.
I am super fortunate and feel so blessed to have breathe in my lungs and a life to carry on with. As I watched the fire spread and swallow my home, it crushed me and placed me in a state of shock. Someone is trying to send me a message- a sign for greater things to come.
Out of all the things and belongings I've lost from the fire, the one thing I hold close to my heart and have so much passion for and lost, was all my artwork. If you know me personally, you know how much the arts is a big part of my life, and practically my life line. All the possessions and all the clothes means nothing to me, but losing my work is such huge tragedy. My home doubled as my art studio, my craft was my life's mission-my escape. 
The title of this campaign is called "Art from the Ashes". I am asking for your support in helping me get back to creating and doing what I love . This campaign is not only for me, but for you as well. With all the support and money gain, I want to give back and produce an "Art for the Ashes" series, delivering works of art and gratitude to all my supporters. This would be a great time to turn a bad situation into a better one, while not only getting me back on my artistic feet, but also provide artwork and a piece of me inside other's homes.
Here's where all the funds will go towards: Relief and light aide to get back on my feet, first month's rent and a security deposit on an art studio, studio equipment and art supplies for all the production for the project.
Through these difficult times, I won't let this tragedy break my spirit and attitude towards life. We must overcome all obstacles life throws our way and come back bigger, better and stronger. My heart goes out to all the other victims involved in the fire and wish them a speedy recovery. No words can compare and give enough grievance to those who also lost everything.
No man is an island. It takes a team and the strength of many to achieve greatness. It would mean the world to me, and I couldn't give enough thanks to those to choose to go through this difficult time with me. All paintings and drawings produced will be either hand delivered or mail those who chooses such options.
You can opt. out of donating for artwork and donate for the sake of donating and expressing your love.  I appreciate everything and everyone. 
Thank You to everyone in advance.
With all the love in my heart,
Shateek S. Brown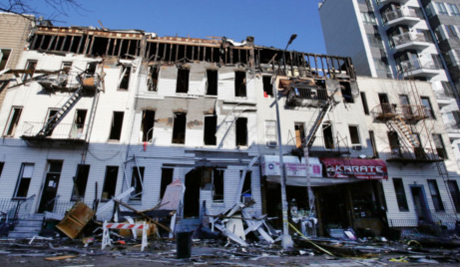 Organizer