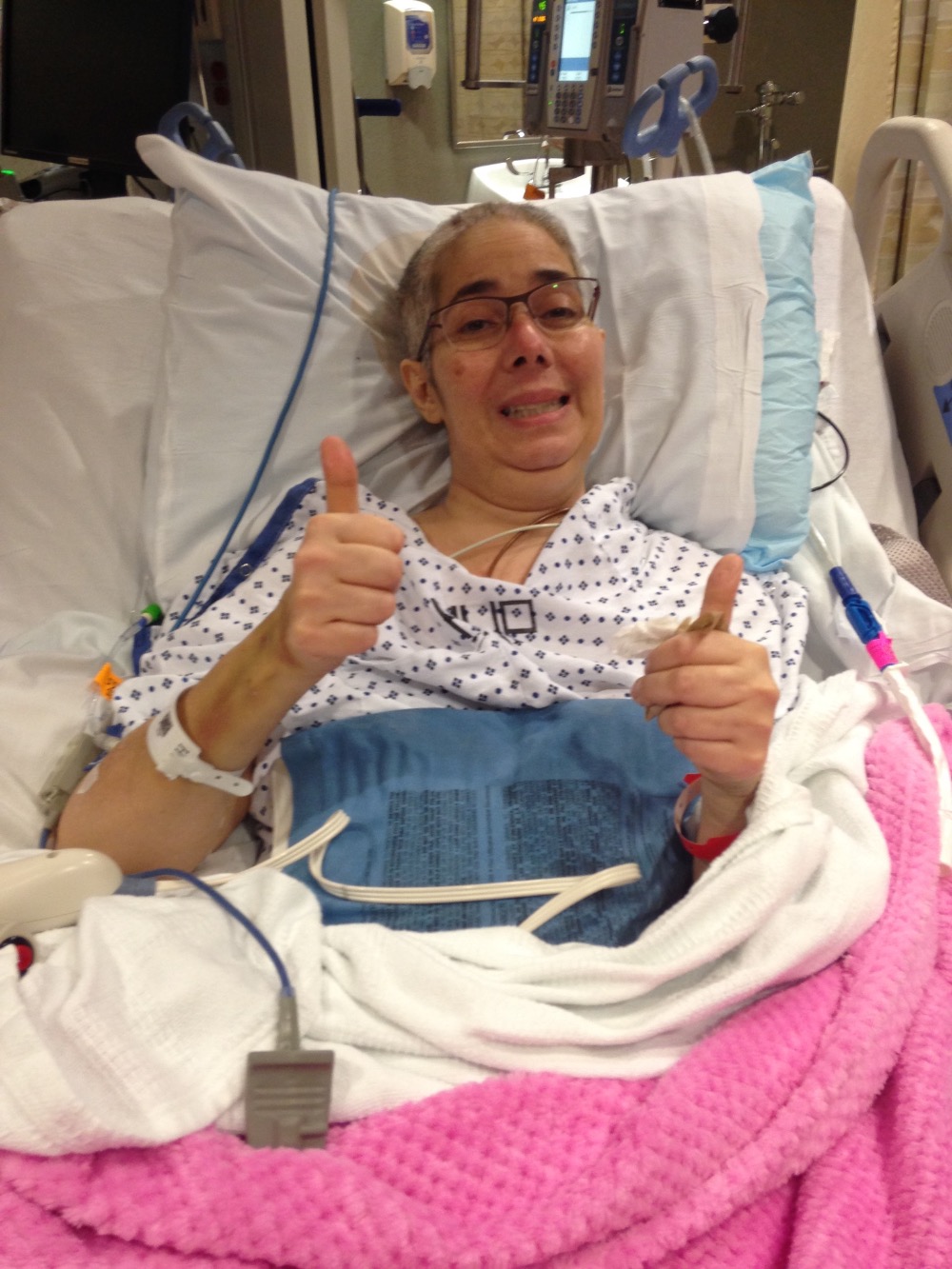 Sharon's Story Shared by her Sister
When she was 8 years old, Sharon Hanna worried about things that a young child should never need to worry about... her Mother had been diagnosed with M.S. and from that time on... she and her younger sister had a childhood of worrying about the health of their Mother and partaking in her care.
 Fast-forward to October of 2016. Three years after her Mother had passed on; Sharon had a number of "falls" and very strange symptoms of vertigo, severe nausea and impairment to her eyesight and her ability to walk. At the age of 55, an MRI revealed something that is considered to be far worse that what we had all suspected... (As there were 3 other cases of M.S. in her Mother's family... we had all suspected that same diagnosis.)
 The MRI scan revealed that Sharon had a very slow-growing 3.5 centimeter hemangioblastoma tumor deeply embedded along her brainstem; diagnosed as, most likely growing for around 10 years.  If located in any other area of the brain, it would not be considered to be such a grave diagnosis, but the tumor was so large that it was crushing and 'bending' the brainstem.  If she had refused the surgery, she was told by Neuro Doctors at U. Of Penn Hospital, that she would not have survived more than 5 to 10 days past the scheduled surgery date.  At that point, She was no longer able to walk without assistance, or to function at any kind of normal- level. 
 After a 20 hour long, very risky brain surgery by Dr. Kung at U. of Penn Neurosurgery in October of 2016, she'd been told that because of it's location and the type of tumor (vascular)  they were only able to remove 30% of the tumor and the damage caused by the surgery had caused her to have a very long road of many months to regain enough strength to withstand the Radiation treatment. 
 Because of it's brain-stem location, in what's referred to as the "Central Control Panel" of the brain, the tumor has had a major affect on every aspect of her ability to function independently. The size and location of the tumor has hindered her ability to swallow foods and fluids, causing repeated aspiration to occur, always followed by severe bouts of pneumonia, followed by long hospitalizations. She's unable to walk without assistance. It's now 13 months since the surgery, and after many months of Physical Therapy and long hospitalizations, she has just undergone 6 weeks of daily Radiation treatment.
 The tumor has grown in size since the surgery and another lesion has developed. Her vision has become very impaired; the tumor has hindered her ability to read, to write, to eat and she is unable to drive a car and unable to walk independently. She still is at risk of aspirating and of falling down. She has a permanent lower g.i. feeding tube in place. Radiation treatment began on Friday, 9/08/2017 and continued daily, for 28 treatments, recently finished on 10/25/2017.  There is a likelihood that she will need full-time daily care for an indefinite amount of time. The radiation treatment was to halt the growth of the tumor, but will not eradicate or shrink the large tumor in size. 
 We are raising funds to help Sharon to survive the coming year.  Not only for Medical bills, but for the Nursing care and any daily care-giving that she'll require. According to our research, One 6 hour visit from a Home-Health Aide will cost $126.00 per day (this is $630.00 per a 5-day week, / $2,520.00 per month, / $30,240.00 per year. 
 We sincerely appreciate any amount that you are able to share with her as she faces this extremely difficult struggle. We ask for your generosity, your prayers and good wishes. Thank you.
 Please spread the word...and PLEASE SHARE this Go-Fund-Me request.
 From one of Sharon's closest, long-time friends :
 Sharon is my best friend from High School in Allentown, PA.  She is one of the most caring and thoughtful people I know, as well as, very independent.  It took a while for her Sister and Myself to get permission from Sharon and her wife to do a Go Fund Me, because of this independence and desire to take care of herself.  Sharon has been in a care-giving role most of her life.  Her Mom had MS, which kept Sharon living nearby her parents to help them as this disease progressed for her Mother and sadly took her life 4 years ago.  Shortly after her Mother passed away, her Father's health became compromised, again leaving Sharon and her Sister in caregiver roles.  She is not used to being the one needing help, but now she does need our help, and even the help of people who do not know her.
 I live in Olympia, Washington so I do not get to see Sharon very much, but I did get to see her in August.  What impacted me the most was realizing how much they have had to deal with this alone.  Not because they do not have a loving family, but because both of their immediate families are under a lot of additional stress. Lisa, Sharon's sister, lives in another County and has two children (11 & 17) and her nearly 93 year old Father living with her and her husband.  Sharon's wife's family is also dealing with aging parents. Neither of them have immediate family living in Allentown able to help them with her daily care.  
The saying "It takes a Village"  definitely applies here.  They have so far been doing this financially on their own.  All of Sharon's energy goes to her recovery, she still can not walk without using a walker as well as someone there to assist her. Taking care of their house, yard and financial responsibility has fallen on her wife, who also has to maintain her Full-time job.  With no end in sight right now, this is not sustainable, so we are asking for your help.  On my last day visiting Sharon she told me she is not ready to die.  Your generosity will show her that all of us are not ready to have her die.  The smallest amount will be appreciated and show Sharon and Char that we are with them in this journey.  Thank you for your generosity.
Laura Bilger Monica Cabrera 
Organizer
#1 fundraising platform

More people start fundraisers on GoFundMe than on any other platform. Learn more

GoFundMe Guarantee

In the rare case something isn't right, we will work with you to determine if misuse occurred. Learn more

Expert advice, 24/7

Contact us with your questions and we'll answer, day or night. Learn more