Hi,
We're the Utis. You might have heard of us, but if not, we're a friendly crew who lives on Utrechter Strasse in Berlin.
Seidu joined our group six months ago. He's originally from Ghana, having made the perilous journey through Libya and across the Mediterranean to reach Europe. He likes watching Steve Harvey reels, baking vegan banana bread, and has a Bible quote for every situation.  
After six months of living with us,  it's now time for 'Phase Two', aka, 'Set Seidu Up'.
Phase Two is crucial. We need to raise €3200 for it to work. This money will go towards legal fees for Seidu's asylum case, bureaucratic fees for things like document translations and passport renewals, and six-months rent for accommodation.
The good news is we've already found a place; a lovely, bright room at €360 a month plus a €700 deposit.
During his six months in the new room, Seidu will gain a place on an apprenticeship course, learning a vital profession such as nursing, construction, or even baking (which means even more vegan banana bread).
We know we can reach our goal with
your help.
Even a small donation makes a big impact; contributing towards legal fees, bureaucratic costs, and a roof over Seidu's head. 
Your donation will make an
immediate difference
and bring us closer to our goal. By taking action today, you're helping Seidu establish a life here in Germany.
And when you donate, you're part of a community. Our community. We'll keep you updated about Seidu's search for an apprenticeship and his legal case, plus we'll send you lovely photos. Of cats. Wearing mittens.* 
We could tell you a million reasons why you should donate, but you're busy. Here's three:
Donate to our page because
you want to help
change someone's life. 
Because
you believe
in everyone's right to education, freedom, and accommodation.
Because you want to see pictures of vegan banana bread :).
Thank you, and
please be sure to share this page with your friends and family.
All our love,
The Utis of Utrechter 6
(Max, Leo, Josef, Sam, Seidu, Jackson)
* Cats and/or mittens may not be included.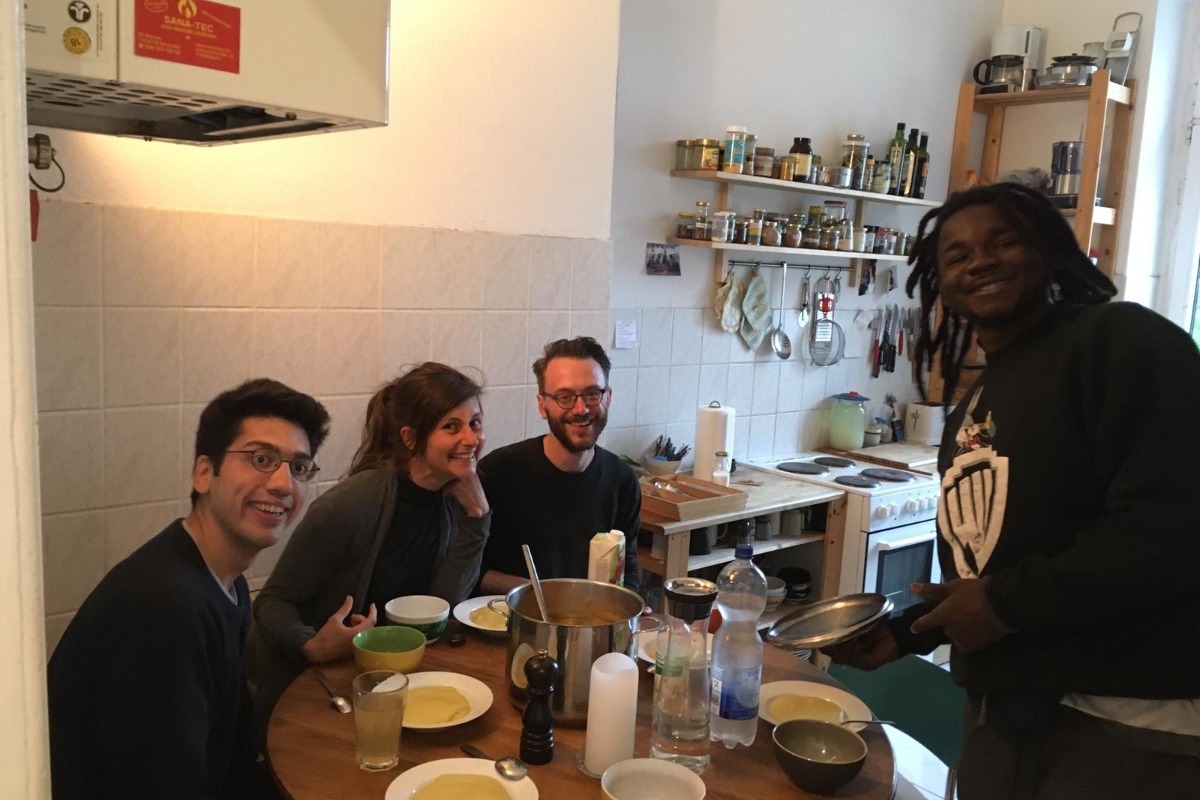 Seidu made us some okra soup with fufu. It was so spicy. Delicious. But so spicy.
---------------------------------------------------------------------------------------------
Liebe Freunde,
wir möchten euch in diesem kleinen Text von Seidu erzählen, einem jungen Mann, der uns als Mitbewohner und Freund sehr ans Herz gewachsen ist. Er wohnt bei uns und braucht eure Hilfe.
Seidus Geschichte ist lang und lässt sich hier nur kurz skizzieren, aber wir hoffen, dass ihr zumindest ein ungefähres Bild seiner schwierigen Lage bekommt. Er befindet sich aktuell in einer Grauzone zwischen der Sorge, dass er bald abgeschoben wird und der Hoffnung, dass ihm ein Ausbildungsplatz eine gesicherte Bleibeperspektive bieten kann. Er will unter keinen Umständen zurück in das Lager und wünscht sich in Berlin Fuß zu fassen. Dabei beeindruckt er uns mit seiner Art und seinem Glauben sehr. Er lebt vegan und strukturiert sich seinen Alltag mit Sport, Meditation und dem Besuch von Beratungs- und Selbsthilfe Gruppen. Er engagiert sich in seiner Kirche und träumt davon als Yoga Lehrer und Sporttrainer arbeiten zu können. Häufig kocht er wahnsinnig scharfes Curry, bei dem es uns allen die Schuhe auszieht, und backt abwechselnd deutsches Sauerteig- und veganes Bananenbrot.
Wir konnten Seidu in den letzten 6 Monaten einen Schlafplatz bieten, aber wir wünschen uns ihm auf der Suche nach einer besseren nachhaltigeren Lösung unterstützen zu können!
- Ein eigenes Zimmer und damit einen eigenen sicheren Platz zum leben.
- Einen Ausbildungsplatz und damit eine Chance auf den Beginn einer unabhängigen Existenz in Deutschland.
Denkt daran auch kleine Summen helfen sehr, gerne auch als Dauerauftrag!!
Vielen Dank für eure Unterstützung und liebste Grüße aus der UTIS-WG,
Leo, Max, Sam, Josef, Jackson & Seidu
Fundraising team: UTIS (2)
Max Caskie 
Organizer
Raised €139 from 7 donations
Berlin
Jackson Wolf 
Team member
Raised €895 from 9 donations