Send Alexia to University in Spain
Once every few years a student emerges in the life of a teacher, or in my case, an academic adviser, who inspires her to be a better person. During the last nine months, I have had the privilege of working with Alexia Tefel, who has recently been admitted to the University of Navarra in Spain and earned a scholarship for a little over $10,000 to study Economics. I am not a person who likes to exaggerate, I would rather measure my words to manage expectations and always give more than what my acquaintances and colleagues expect. However, there aren't enough words I can use to express the ethics, discipline, commitment, and passion that Alexia possesses.
Alexia is more considerate than most. She exerts monumental effort to give a helping hand to others, and she does it with charm and humility. In Alexia, I see a natural leader, who has shown through her many achievements the unusual ability to form effective teams and bring out the best in each person, confronting with impressive initiative. A while back, her Physical Education instructor was assaulted, and the robbers broke his ribs. When he went to the hospital, the anesthesia intended to relieve pain was wrongfully applied, and it resulted in an infection in his glutes. He could not walk or sit; let alone work. His life had taken a turn for the worse. Alexia could not stand to know this and wait passively for him to recover, so she took initiative to organize bake sales, car washes, and other activities to raise funds for him. In less than a week, she and her fellow students raised over $500 to support their instructor.
In other people´s times of need, she´s offered a shoulder for them to lean on. Now she finds herself in a position where she needs a shoulder to lean on. Alexia's parents are in serious financial trouble, and they cannot afford to pay for her college education as their only source of income, their Spanish restaurant will close down. Alexia´s desire to reach her true potential through higher education is in jeopardy. That´s why, I need your contribution to help Alexia fulfill her academic goals.
These are a few of Alexia's achievements and extracurricular activities:
Straight A's since 9th grade
Graduated as the Salutatorian of her class with an average grade of 98.89 on a 100
Community Leader
She was Student Body President during the 2015-2016 academic year
Starting Operation Smile charity clubs in her school and helping friends to initiate the club in two other schools
Her passion and commitment have inspired others in her school to create clubs with a social mission
Compromised with her community, donating so much of her time to teach English to needy children.
Alexia is also fluent in Spanish and English, and has been studying French for 2 years.
She knows how to play the alto saxophone, piano, and guitar, and enjoys reading and playing sports.
Alexia has a strong set of values and beliefs, and always gives everything she has when she sets a new goal.
A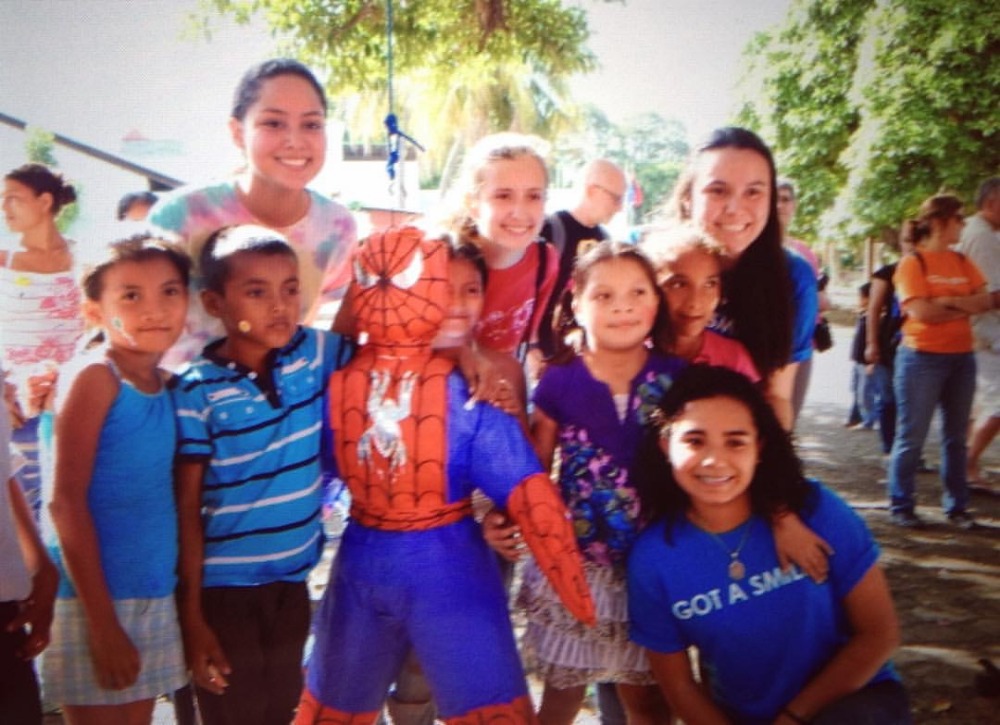 A recent picture of Alexia participating in an Operation Smile Nicaragua event. 
A person who works as hard as Alexia deserves to see the rewards of her efforts, and it is fair for her to get the help she needs to compliment her scholarship at University of Navarra in Spain. This is why we need your help, and we would be immensely grateful for your contributions.
While Alexia believes this is a lot of money and won't be easy to collect, we are determined to help her get it. Here is breakdown of the cost of her first year of her tuition, room and board, plane tickets, as well as, the money she has been awarded from University of Navarra's Alumni Scholarship:
The Total amount needed to cover is $18,888.49
. Attendance must be confirmed July 20th
2017/2018 Expenses:
Tuition: $16,302.92
Room and Board (including meal plan with 21 meals per week): $9,497.60
Two plane Tickets (Managua/Madrid): $2,000.00
University Fees: $106.40
Service Fees: $1480.00
Total Expenses: $29,386.92
 University Grants
 Incentive Grant: $1,538.43
 Alumni Scholarship from University Of Navarra: $8,960.00
Total Awarded Grants: $10,498.43
All money will be withdrawn by Alexia´s aunt, Patricia Tefel.  She will write a check for the full amount of the donation, which will be given to Alexia, so she can cash it to pay University of Navarra and her plane tickets as soon as possible. The money collected will make it possible for her to give a down payment before July 20th or else she will lose any awarded grants, thus making it even harder for her to afford a college education.
Thank you for taking the time to read Alexia´s story. Your donation will be  greatly appreciated and will have a long-lasting impact in Alexia´s career start and in the lives of those she can empower during her journey.
Organizer and beneficiary