Seamus M Davey Memorial Scholarship
Hello Friends and Family!
As many of you know, 9 years ago I lost my brother Seamus when he was killed in action in Iraq. I am honoring Seamus this October by running my first official race in over 8 years and by raising money for his scholarship. I am asking for your help, support and donations to achieve these goals. 100% of your donation will go to the scholarship fund set up in Seamus' name. This scholarship, given out once a year, will make it possible for a senior at Lowville Academy High School to follow their dreams and provide financial support while they pursue their higher education. No pressure to donate (ok a little pressure!) – and if in the area please come out and celebrate the event as I run 10K across the streets of Sleepy Hollow! Not a day goes by without me thinking of Seamus, and on October 18th we will honor his memory through this race and your support.
Thank you all!
Shiloh
RACE: Sleepy Hollow Halloween 10K - Saturday, October 18th @ 9:30 am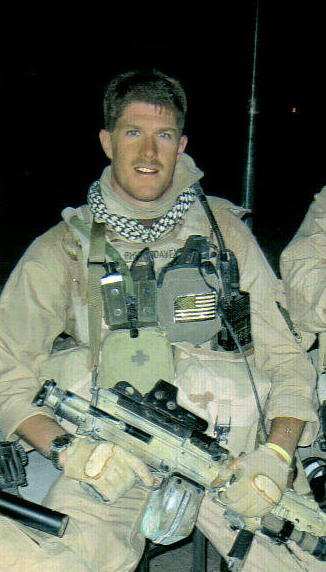 BACKGROUND: Cpl Seamus Maclean Davey
Born in Pensacola, Florida on October 24, 1979 the son of Derek M. and Lorene A. Olson Davey, Seamus graduated from Lowville Academy and Central School in 1998, and attended Grossmont College in El Cajon, Calf., while living in San Diego, Calf. At Lowville Academy he played football, basketball, and lacrosse, where he was with the lacrosse program since its inception. 
The President of the United States presented the BRONZE STAR MEDAL (Posthumously) to CPL SEAMUS M. DAVEY UNITED STATES MARINE CORPS for service as set forth in the following
CITATION: For heroic achievement in connection with combat operations against the enemy as a Reconnaissance Scout, Team 2, 7th Platoon, 2d Force Reconnaissance Company, Regimental Combat Team 2, 2d Marine Division, II Marine Expeditionary Force (Forward) in support of Operation IRAQI FREEDOM 04-06. On 21 October 2005, in Abu Hyatt , Iraq , Corporal Davey's team was tasked with conducting point raids and the cordon and search of over 70 buildings that were known to be a staging area for foreign fighters and insurgents. Upon entering a house, his team was ambushed by four enemy gunmen at ranges of less than ten feet. Corporal Davey was struck by multiple rounds and collapsed to the ground. Ignoring his wounds, and without regard for his safety, he continued to engage the enemy. Corporal Davey's suppressive fire drew the enemy's attention from his fellow Marines, thereby allowing them to safely withdraw from the room. Corporal Davey continued to engage the enemy until he was mortally wounded. By his zealous initiative, courageous actions, and exceptional dedication to duty, Corporal Davey reflected great credit upon himself and upheld the highest traditions of the Marine Corps and the United States Naval Service. The Combat Distinguishing Device is authorized.
Become the first supporter
Your donation matters
Organizer
Shiloh Davey Mackey
Organizer
Tarrytown, NY