Everly Charlotte Grace
, was welcomed into this world with love at 12:12pm CST, on Father's Day, Sunday, June 18th, 2017. We have chosen to give her the second middle name Grace, because
it is truly by the grace of God that she is still here with us today.
We were blessed to have three amazing Midwives (Susan Taylor of Taylor Made Midwifery, Jamie Hinton of Celebrate Birth Midwifery, and Amanda Prouty of Beautiful Beginnings) that are so detail oriented and not only recognized Everly was having issues, but they reacted appropriately and swiftly. After we endured three consecutive losses in our efforts to conceive our families final addition, we were blessed with an uncomplicated pregnancy of our Rainbow Baby, Everly. At no point were there any indications that this beautiful little baby girl would have such fatal medical issues. The combination of using what we learned in our Hypnobabies Birthing Class with a lot of prayer ensured labor was also uncomplicated and her planned home birth was beautiful. She was born a hearty size at 9lb6oz 22.25" long and appeared to be perfect in every way. Her APGAR was a nine, she cried with what sounded like very strong and healthy lungs, she latched on and nursed like a champ, everything was perfect, until it wasn't. 
At just two hours old, Everly's newborn exam was coming to an end and she had been passing with flying colors. However, it was in the final moments of her exam that her color began to change from a rosy pink to a darker ashy color. Three Midwives together assessed the issue and decided to test her oxygen levels. They also noticed that her respirations had become very erratic. Unfortunately, her levels were not where they should have been. They then decided to offer her some oxygen via blow pass and see if she could increase her levels and then maintain. They tested this several times, but sweet Everly, was not able to maintain a healthy oxygen level. We then noticed that she had lost muscle tone and started to become limp. With that, we made the decision to transfer to Cook's Children's Hospital. It was a whirlwind of events. One minute we had a beautiful perfect birth and baby and the next we were being rushed via ambulance to the hospital with the ever looming threat of loosing her.
Once we arrived to the hospital, sweet Everly's limp body was whisked out of my arms and immediately surrounded by a large crowd of Dr's and Nurses. These strangers were now in charge of saving our baby girl's life. The needles, wires, and tubes were lined up and quickly being placed. Blood was being drawn and we honestly had no idea what all was going on other than they were doing their best to save our baby. We were quickly transferred to the Neonatal Intensive Care Unit where we would meet with another Dr who would soon make a diagnosis.
Dr. Levi asserted that Everly has Hyaline Membrane Disease. A very rare disease that typically only affects premature babies. However, Everly, was born at 42+ weeks gestation, making her case even more peculiar. We were informed that she would need to be intubated and a medication called Surfactant would have to be directly administered into each lung in an effort to save her life. Then Everly's chest x-rays returned with alarming news that in addition to the Hyaline Membrane Disease, she somehow managed to acquire Congenital Pneumonia in utero. To boot, typically lightly meconium stained amniotic fluid, which Everly had, is normal for term and post term babies at birth, however, for Everly in combination with her other two conditions, it exasperated these serious issues. Our sweet baby girl had three strikes against her and all we could do was pray. 
After the intubation and administration of the Surfactant, Everly was then put on two types of antibiotics that work synergetically, Ampicillin and Gentamicin to fight the pneumonia. She will continue to be on these until she reaches 7-10 days of age depending on her cultures. She was also put on Dextrose via intravenous drip to provide her nourishment and hydration. A feeding tube was also administered. Finally, Everly, was put on a CPAP machine which would force oxygen into her lungs. At this point, her Dr. just looked at us and said
"I'm sorry, your daughter is very - very sick."
He had prepared us for the worst and he apparently feared the worst was a strong possibility. At this point, we've been told many times over that had we not gotten Everly to the hospital as quickly as we did, she would surely not be with us today. 
Today, Everly is five days old and has made tremendous improvements, though we still have a very long road ahead of us. She has graduated from her CPAP to a Cannula, and now we are testing her ability to maintain oxygen levels utilizing room air. Her respirations are still very erratic which may be tied to a cardiovascular issue, though they have not confirmed such at this time, however, that is an issue that is really weighing down her recovery time. 
These past five days have seemed like an eternity for our little family and have completely turned our world upside down. Our sweet three year old Lyla, is having a very difficult time with the dynamics of the situation and the lack of her usual routine, she's acting out and not her self at all. Jason (Daddy), is doing all he can to care for Lyla, help me in any way possible, and is constantly running back and forth from home to the hospital multiple times a day. He has not been able to attend his second job, due to the current circumstances and the loss of income is quickly becoming financially devastating. The hospital billing department has prepared us to expect Everly's bill to be in the $300,000 range, based off of her current services and the Dr's estimated length of time before she may be released (10-14 days) if there are no additional complications. That amount is their "discounted" self pay amount as we do not have medical insurance, and it  does not include additional expenses that will be billed separate from the hospital- transport, labs, specialist Dr's etc. Additionally, Everly will need routine follow up care immediately beginning after she is stable and discharged. It was also suggested to us to invest in an Owlet Smart Sock 2 to monitor Everly's oxygen levels at home. Jason, is a middle school teacher and has dedicated the past eleven years of his life to our community, caring for, mentoring, and being a roll model for thousands of children. I am a stay at home mommy. 
GoFundMe, had been suggested to us to use to help raise the funds necessary for Everly's medical expenses. However, they do retain a total of 7.9% plus 30 cents of every donation made. Still, we understand that many people are familiar with the site and find it user friendly, therefore we have chosen to begin our campaign here. You may also feel free to use Everly's email address for a pay pal option using: SavingEverly at gmail
Life in the NICU has been tremendously demanding and challenging- this is hard. 
Finally, if you would please be so kind as to pray for our sweet baby girl and share her story, it would be more greatly appreciated than you know! 
Many thanks and blessings, 
Jason and Michelle Brown
Everly, shortly after we arrived at Cook Children's ER just a few hours after she was born on Fathers Day, 6.18.2017
Everly, resting in her bassinet
Sweet Everly, struggling to breathe even on the CPAP.
Photo has been removed at request of hospital....
Everly, being intubated.
Our bright eyed girl is a fighter!!!
Mommy loving on her sweet girl, enjoying some much needed skin to skin time. She started to improve within hours of our skin to skin Time. Her daddy also did skin to skin with her later that morning.
Mommy can't get enough snuggle time with her little girl!
Snap chat filter for the win. Can't even tell I'm just a few days post partum and have been crying my eyes out for days. Can't get enough snuggles with this little girl.
Daddy, doting on the best Fathers Day gift ever!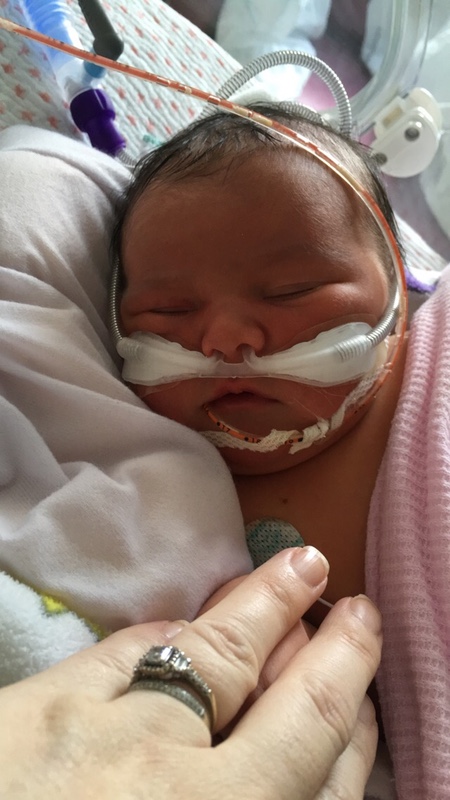 Everly graduated from her CPAP and was being tested on the cannula.
Big sister Lyla, made some new friends as she patiently waited to visit her baby sister during sibling visitation hours.
Kangaroo time. There is nothing like snuggling a sleeping baby!
Sleepy baby.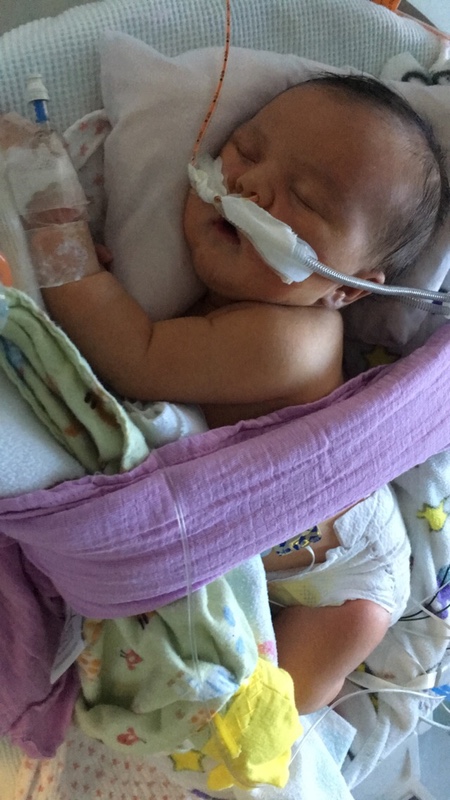 Everly loves to sleep on her side (Nurses put her that way and she is being closely monitored).
Just snoozing away.
Everly's first snap flower headband
Day one testing in room oxygen. Making progress!
Big yawn!!!
Photo has been removed at request of hospital...
Collecting blood... several times a day... I can't even imagine what this poor baby is thinking with all she's going through.
How much my heart hurts that this beautiful cradle is empty and this gorgeous gown intended to be worn  Everly's first day of life sits here.... waiting for her to come home.
Could she be more precious!?
Could you even imagine the pain? :(
And look at that lump- another blown vein :(
She screamed so horribly when they were doing this. I had to try to console her but I cried with her. This is just too much.
After so many blown veins, they had to put an IV into her right foot. But look how tore up her heels are from her blood draws :(
He's such a good daddy, loving on his baby girl
Organizer and beneficiary