Please Help save Winston!
Handsome Mr. Winston has been through a lot in his seven years.
He is an English Springer Spaniel who first came to Senior Spaniel Rescue (SSRI) as a stray.  After we cleaned him up and made sure he was healthy, it began to become clear that he had some emotional issues. He was showing signs of severe anxiety, especially within his foster homes. This caused him to lash out in fear.
His foster mom told us that he is a cheerful guy, loves to go on walks and explore, but his mistrust and wariness made her believe that he had had a very difficult life before we found him.
As a dedicated group of Springer lovers, we couldn't let that be the reason that Winston's future wouldn't be a happy one.
♥  HE IS WORTH SAVING!  ♥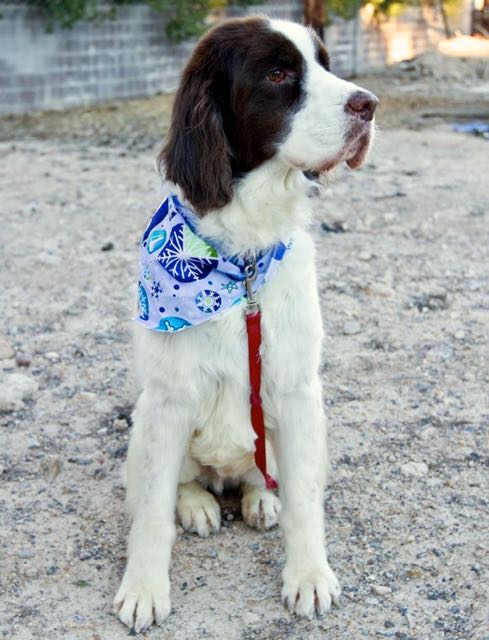 To help him with his emotional and behavioral issues, we sent Winston to live at a behavioral training facility outside of Phoenix called Hunter Canine to begin to learn how to live within the structure of a household. We learned that he feels safer when he is given rules to follow and tasks to do. He tends to regress if he sees the people in his life as "weak".  He needs a strong leader - someone who is willing to set boundaries and follow the discharge advice of his trainer.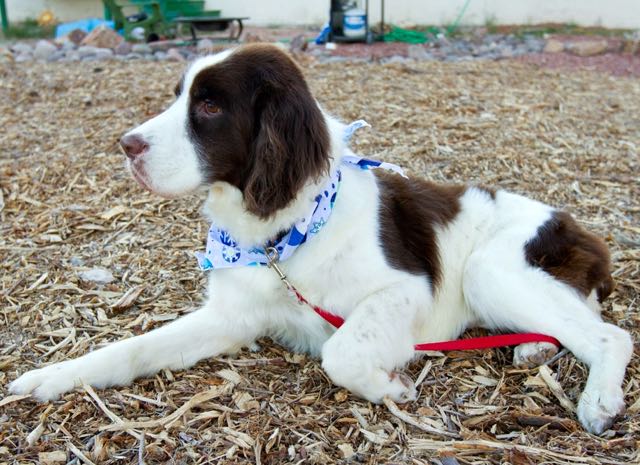 Suffering from arthritis in his hips, Winston began to take supplements at his foster home in Las Vegas, which gave him measurable relief, however, while at Hunter Canine, he injured himself and required extensive orthopedic surgery. The wonderful people at Prescott Animal Hospital in Prescott, AZ fixed him up and he is back at Hunter, feeling better than ever.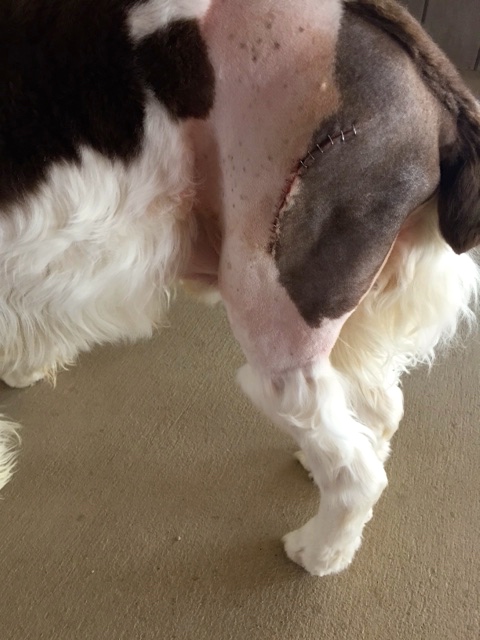 Winston is making remarkable progress at Hunter Canine, but the expenses of his training and board, as well as the recent surgery are high, so we decided that this would be a wonderful way to do two things:
         1. Help with his costs, and…
         2. Try to find him a happy forever home.
Here is a video with his Hunter Canine trainer Andrew working on physical rehab following his surgery:
Please consider helping Winston. He deserves to have a better life. Your financial support will not only help him but assist the other dogs in our rescue program as well.
If you live in the Southwestern US and feel that you want to know more about Winston as a possible forever pet, please contact Mary or Melissa or through Facebook or our website (see below).
Winston's Hunter Canine invoice: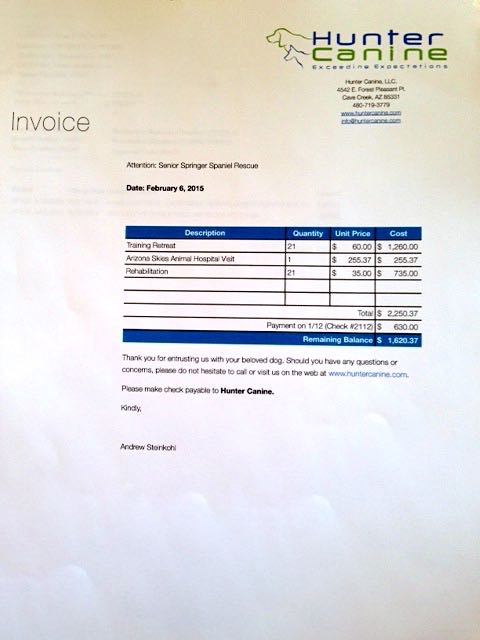 Surgical bill: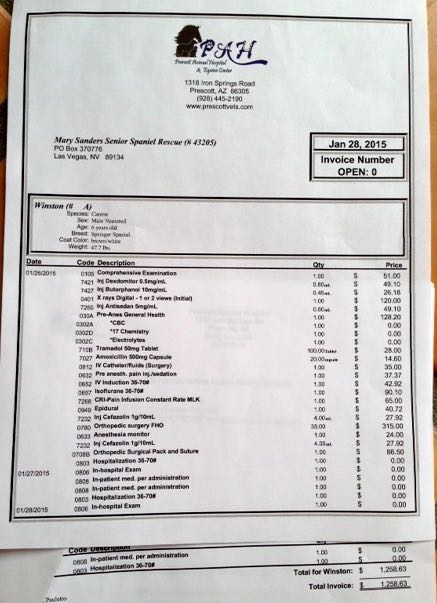 ♥   A big THANK YOU from Winston and SSRI   ♥
                   Who is Senior Spaniel Rescue (SSRI)?
We are a Las Vegas-based non-profit group who rescues and re-homesEnglish Springer Spaniels over the age of seven.  As volunteers with ESRA (English Springer Rescue of America), it became clear that the older dogs were getting overlooked by potential adopters. We decided to form SSRI to focus entirely on the dogs "of a certain age" to help place them and let their later years be full of love and the joy of a family.
You can find us on Facebook:
https://www.facebook.com/SeniorSpanielRescue
.... or our website:
http://www.seniorspaniels.org

Organizer
Melissa Noor
Organizer
Prescott, AZ