Save Julianna's Safety Bed!
WHY gofundme.com?
Because we need help!  
This is hard for us because we are private people.  We are professionals in the community and our livelyhood depends on the public.  But we can't do it alone anymore as our legal fees have already reached the halfway point of our gofundme.com goal of $100K in just 6 short months.
Meet our Daughter, Julianna:
She is a Severely Disabled 14-year old girl with the cognition of a 0-9 month old, depending on "Receptive" and "Expressive" Language Skills.  She is what doctors call a "Medical Enigma".  What we DO know is, she has the following disabilities:
- Lennox-Gestaut Syndrome
- Epilepsy
- Cerebray Palsy
- Severe Mental Retardation
- Autism
- Cognitive Impairment (functions like a 6 month old)
- Non-Verbal (never spoken a word)
- Blind in her left eye (Coloboma & blunt trauma)
- Scoliosis
- Severe fall risk (must be held when standing/walking)
- Wheelchair Bound
- In Diapers
- Spoon Fed
We are actively fighting State agencies to keep our daughter's medically prescribed "Kaiserbetten Hannah Safety Bed".  
- Without it, they will place her in a care facility and change how safety beds are used for others in need. 
- Since October 2016, we've had multiple invasive and harassing visits to our home from various authorities (TPD, DDD, DCS) claiming that Julianna's bed is a violation of "Article 9 of the bi-laws written by DDD to protect themselves.  
   -> Tucson Police Dept. (TPD) found nothing wrong with the bed and finally stopped coming.  
   -> Department of Child Safety (DCS) dropped more than 7 frivolous cases that were deemed "unsubstantiated" in their findings.  
   -> The Division of Developmental Disabilities (DDD) won't stop and are relentless in their efforts against us.
We could no longer defend Julianna's safety rights alone, so we hired a team of Attorneys to represent her, and us (her parents).
WHAT Is A Safety Bed?

Here is Julianna's "Kayserbetten Hannah" Safety Bed set up currently in her bedroom suite, and it was designed so children w/special needs can be safe while they sleep, play receive care and maintain wellness:
- She has a beautiful bedroom that covers her disability, safety and basic needs with her own kitchenette and bathroom and TV entertainment.
- DDD provides the care staff so we (parents) can work.
This short video explains the proper use of her bed:
https://www.youtube.com/watch?v=ZHOV_Aeud44#action=share
Julianna's Safety Bed Is 100% LEGAL:
- Medically prescribed by her Pediatric Neurologist, Primary Care Physician and Physical Therapist.  
- Paid for 100% by Tricare Military "Echo" Health Insurance at cost of $25,000!!  
- Delivered by United Mobility as Durable Medical Equipment (DME)
- Set up by the Kaiserbetten manufacturers who were trained in Germany and flown in from the east coast.
- Trained by Kaiserbetten specialists
- Medicare/Medicaid approved.
- FDA approved.
....... so WHY does the DDD Medical Director hate these beds?  We don't know either.  But it's important to know that since she was hired in 2015, she has not approved a single safety bed in the State of Arizona.  Not One!
Julianna is LUCKY to have this bed!
Julianna's doctors reviewed the prescription in 2017 for the Safety Bed and updated their letters in writing that the bed is still medically necessary today.
..... but DDD continues to challenge the need for the bed, and now are challenging Julianna's conditions as a whole. 


So WHAT Is The Problem With The Bed?
DDD simply doesn't like it, that's all, so they're flexing their authority without any legal justification.  Their dislike for Julianna's bed is just the beginning. If they win, they could change how medical equipment is authorized, continued and even allowed across the state, for there was a moratoreum placed on the approval of safety beds in Arizona in 2015... the same time the new Medical Director was hired. 
- Prior to 2012, Julianna slept in a bedroom with wall-to-wall padded floors, a twin mattress on the floor, and nothing but soft toys around her (with all furniture in the closet), yet she would still get up in the middle of the night, stand up, and either have seizures or simply fall like a tree - face first - into the walls of her room. We would find her each morning with blood everywhere, and her face injured.  It had to stop!
- In 2012, we explained what was happening to Julianna's doctors, and everyone agreed that she must be given a medically prescribed safety bed.  The doctors found the "Kaiserbetten Hannah 170" to be the best suited medical bed for Julianna's disabilities as a means to keep her safe whenever asleep, at play or left unattended for any short periods of time.
- We've had this bed in our home for 5-years (5/2012) and received nothing but praises from the medical, police, legal and caregiving communitities due to its brand's reputation, design and most importantly, the fact that she hadn't been injured once since it was installed.  
- DDD has agreed with the bed each year since 2012, having seen it during every annual and quarterly review in our home over 5 years, and even listed it in her ISP.... each and every year... until now. 
- In October 2016, a newly assigned DDD Case Manager came to our home for our annual review, and she didn't like the bed PERSONALLY, thus involving TPD and DCS immediately in an effort to have both the bed, and our daughter removed from our home. They fired all of our care providers and unilaterally instilled a rule with state providers were not to touch Julianna's bed, specifically, not to open/close the doors.  If they do, they will be fired with child abuse on their records as having violated their "Article 9".
- Our attorney's filed a legal grievance with the Attorney General's office who represent DDD.
... and the events ever since have been anything but normal.  This includes the fact that we are unable to leave our home for any period of time because of the constant overturn in care staff, so for the past year, we have used zero respite care.... even to visit our other Daughter in San Diego before she deploys with the US Navy.  This is affecting our lives in many, many ways.
Julianna's family:

She lives with her biological Father Garret, Step-Mother Justine and Step-Brother Braeden.  We all love her very much and provide the best care for her.  
- We won't stop advocating for her rights as a non-verbal, fragile & severely disabled child.
- We are her voice!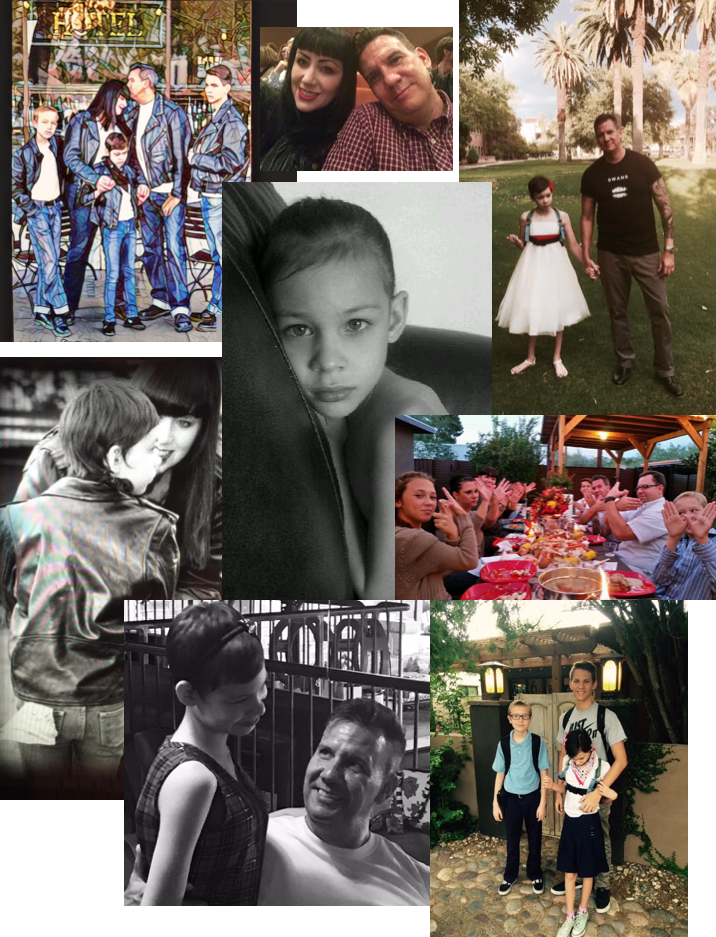 WHO will your donations help?
Julianna, her parents and even future families who care for disabled children adults.  Winning this grievance / lawsuit against DDD will reinstate Julianna's rights to use her safety bed as it was medically prescribed, and further change the apparent flaws in the system in the process, while putting systems in place to help other parents learn their rights.  
It took a lot of trial and error for us to get here.
We have made it this far.  Help us finish.
Thank you
Garret, Justine & Julianna

Organizer