Save Chisom-Veterinary Surgery

This video of Chismon was taken today (July 13th) he is wanting to play with his human and doggy family... but not mobile at all due to hit and run driver on July 8th 2017. time is of the essence if your able to help.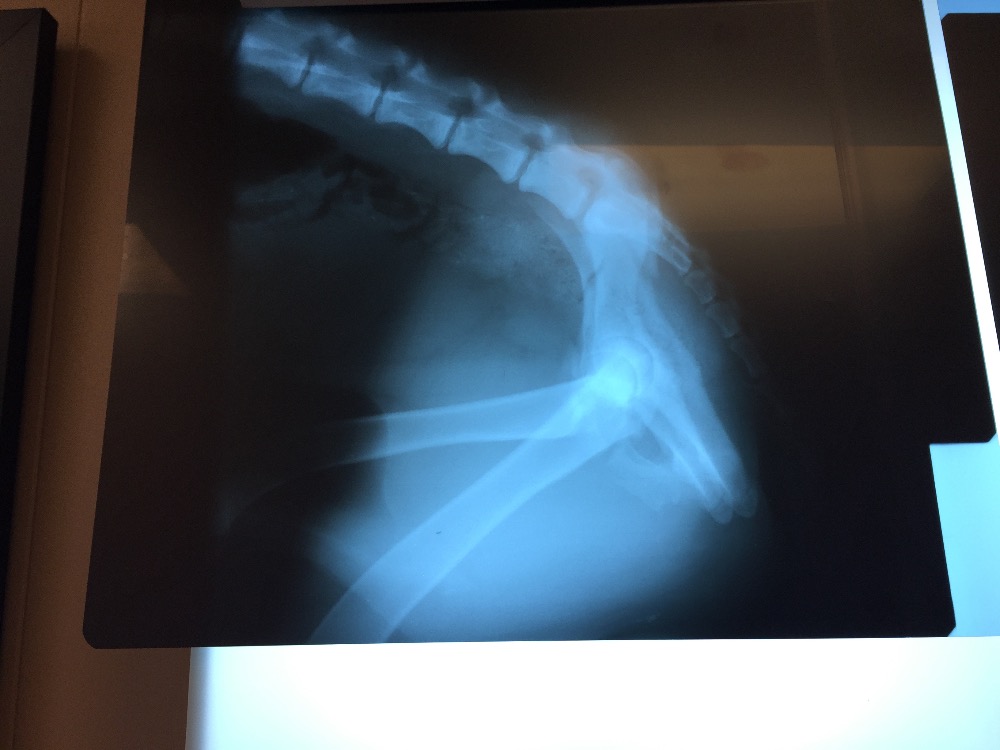 Xrays.
He urinated today (7/12/17)!! this was the first time since being struck. He is healthy and young and great candiate to recover for a full healthy life after surgery.
This ladies best friend, my 8 mo old Chismon, he is pure love.
Pain medication, time for bed, rest and hope. Nite Nite
Video of Chismon and me.
Uploaded on Jul 13, 2017
https://funds.gofundme.com/SaveChismon
         (Hello my name is Rhonda Mann-Wilson, (and  Son Ron Spradlin) writing today on behalf of the family dog Chisom (whom was stroke by a hit and run Driver July 8th.).  As you can see by the home video of Chisom attached here, he is currently at home not mobile and a decision has to be quickly about what to do about his broken hip and leg.
         Chisom has a broken hip, and multi fractures along his rear leg. The Vet suggested as Chismon is healthy and only 8 months old Chisom will heal well.
        The options are (1) surgery to save the hip and/or leg,  (2) amputation of the leg. Depending on the surgery recommended by Vet has the cost are estimated to be anywhere from 2,500-5,000.
         Our family is simply not in a position at this moment to totally to fund his care immediately, which is the need (as the Vet states action must be taken by July 21st or other complications will occur).
         Thus the GoFundMe account.  Chismon is pure love and it is kills us to know there is simply not enough money to help him at this moment. So we are putting this out to the universe, you our family and friends in hopes you may be in a position to make a donation no matter the amount for Chisom surgery.
         The final decision will be based on the surgeon and whatever is best for Chisom, and funds available of coarse.
          If you are in a position to help with any amount we thank you more than you know. Rhonda has bonded with her best friend more than any pet I has seen before,  Chismon is pure love for her.
          Thank you for your consideration so Chismon can get treatment and return home healthy to live out his long life.
*******  We offer the following Vets contact information to verify the need ****** Chisom was seen by Elizabeth @Highland Veterinary Hospital , Oneida , Tenn., (423)-286-9282, is full name is John Chisom , 8 months old, born Nov2 nd, 2016 He is a Lab has mixed with Irish setter , Chisoms Human is Rhonda Mann-Wilson of Strunk, Ky,  Again , thank you.