Happy 1st Birthday Sadie Rose


                                 Sadie Rose McCasland

  Born February 5th 2014 - Died: February 19th 2014



This is the story of my Sweet Sadie Rose ....


It was snowing ... and I was sad, for some reason I was sad.  This was my 3rd pregnancy and was supposed to be my last. Instead of relishing in the last few days of my pregnancy, I had an overwhelming sense of foreboding. Now a year later its amazing how telling those feeling actually were...



Sadie's pregnancy was hard but uncomplicated. I had two toddlers at home and being pregnant for the 3rd time in 4 years was taking its toll. We had no indication that anything was amiss. All our ultrasounds were normal, I had no known risk factors and we made it to my due date without incident.

On the 4th, my due date, I decided that I had had enough with the being pregnant thing. I put my girls to bed and we headed to the hospital, to have the baby.


My labor was fast and uncomplicated we broke my water around 9pm and at 12:19am I was delivering our baby. SURPRISE ANOTHER GIRL!!! We were thrilled. She was born and placed on my chest, we had a delayed cord clamp...
Which as it turns out was the best decision I ever made, Ever.
Because of this I was able to hold her on my chest connected to me for a few brief precious moments, 8 minutes to be exact.


It was the only time I would hold her as fate would have it.

This is where our story takes a turn.


The nurse assigned to take care of Sadie saw something. She saw something that made her worried. She asked to take Sadie and immediately checked her pulse ox. The amount of oxygen in her blood. Her number was in the 70s. Ideally we all should be around 100.  They took her to the baby warmer and gave her oxygen and a good suction and no change.


You see, we didn't know it at the time but that was a big clue that something was very very wrong. Nothing they did changed her oxygen saturation levels, they stayed the same no matter what the intervention.  



The decision to move her to the NICU was made rather quickly. About 20 min after birth she was carried to the NICU where she was promptly intubated in an effort to get her oxygen. However that didn't work either.
Childrens Hospital Colorado was called and Flight for Life was notified that we would be transferring. It was snowing and icy and the helicopter couldn't fly so we would be making the journey by ambulance.

Daddy was at Sadie's side while all these decisions were being made when I joined them in the NICU about an hour after her birth. She was already intubated and they were mobilizing to try and transfer her toChildrens Hospital.


At 2am, 2 hours after I gave birth to my third daughter I discharged myself from the hospital and prepared to ride in an ambulance while two amazing EMT/Nurse practitioners worked on Sadie, willing her O2 numbers to rise.



Arriving at Childrens Hospital that first morning is a total blur but there are a few things that stand out to me ...

Her tiny NICU room crowded with 9 of Children's best doctors all huddled around her little bed, trying their best to figure out why this 8lb 3oz full term baby girl with no noticeable physical problems just couldn't breathe.

There were x-rays and echocardiograms, picc lines and little surgeries to put ports in.

I remember her main doctor, her neonatologist Dr Parker in her room standing by her bed for 12 straight hours.

They tried everything but nothing made a difference. Her 02 numbers would bounce back a little with each new intervention but then go back into the 70s or worse...

By the end of the day we had a diagnosis. Persistent Pulmonary Hypertension of the Newborn.  (PPHN) is the failure of the normal circulatory transition that occurs after birth. In the womb, oxygen is carried directly from the mom through the placenta after birth babies transition to using their lungs and oxygenating on their own. Failure to do so causes acute Hypoxia which Sadie had.

Her doctors came to us around 5pm that first day and told us she was very sick and all the traditional treatments were having little to no effect on her condition. She wasn't crashing yet but she would. We had to jump to her last resort less than 24 hours after she was born.

She was put on ECMO (Extracorporeal Membrane Oxygenation).

The easiest way to explain ECMO is, it 's a bypass machine, it was Sadie's lungs. They performed surgery and inserted to cannulas (large IV type tubes) in her neck, they went down her carotid artery directly into her heart. One tube took non oxygenate blood out to the machine and one returned the oxygenated blood.


The idea of ECMO was to rest her lungs and let her body heal itself.


ECMO gave us time. It gave us hope. We waited.


She was stable for a few days and we thought everything might work out...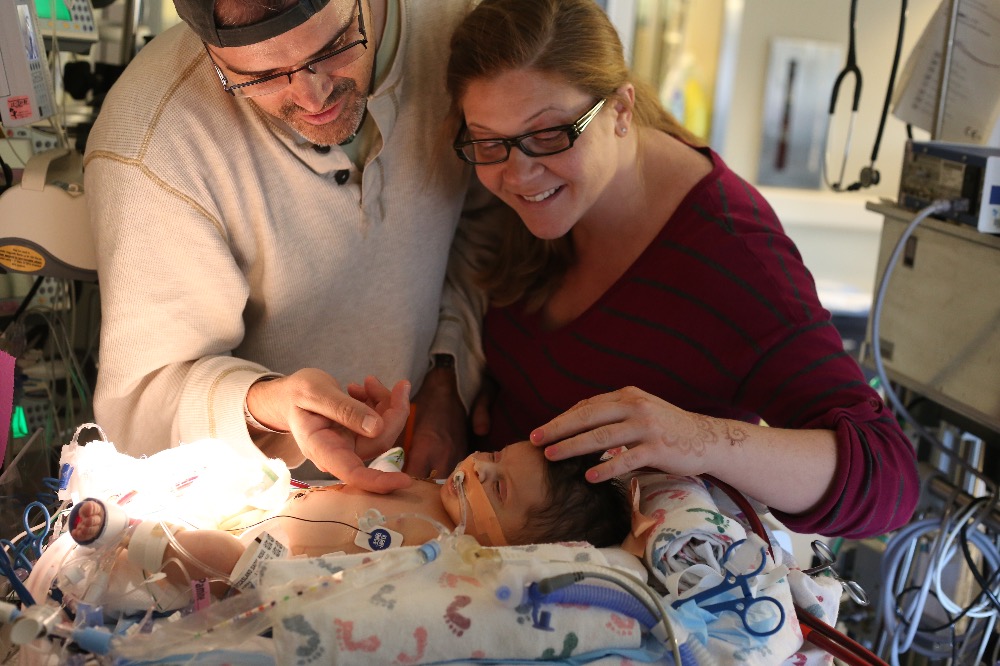 But ECMO is a short term solution and it comes with a price. Blood thinners which were essential to running ECMO so that she wouldn't clot and possibly cause a catastrophic stroke or heart attack had caused her to bleed internally.



About 7 days into her short life we had to have exploratory surgery to find the source of the bleed, which had collapsed her lungs and shifted her heart... Her doctors, surgeons, ECMO team specialists and nurses  worked all day. They turned her tiny NICU room into an operating room. She nearly bled out. They replaced her blood volume I don't know how many times.


The doctors and nurses who worked on her that day are heroic. For the rest of my life I will never forget how hard each one fought to keep her little body alive. We won that day but our time was running out.





On Valentines Day we reinflated her lungs. I hung heart balloons on her ventilator and whispered in her ear that mommy brought her balloons so she needed to help us inflate her balloons...

But soon I noticed a shift, her doctors stopped talking about the next step and her nurses urged me to stop trying to find a nanny to take care of my 3 and 1.5 year old and just spend time with Sadie. We read Little Blue Truck to her and sang her songs. We played with her beautiful black hair, it was one of the only places on her that we were free to touch without worrying about interfering with a tube or cord.

Then I knew.

I knew what no parent ever wants to know. I knew she would not be coming home. I could read it on everyones faces. I shared my fear with Bryan, my consomate optimist. I broke his heart.

I sat in the lobby of Childrens Hospital and called my neighbor, my savior. I asked her to once again come to my rescue and stay with my little girls at home, so that both mommy and daddy could spend one more night together with our little Sadie Rose.

When I hung up the phone I started to sob. It was a gut wrenching cry that came from my heart and soul ripping apart....A woman, a complete stranger, a mom came over to me and wrapped me in the fiercest hug. She said she knew and that I needed to stay strong. She will forever be an angel when I needed strength.

We spent our last night with our little fighter. The biggest and healthiest looking baby in the NICU. But her little body was failing. They were continually upping her pain medication to keep her comfortable, her kidneys were failing and all her veins had collapsed as if to say no more. We felt like we were torturing her.


Then the big day came where we tested her lungs to see if she could survive. If by some chance she could live off ECMO.


We held our breath and prayed.


But it was not to be.


I have nightmares of watching her struggle to breathe. She visibly violently struggled the instant she was no longer on bypass. She was not the same baby that we had entered the NICU with. She could no longer last not even 30 seconds without full bypass support.


We had no choice. We had reached the end of the road and had nothing left to try. They clamped her ECMO tubes and gave her so many drugs, they promised me she wouldn't feel any pain and handed us our baby girl.


She was gone immediately, though her strong heart beat for several minutes as if to say, "I really wanted to stay…"


Then it was time to go. Go home. Leave her.


Her nurses lovingly placed her under the heater and bathed her. They made hand and foot impressions and cut me a lock of her beautiful hair.


Bryan collected all of our things and went to get the car, he tied my heart balloon to the little red wagon that held all over hopes, our bags for the hospital, her baby clothes she never wore.

As he crossed the road the balloon I had bought to inspire my little fighter somehow came loose and there in the middle of the road Bryan watched our heart fly up to join our baby, our daughter, our Sadie Rose.






In the weeks and months that followed we struggled with the physical loss of our daughter but we did get answers.


Sadie had ACD.


Alveolar Capillary Dysplasia (ACD) is a lethal developmental anomaly of the pulmonary vasculature: it is generally described as the failure of formation of the normal air-blood diffusion barrier in the newborn lung. Alveolar Capillary Dysplasia is usually associated with "misalignment" of the pulmonary veins.


Sadies lungs, though formed perfectly, when looked at closer the capillaries were misaligned and therefore could not do their job of passing oxygen into the blood.


This is a genetic disorder. However in Sadies case, as with most ACD cases, it was not inherited. Sadie had a single letter skip on her 16th Chromosome upstream of the FOXF1 gene.


In laymans terms, we all have these little skips and deletions. Its what makes us unique and also how we evolve as a species. Sadie's was just in the wrong spot.


She was just tragically unlucky. Ironically she had far fewer deletions in her genetic code then the average person.


ACD is rare. It can only be diagnosed and identified through autopsy so we can't be sure exactly how rare it actually is.  ACD is what we would call an orphaned disease.  A disease that has not been adopted by the medical industry because it provides little financial incentive for the private sector to treat or prevent it.


NORD, National Organization for Rare Disorders is currently the only organization funding ACD research. Research that is solely responsible for giving me answers.  NORD awards grants to research these, orphaned diseases. A dedicated group of ACD parents have been funding research grants through NORD. In order for a research grant to be awarded for 2015 there must be $31,000 in the ACD restricted fund by March 1st. Currently we are 3,000 dollars away from awarding a 2015 grant.


Up until recently only Baylor University was researching ACD, though we just received word that Dr. Csaba Galambos of Children's Hospital Colorado, and University of Colorado Denver would be receiving a grant. I have to think my Sadie Rose had a hand in bringing ACD research here to Colorado.


Would you please consider helping me raise the $3000.00 necessary to award a grant for 2015 for Sadie's 1st birthday.  If a financial contribution is too hard on your family please consider giving blood in Sadies honor. It is only because of generous blood donations that I was able to spend the short time I had with my daughter.


Thank you for reading our story and remembering our daughter. Please feel free to share our story and bring ACD awareness.


"How very quietly you tip toed into our world only a moment you stayed. But what an imprint your footprints have left upon our hearts"


                                                   Love,

                                           Mommy & Daddy





Organizer
#1 fundraising platform

More people start fundraisers on GoFundMe than on any other platform. Learn more

GoFundMe Guarantee

In the rare case something isn't right, we will work with you to determine if misuse occurred. Learn more

Expert advice, 24/7

Contact us with your questions and we'll answer, day or night. Learn more