Giving Back To Our Community
Please join us in making a difference? We need your support raising money to benefit our families our communities with free wheelchairs, commodes, shower chairs and much more. So we are asking for you support to purchase medical supplies even a $5.00 donation Any will help make an impact!  Please read our Campaign.
We at Santa Clara Valley Hospice, The Home Support Group, Inc., and the Board of Directors would like to take a moment to express our sincere gratitude for your trust and support for the services we provide for our community, seniors, and adults with limited or life-threatening disabilities.
During these most challenging years for everyone, we hope that you, your families, and your communities have taken all precautions to stay safe and well throughout this last year. We know that 2020 and 2021 was unsettling and unprecedented in our lifetimes. For many, we lost friends and family; our work and our daily lives were affected. None of us anticipated that we would start 2020 nor 2021 with the challenges that confronted our nation and are still dealing with restrictions that remain more than a year later. Despite these challenges and restrictions, Hospice continues providing free services to the community as we faced the uncertain times together.
During the last two years, we postponed many fundraising opportunities, including our first annual Butterfly Event in 2020. However, in the face of adversity, we continued to support our community by providing uninterrupted services. We quickly adjusted our work schedules and shifted to more online support services, including delivery service of medical equipment and supplies. With your support this past year, we were able to accomplish so much including lending close to 2000 pieces of durable medical equipment, and over 12000 incontinence products, such as pull-ups, chucks, and pads. We provided over one hundred services that included in-home support, caregiving, crisis counseling, and grief counseling. We were able to meet special needs for equipment and supplies for our local hospital and senior care facilities. Overall, we served the needs of over 4000 clients - your friends, your families, and our communities - all thanks to you!
With your continued support, we look forward to 2022 with the same committed resolve to continue to keep Hospice's doors open and our community-based support services free of charge. Our goal is to raise $60,000 in the year 2022. In the second quarter, we set a goal of $15,000 in donations through our GIVING BACK TO OUR COMMUNITY campaign.
Our work is made possible with your support. Your support allows us to say "yes" to those whose lives will be changed by a wheelchair, a walker, durable medical equipment, or incontinence supplies to help with their specific needs. Your donation will provide the gift of independence by helping our friends and neighbors to enjoy lives without boundaries or limitations.
Please consider supporting us by donating to the Hospice GIVING BACK TO OUR COMMUNITY campaign. Our community successes are reflective of you, your neighbors and our families coming together to provide the resources to those in need.
Please continue to take care of yourselves, your families, and our communities as we all do our best to stay safe within the changing restrictions and limits imposed at home and work.
Once again, to all of our donors, sponsors, and volunteers, thank you for making the services of the Santa Clara Valley Hospice, The Home Support Group possible through your personal commitment and support. 
More information about The Home Support Group Inc:
www.santaclaravalleyhospice.org 
Thank you!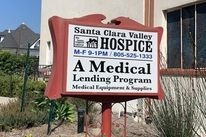 Organizer
Hospice Santa Paula
Organizer
Santa Paula, CA
The Home Support Group Inc
Registered nonprofit
Donations are typically 100% tax deductible in the US.