My Mom's Battle Is My Battle!
Thank you for clicking this link and extra thanks for donations recieved and shares!
Hi, my name is James for those that do not know me . A little history, my mother has Multiple Sclerosis (MS) and has had it since the early 1990s. I was about 5 when this disease entered my family and I am now 30. She has done great throughout my childhood but the decline was visible as she went from walking to cane, to walker, to power chair.
My mom has done well on her own with her own apartment until Christmas 2017. She was unaware but in a period where the MS was active which makes you weaker. She unfortunately fell and ended up in the hospital and from there needed rehab.
We tried to get into Rehab centers but Summa and Edwin Shaw rejected us saying she isn't strong enough. Knowing that rehab was needed we ended up settling on a Nursing home for her rehab. She had been there since December 30th, and the insurance company has informed me that if she does not improve she will need to become a resident. Mind you she has been making great progress but in the insurance companies eyes "Not enough progress".
Naturally, instead of admitting her into the nursing home I told her she's moving in with me I'll provide rehab once i get off work to keep the muscles moving. She was not a fan, as she felt she was imposing upon my life however I personally feel that a person will get better with the love and support of their family vs any nursing home.
So sorry about all that this leads up to why I am creating this, I have been fighting with the insurance company but have had zero luck and they keep telling me "That is a luxury and not covered" for most of the items that she needs. With my mom moving in with me, I have altered doorways to ADA Accessible, installed ADA accessible door handles, installed ramp for easy home entry/exit, installed stairlift for easy access to her living suite which has a bathroom, bedroom, living room with small kitchen area (minus the sink that was out of budget) plus a sit to stand  unit(required as per nursing home). 
After all that and recently purchasing my home I need to watch my spending as before that I was faced with the furnance and many other items needing replacing in my own life. However as I was so focused on getting my home together for my mom the items I have gotten had to be done and I am working it out.
However I did not think of the last thing which is why the dollar amount is crazy high. I now have her living with me., She has her own living area to feel as independent as possible which is great but she is trapped in the house. Which I can't have but I've spent so much already I'm reaching out for help in converting my van to have a ramp so we can go to the store, metro parks, and even travel. It's not fair for anyone to be stuck in a home. Little back story to that I'm a truck guy, I love trucks but once I realized my moms true condition I quickly got rid of my truck for a van.
Any dollar amount that you can share to help me is greatly appreciated by myself and my mother. If you cannot help simply sharing would be amazing as I do not have a Facebook to share this onto. I am just a son trying the best that he can for his Mother to allow her to have the best quality  life she can as she gave me the best childhood I could have. I thank you all for reading, sharing and/or donating. Check out below to see what has been done so far as well as the toll MS has slowly taken on our lives.
Sincerely,
James
It all started with a cane...
Then a walker
and now a Power Chair.
MS is a nasty thing to have and a cure would be amazing, but we are not yet there, so we make the most of the life given to us. Thus I used my savings and credit to get working on making my home accessible for her check out some of the photos below.
First Material run:
Home Entry/Exit Ramp Construction:
Stairlift:
ADA Doors plus new door directly from her room:
Interior Ramp: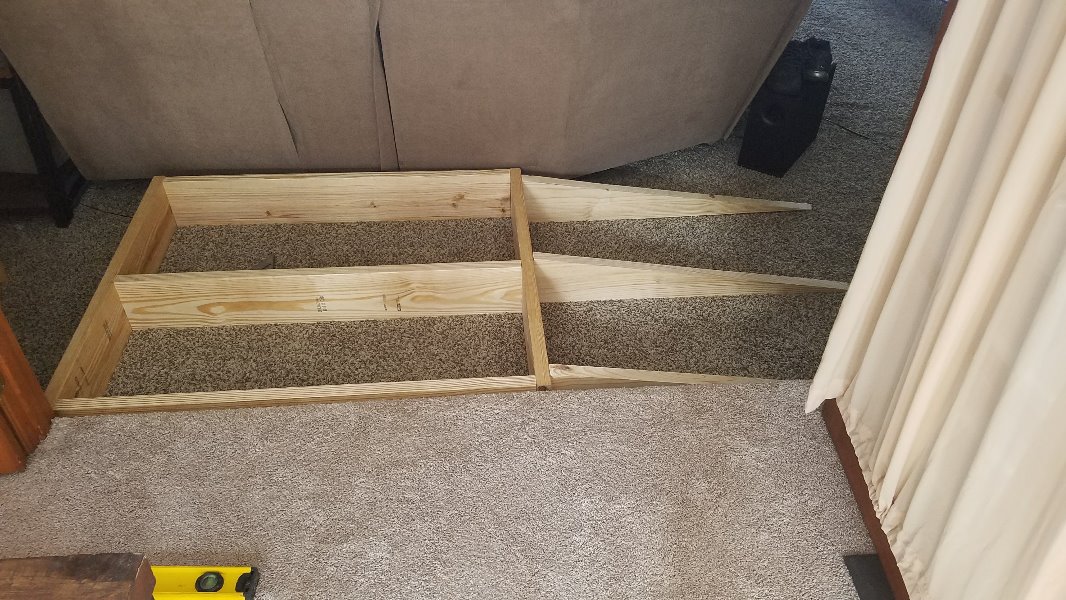 Bath Lift:
Thanks again for your time in reading this. This is to show you what I have done so far, all donations recieved will be used for converting our van to wheelchair accessible I promise! 
-James
Organizer