Send the Queen of Katwe to College!
Image above: Benjamin Mukumbya, Robert Katende, and Phiona Mutesi 
Phiona Mutesi and Benjamin Mukumbya, whose lives are portrayed in Disney's movie Queen of Katwe, grew up in the slums of Katwe in Uganda and are now poised to begin the next adventure of their lives- attending university! Phiona & Benjamin have been given full tuition scholarships to Northwest University near Seattle, WA. However, they lack the funds needed for room, board, travel, and living expenses. Would you be willing to donate in order to make this opportunity a reality?  

Queen of Katwe Trailer- Phiona Mutesi is portrayed by actress Madina Nalwanga

 Enjoy the full story below:

I'm Elliott Neff, founder of Chess4Life, and I've had the privilege of getting to know the real life people behind Disney's Queen of Katwe movie. This movie tells the amazing story of Phiona Mutesi, a young girl from the slums of Katwe whose life is changed forever through discovering chess.


Caption: Phiona Mutesi (right) playing chess in the Sports Outreach Mission Chess Academy
 
You may have watched the movie in theater, on an airline flight or on DVD. The suspenseful, accurate, and often humorous chess narrative combined with the heart-warming, real-life story make it well worth your time.

From living on the streets, to becoming champion in Uganda, then representing her country at the World Olympiad, and on to the red carpet of Hollywood, Phiona's story is inspiring millions to never give up, to pursue dreams regardless of obstacles, to persevere -- as there is the seed of a champion in every person.

I heard of the book Queen of Katwe in 2013, before the Disney movie was even started, and helped support the Queen of Katwe project by hosting a tournament fundraiser at Chess4Life in Bellevue, WA.



That first meeting with Robert Katende and Phiona Mutesi led to a friendship as well as a coaching relationship as I had the privilege of helping Phiona prepare for the World Chess Olympiad 2014.




The friendship continued, and in August 2016, I had the opportunity and traveled to Uganda to help Phiona again as well as the Ugandan Women's Olympiad chess team prepare for the World Chess Olympiad 2016. While there, I experienced first hand the reality of what life is like in the slums of Katwe where the story began.  I also met Benjamin Mukumbya, which led to the idea of Benjamin coming to Chess4Life to help him develop his chess talent.



Caption: Coach Robert Katende and National Master Elliott Neff, training Phiona (3rd from right) and the Ugandan Women's Team in preparation for the 2016 World Chess Olympiad- Kampala, Uganda, August 2016

Now in June 2017, their story continues. More than characters in a movie, Phiona Mutesi , fellow chess academy student Benjamin Mukumbya, and their coach Robert Katende are real people living life on a mission.

Phiona Mutesi, twenty, recently graduated high school in Uganda, no small feat for a young girl who was accustomed to searching for food. She lacked all resources for a basic education! Now that chess has changed her life beyond her own belief and imagination, her dream continues to grow. While Phiona still wants to achieve her dream of becoming a chess grandmaster, she aspires to receive an education in social work which will help her impact her own community and beyond to those in similar circumstances worldwide, inspiring many other "Phiona stories".

Benjamin Mukumbya, eighteen, is portrayed as the young boy in Queen of Katwe who was part of the chess club and has been part of Robert Katende's home along with Phiona for a number of years. Benjamin is a talented, aspiring chess player, who attended school with Phiona for several years and graduated high school at the same time as Phiona. With the movie launch, Benjamin is a young man with a growing sphere of influence, and one with a big dream. Besides aspiring to become the first chess grandmaster from Uganda, he has a dream of becoming a neuro-surgeon in order to bring these skills to help his community and beyond as there are many in Africa dying of brain tumors and other conditions that could be helped by neuro-surgeons. However, this is a specialized skill that requires study abroad.

For both Phiona and Benjamin, the next step is university.

In January of 2017, Chess4Life hosted Robert, Phiona, and Benjamin for a visit to Seattle, WA for some special appearances and events, including an interview on King5's New Day Northwest show.

 
Caption: Phiona, Robert & Benjamin sharing their story at a special appearance at Charles Wright Academy in Tacoma, WA- January 2017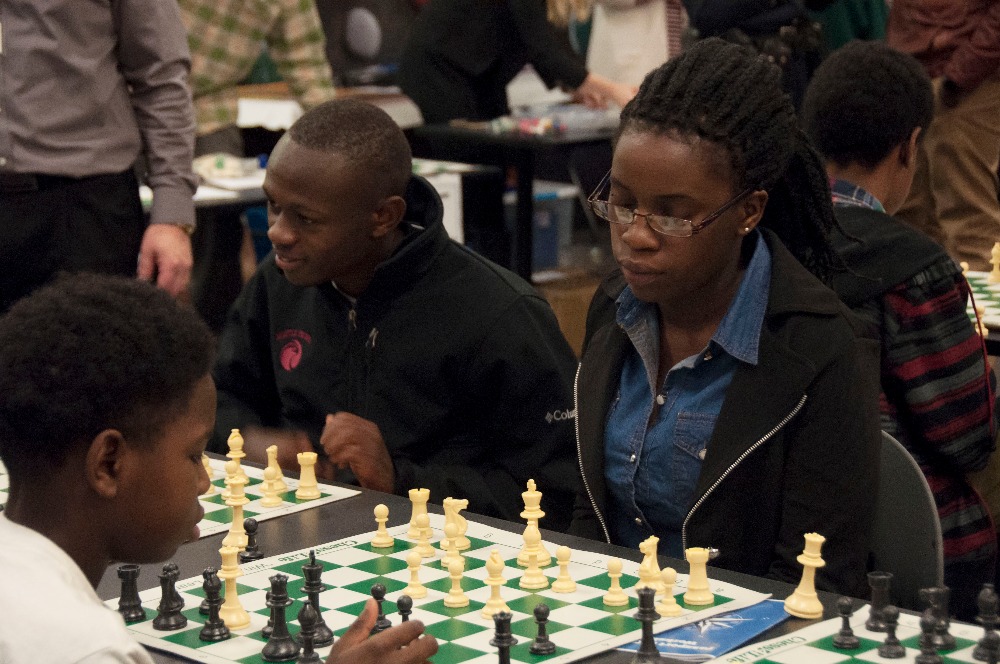 Caption: Benjamin (center) & Phiona play a game of chess with children at a movie showing & Passport to Chess event with Chess4Life and Rainier Vista Boys & Girl's Club in Seattle, WA- January, 2017

While in the area, they also toured a couple universities, and were very grateful to receive full-tuition scholarships! Both Phiona and Benjamin have decided to attend Northwest University in Kirkland, WA.They were  warmly welcomed by the NU faculty and students and were especially excited about Northwest University's desire to help students grow into all that God intends—academically, spiritually, and in their careers.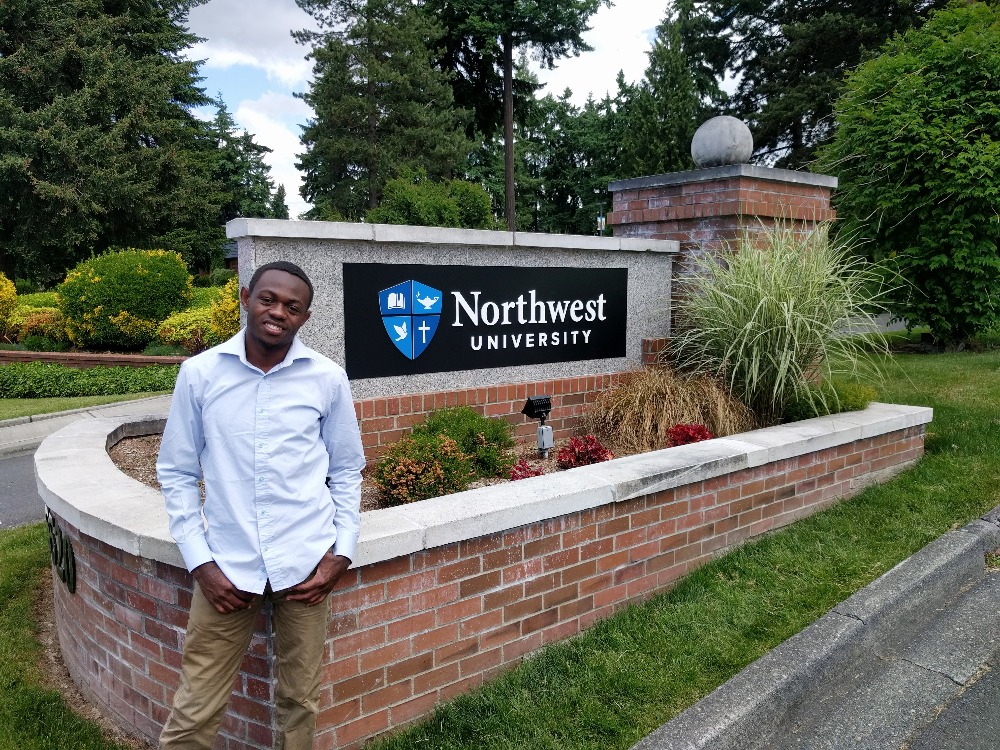 Caption: Benjamin registering for fall 2017 classes at Northwest University in Kirkland, WA - June 2017


Caption: Go Northwest Eagles!- June 2017

While tuition has now been fully covered, they do not have the means to pay for their room and board. They are hoping to attend classes beginning the fall of 2017, yet must find the support if they are to do so.

The amount they need to raise for their fall semester is $9,000 each. This will pay for  their dorm rooms, meal plan, a flight to and from Uganda, textbooks, fees, and additional living expenses associated with studying abroad. The goal of this GoFundMe campaign is to raise enough to cover fall semester for both Phiona and Benjamin, which will then be followed up with other fundraising events this fall to cover the remainder of the expenses for their 4 years of education.

The total amount needed to raise to pay for Phiona and Benjamin's expenses for all four years is $120,000

We are spreading the word in order to find generous donors to step forward and become a hero in Phiona and Benjamin's lives. This will make a local as well as global positive community impact as Phiona & Benjamin strive to inspire many more "Phiona stories".  Would you or someone you know have the financial resources to help make this possible? 

The funds will go directly to the Robert Katende Initiative which allocates these funds to the living expenses of Phiona & Benjamin to attend NWU. Because the amount donated is going through the Robert Katende Initiative, your donations will be tax deductible!

Phiona and Benjamin may have some limited availability for in-person appearances. Contact me (as the fundraising campaign manager) by clicking the envelope icon next to my name if you would like to explore the possibilities or have other questions.

Because they know what it's like to struggle for survival, Phiona and Benjamin are exceedingly grateful for your support of any amount. Thank you for your part in giving them the opportunity now in their life to move from existence to impact.

In the words of Coach Robert Katende- "Never Give Up!"


Caption: Robert Katende signing a chess board for a child at a Boys & Girl's Club special appearance in Seattle, WA- January 2017

Organizer and beneficiary