Project Zilla -Helping Harv Recover
I am starting this GoFundMe to help Harvey Collins Jr, my husband, with recovery from Brain Surgery and other health challenges in 2018, due to the stage 4 cancer from 2015.
Some history, 2014 to present: 
 
Late October 2014 through early 2015 - Harv started having headaches, worsening double vision with having to get prism in his glasses every few weeks, right ear tinnitus. We ended up going to a lot of doctors in Toledo, with the last stop a neuro-ophthalmologist and then neurologist. They just thought he had a hemangioma - a benign tumor -despite everything getting worse week after week. He couldn't live like that and our lives ground to a standstill.

Finally, we went to Cleveland Clinic and in March of 2015, Harvey was diagnosed with a very rare cancer: Stage 4, non-operative Nasal Pharyngeal Carcinoma/Nasopharynx Cancer. The Classification: Stage 4a ((T4, N0, M0).  This meant he started a very aggressive treatment regime of concurrent daily radiation and weekly chemotherapy.  We went on a leave of absence from our jobs and moved into the HOPE LODGE in Cleveland for his treatments. He ended up with 7 weeks of Chemo and 32 treatments of radiation to his head.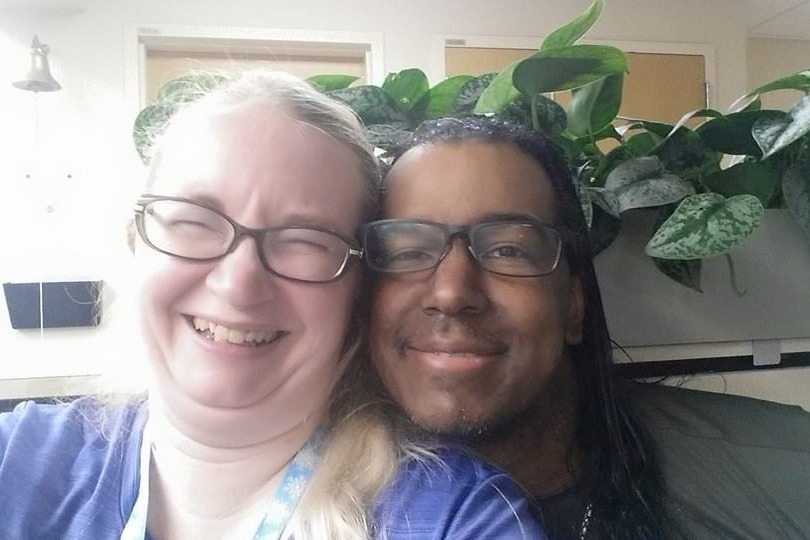 It was draining..he also had issues with fever as a neutropenic risk during treatment. After that he caught pneumonia...there were a lot of visits in june and july into the hospital for treatments. I had to go back to work since I'd used up all my FMLA time. The end of July 2015 he had to go in for a full week long chemotherapy treatment. I had him back 1 day and had to take him to the local ER and then have him transported to Cleveland Clinic, as he was having an incredibly bad reaction to the chemo and went beyond dehydration. But Cleveland got him righted and we saw the oncologists and ENT's as scheduled for follow up.


It was a struggle, but towards the end of 2015 they said he was in remission. In mid 2016 he was finally able to go back to work for a little bit - he was no longer the spry 40 something able to go up and down ladders at work and carry 100+lb swing sets out to customer's cars, but he did what he could with helping customers on the floor and building bikes at Toy's R Us, where he had worked for 20+ years. 

2016 was a year of trying to figure out new limits and boundaries and "The New Normal". It had its ups and downs, but cancer was something in the rearview mirror and we were looking towards finding a new rhythm and stride.


May of 2017 something weird was on his recent PET scan. .. an area of inflammation in his brain, but the oncology department figure it was something to watch and not something to worry about. We said our prayers and tried to make light of things, while I left my job of 9+ years for a new opportunity.  


August 2017 saw me laid off due to changes in medicine that affected the company I went to. It was okay since Harv was trying to work a bit more and I was going to get unemployment while I tried to determine exactly where I wanted to be rather than just jumping into a job. The appointment in September 2017 at Cleveland Clinic for him was okay, doctors didn't really see any changes on any of his imaging studies. ... but it was the calm before the storm. ...little did we know...

December 2017, Harv started to have some weirdness issues, which landed him in the Cleveland Clinic ER on New Year's Eve. 


We found out in that he was having seizures with aura.  He had brain swelling, significantly. And we found out he had multiple areas of damage. That area that was seen in May 2017 that was nothing to really worry about - yeah - it was radiation necrosis, and it was the causing lots of issues. Personality issues. Memory issues. Health issues. Meds were started that added to the worsening effects he was having. Steroids made all of the above a million times worse, but the brain swelling had to be controlled.


Feb 2, 2018, Harv went under the knife with neuro-surgery to remove parts of his right temporal lobe, where the 3 pieces of radiation necrosis were. He did great with that surgery and the neurosurgeon was happy. Sure he gained 60 pounds since the beginning of the year, thanks to the steroids, but it was mostly edema.... then he caught the flu at the end of the month which put him in the hospital for the third time of the new year.

He got through that, then started having problems with not being able to eat and nausea and vomiting problems, which ended up in another hospital stay at the end of March. He's since lost the 60 pounds that he gained, and possibly a little bit more.


Over the last 4 months, Harv has spent more time in the hospital and in doctors offices than he at home.

We are still fighting to eat, still fighting memory issues, and fighting all the other issues like no future job (Toys R Us is closing) or even if he will ever be able to work again.  I still don't have a job, but it's hard to do that when I am on the phone setting up appointments, talking to doctors, talking to disability, talking to jobs and family services, trying to get him to eat and drink and get up and walk and just general activities of daily living.  

We know this is going to pass, but it's more like a kidney stone than anything, and it's exhausting for both of us.  I've not really been mentally fit to be able to consider a job, nor can I really consider one when it seems like every 2 weeks we are going to the ER. Heck, I know my own memory is shot with my little and troubled sleep. 

We are fortunate to live upstairs from his parents, so we have a roof over our heads. We have food. I have a car, Ole Bessie, a 97 grand marquis with 210000 miles on her, that limps along with duct tape and prayers and I pray every day she is able to get us where we need to go but am concerned I really need to look for another car. Our AAA membership has lapsed and I know I really need to get that sometime soon. I've got car insurance so that's okay. .. but every day is a challenge to stay positive and focused on the important things, to not get bogged down in the depression, negativity, and other challenges that pop up unexpectedly. ..and I know I need to see to my own health that I have been ignoring while I focus on him (it's so hard to try and schedule anything with all his follow up appointments and last minute visits and everything.)


We know everyone we know is strapped and has their own challenges or cancer in their family or that going on, but the hospital caseworker said I needed to at least create a gofundme, and put it out there.  So here it is. 


Thanks for listening and giving us a few minutes of your time. Blessings to you and yours. 

For more history and pictures and information, check out the facebook page : Project Godzilla/updates from Cleveland Clinic 

#TeamGodzilla #ProjectGodzilla  #ProjectZilla


Organizer
#1 fundraising platform

More people start fundraisers on GoFundMe than on any other platform. Learn more

GoFundMe Guarantee

In the rare case something isn't right, we will work with you to determine if misuse occurred. Learn more

Expert advice, 24/7

Contact us with your questions and we'll answer, day or night. Learn more