Here is our story from the beginning! It is a bit lengthy and includes an image from our first loss that I hope isn't found to be offensive, but I wanted to make sure nobody was missing a puzzle piece to our story.
My husband and I got married in October 2014 and looked forward to having kids asap! I felt so blessed to become pregnant right away, and we made a Valentine announcement February 2015 at 12 weeks. A few weeks later I was devastated when I returned for a routine appointment and no heartbeat was found, the baby had stopped growing a few weeks earlier at 13 weeks gestation due to Turner Syndrome. I chose to go to the hospital to be induced so that I could see and hold the baby for better closure.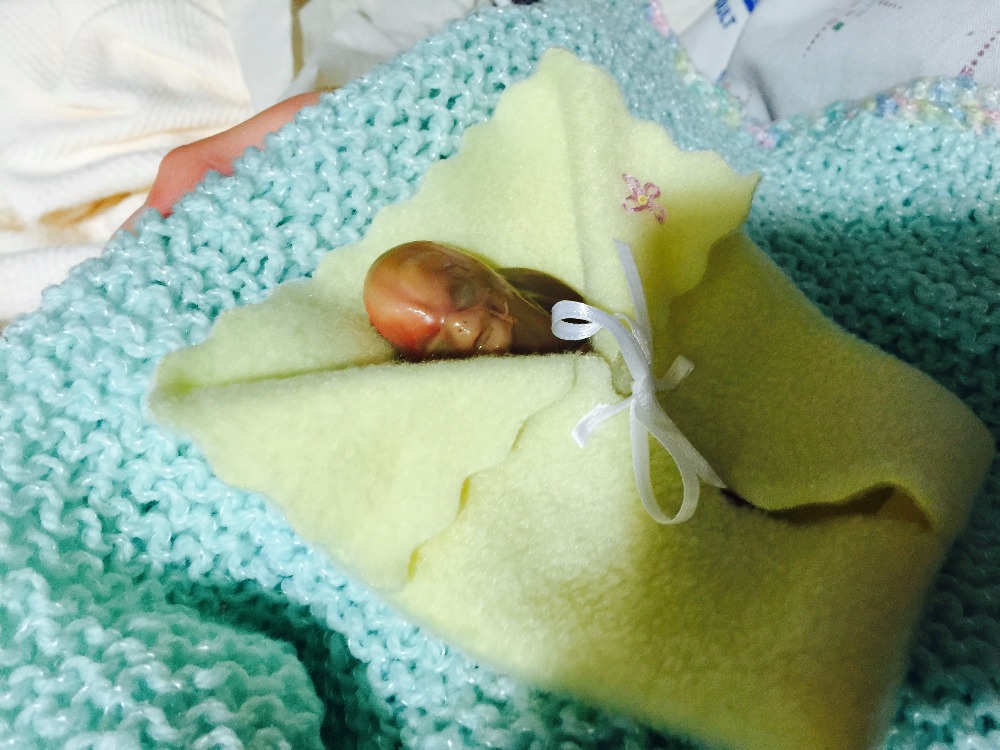 The loss was hard, and it was a couple months until emotionally we were ready to try again. We approached the next pregnancy with caution, the innocence of pregnancy having been taken from us. My first appointment was at 11 weeks, during which the ultrasound showed a blighted ovum where no baby had formed. We scheduled a D&C surgery in mid-August 2015. The doctors assured us that both miscarriages were for the most common reasons, and that we should try again when we felt ready.
This pregnancy we kept thinking that surely all the bad luck was out of the way, and the third time was the charm! Everything looked great in the 8 week ultrasounds, but we had quite the scare at 12 weeks when I woke up at 5am bleeding bright red. With our history we instantly thought the worst, but at the same time I wasn't cramping and I held on to that strand of hope. We rushed to the hospital for an ultrasound and were delighted to see the heart beating away while the baby wiggled around!
We were told I had quite a large subchorionic hemorrhage, nearly 50% of the gestational sac. The good news was it was opposite of the placenta and was having no affect on the baby! I was told to avoid all exercise, not to lift anything heavy, placed on pelvic rest, and told to just take life easy in general. By 17 weeks I had 3 additional ultrasounds and the clot only showed a very slight decrease in size.
On April 1 (baby's first April Fools joke?!) I had some bright red bleeding again every time after I went to the bathroom. I called the office and they encouraged me to go to the hospital right away for an ultrasound to check things out. The ultrasound showed that the clot had increased a bit in size, now measuring 11 x 7.8 x 3.2cm, but that the baby was still doing well. The size increase was concerning, and I was kept for 24 hour observation which turned into 5 days!
The baby has been very active since reaching 19 weeks! I've been experiencing many kicking sessions each day, Justin was able to feel his first kick, and I even saw my stomach moving up and down in places while baby was practicing away.
I'll be at home on bed rest for at least the remainder of April, and then they will reevaluate. There will be weekly ultrasounds to check on the baby. The anatomy scan at 19 weeks showed that everything has developed properly and baby is still right on track with growth.
I have been overwhelmed with how many people have offered their prayers and asked how they can help. While some meals and grocery deliveries are very helpful, we are more in need of financial help right now. During this unknown length of time that I am unable to teach Irish dancing we are short 1/4 of our monthly income. We are also still making payments towards the August miscarriage, and have quickly accumulated many medical bills this year with this pregnancy.
We are so thankful to be part of such a caring community of friends through our two losses and during this high risk pregnancy. All donations will be put towards paying medical bills and our daily living expenses. If you would prefer to give a check directly so we avoid this website's small fee, it can be mailed to our home address or either studio's address. Please continue to pray for the health of the baby, that the baby will not be delivered until 32-40 weeks, that I don't go insane from inactivity, the clot resolves, and for Justin and me to be calm and peaceful about the situation with a positive outlook.

Organizer
#1 fundraising platform

More people start fundraisers on GoFundMe than on any other platform. Learn more

GoFundMe Guarantee

In the rare case something isn't right, we will work with you to determine if misuse occurred. Learn more

Expert advice

Contact us with your questions and we'll answer, day or night. Learn more