We're on a journey that seems to be never-ending. Blake was in an accident on Monday, September 8th, 2014. He was riding his motorcycle when a van pulled out in front of Him and hit on the front drivers side and was thrown over the van, nearly taking his life. He was not driving careless or fast as witness say, Blake was rushed to The MED in critical condition. A guardian angel named Willie happened to be driving by this day, stopped and helped Blake to keep him conscious and got his moms info to call her and let her know Blake had been in an accident and advised her he will follow him to the hospital and stay with him until she got there. His first night at the hospital, he was in surgery for 7 hours for his injuries. He had a compound fracture to the right femur that tore the artery, punctured lung, bruised kidney, compound fracture to his right elbow where the muscle and nerves were torn from the bone, dislocated hip, broken pelvic, fractured two vertebras, dislocated both knees, broke his right ankle. Not to mention all the road rash from the accident as well. Drs stopped count after giving 16 units of blood. He was taken off of the ventilator the next day but his vitals showed something was wrong. They found another leak in the femoral artery that was repaired the first night, he was loosing blood as fast as they were putting it in. They took him back for surgery again and repaired the damage therefore to do this cause a large wound in the upper thigh that had to be left open to heal. He had to be Re-sedated, after being sedated for nearly a week in Trauma ICU, He was strong enough to be taken off the vent. The talk about his upcoming surgeries scared him, because of the fact not knowing what the outcome will be of the results, there were so many injuries but the main one was the right leg. He had an exposed artery and he had to have both sides of his calf opened to try to relieve swelling release drainage to help prevent the muscle and tissue from dying. He has gone threw 11 surgeries at this time after being transported from Trauma ICU to another floor, Blake was in this room for 3 total days. The second night in the room, Blake's femoral artery ruptured, the emergency team was called to the floor, he coded on the floor and was rushed back to the OR to repair the artery. They lost him again in theoperating table, God was with the surgeons and brought him back once again. The next morning Drs came and said they could do a bypass on that artery, after the vascular drs were called in to see what they could do they advised that it would be to risky to do the bypass because of the damage done to the artery. At that point it was his life or limb, drs told Jennifer that there was no other choice to save Blake's life but to amputate the leg to the thigh. Life took a total turn around at that point. Blake was very hard to wake up after the amputation, he was very weak and was not talking as before. A few days later he was sent back to a regular floor, where PT, OT and speech therapy came in every day to work with Blake. There was a CT done a week later to check for brain damage due to the weakness since there was a loss of oxygen to the brain and none was apparent, a couple weeks later there was another CT done and that showed a spot in the The basal ganglia, they then sent him for an MRI and it showed the same. Dr. Advised with this being said that it would be a day by day process to see his progress. With this and some nurve medicine he was on, he completely quit talking, and became very weak. He seemed to start progressing but then October 21, he woke up with his vitals all out of whack, they then found an abscess in his leg, he was rushed again to the OR with question if they would be able to save the remaining upper thigh.
He has gone threw 29 surgeries, he has very bad anxiety every time surgery is mentioned, he is at a point now that they change his wound vac bedside that is very painful. Drs say it is looking positive to not have to take more of the leg. His speech has improved very much and his strength is starting to come back. They have been told that with his brain injury his anxiety and OCD will intensify with his needs but this is just the first stage of his body repairing his brain. They have now removed the wound vac and all the inner tissue has closed, they say they do not believe they will have to do skin graft or even close his leg. As of today 11/18 they came in and said they will be sending him home today or tomorrow. They will be sending physical therapy home to work with him to get his strength back so that he can go to rehab because he is still not physically able to handle 3 hours of rehab a day. They will be sending a home health nurse to evaluate him for his care. Therefore everything that Blake will need for dressing changes, medicines, transportation to and from appointments etc. will have to be out of pocket right now. After he can do this he will be sent back for rehab to continue this journey. He still faces at least one more surgery to reconstruct his left knee before he will be physically able to continue therapy to walk again. After that being said then he will be able to be fit for a prosthetic.
As of 11/21 Blake was sent home he is doing well and will be starting his journey to recovery. Blake's mother, Jennifer, and step-dad Brad has been with him since day one. This meaning Jennifer has not been back to work due to the seriousness of everything with his injuries to help support her family or bills nor their stay at the Med. Therefore Jennifer will still not be able to return to work to care for Blake 24/7. It's been a rough road, and we all just please ask for your help. Jennifer, Brad, Hunter, his family and friends are trying their very hardest to keep Blake happy and stay comfortable. We just ask for you to donate in honor of Blake Adams. He is in great need of it and would appreciate it so much. Anything will help! If you knew Blake you would understand how big his heart really is. Thank you so much. If you're unable to donate please send as many prayers as possible for Blake and his family. God bless you.
As of December 20- Blake has been home for a month now and is healing day by day. He has had follow up appointments with all of his Drs, all say he is healing well. The right leg is healing well and almost closed, there is still quite a bit of swelling. The orthopedic Dr over the left knee said Blake will not have to have surgery, PT has been working with it but it is so tight that it will take some time to work out. The elbow Dr has said he can do what is tolerable, because if the nerve there is still a lot of stretching and therapy that needs to be done. His speech is coming back better now than when he was released, still not very loud but it better. There is still no word about rehab, he has put on a little weight but still needs quite a bit and needs to strengthen up more and both legs to heal completely. He still has a long road ahead of him and wants to be back in his feet so bad!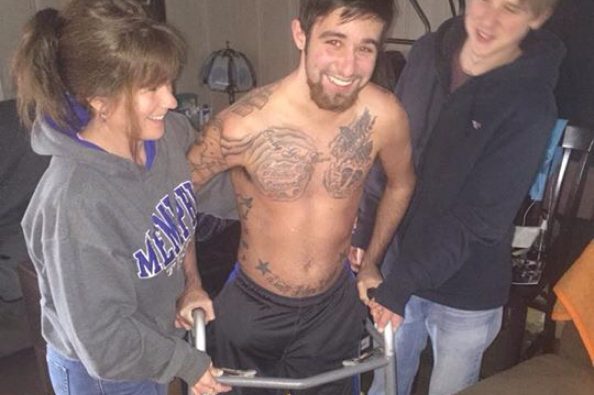 As of February 10 - Blake is really doing good! He has been to the prosthesis and OH WOW!!! What a place to be! It's not like a normal Dr. Office you would expect to go to! You walk In and feel the welcome from everyone, he never sat in a room waiting for someone, there was someone right there talking to him, examining him and giving him a positive outlook of everything. It was a little overwhelming to him but he seems to still have his spirits high. He has been back and forth to the Ortho Dr. about the left knee several times, it is now bending to about 80 degrees but drs want it more so he can stand from a sitting position and walk easily. Dr has given him a 2 month period to have it bending to where it needs to be, therapy has released him to save the therapy sessions for rehab, (seeing that private insurance is in play and there are only so many they will cover in a calendar year) therefore they are having to do all the therapy at home. Dr mentioned that they may manipulate the knee (force it to bend) but the way it is bending it doesn't look like they will have to. He has feeling all the way to his hand from the injury to the right elbow, which dr says that is 9+ month advance than what was expected. They still have to do therapy to continue getting function back to his hand. There are still many Dr visits to go and still a long road ahead, his anxiety still gets the best of him when he has to go to the Dr. but he will also be going to a pain specialist to figure out the plan for pain, anxiety, etc. He has also reached out to a local man that has lost his right leg while working, they have been keeping in touch talking daily. Please continue to Pray, share his story and if you can donate it would be greatly appreciated.

Organizer
#1 fundraising platform

More people start fundraisers on GoFundMe than on any other platform. Learn more

GoFundMe Guarantee

In the rare case something isn't right, we will work with you to determine if misuse occurred. Learn more

Expert advice, 24/7

Contact us with your questions and we'll answer, day or night. Learn more