Hi everyone! 

As many of you may know, my fiancé Jeff is a police officer here in Bloomington, Indiana. One morning recently, he was dispatched to a call about an emaciated and injured dog that some good samaritans found at a local park. When he arrived he found a sad, starving, stray boxer mix who had clearly suffered some sort of injury to her back left leg. Because she was severely underweight, she was very weak and had a difficult time standing up and walking. She was also covered in various scrapes and burns, and ridden with fleas. 



We found out that she was microchipped and about 1 year old. However, her current (and 4th) owner said she had been hit by a car back in April and they no longer wanted her :( so Jeff and I decided together that we needed to seize the opportunity to give Daisy a home and the love she deserves with us and our other rescue pets.

She's lived with us for a few weeks now and really is an amazing dog. She's made a lot of progress with us in a very short time- she no longer flinches when someone goes to pet her from above, and doesn't cower and shake when someone even slightly raises their voice in her presence. She's put on weight, her superficial injuries are healing, and she's very affectionate and sweet. We are showering her with love and attention and showing her what it's like to be adored. She is an amazing soul who deserves the world.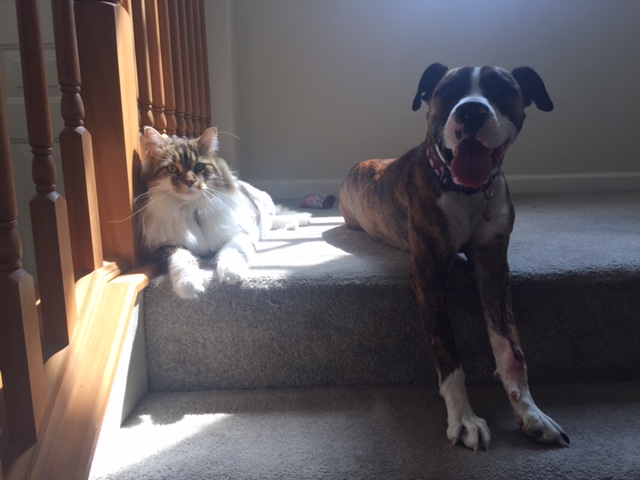 However, we recently learned the extent of the injuries to her back leg. Unfortunately, from being hit by a car, she's been living with a torn meniscus, torn ACL, and luxating patella since the incident occurred in April. Since we've had her she's been on meds to manage her pain and keep her happy, but what she really needs is surgery to repair her injuries. The specialist said that amputation isn't really an option for Daisy's leg, because of her genetic makeup he worries that she's predisposed to ACL injuries. If she tears her other back ACL while only having 3 legs, that obviously poses a big problem for her.

Little Daisy came into our lives completely unexpectedly, and unfortunately her medical needs just are not in our budget. I know there are so many worthy causes out there, but if you are able to donate we would be forever grateful. Every penny from this fundraiser will be used to pay for Daisy's surgery that she needs. If by some miracle we get Daisy's leg healthy and have extra money, all of that will be donated to the City of Bloomington Animal Shelter. 

Thank you so much for reading Daisy's story!

Love, 
Daisy, Rosie, and Jeff
Organizer
Rosie Ahlberg 
Organizer
Ellettsville, IN