Empower Communities to Fight HIV
Focus Myanmar: support the most marginalised populations living with HIV by enabling community-based organisations to start sustainable businesses with your start-up funding
Overview:
In Myanmar, the HIV infection rates are high in key populations, such as men who have sex with men (11.6%), female sex workers (14.6%) and people who inject drugs (28.5%) (The National Strategic Plan on HIV and AIDS Myanmar, 2016). These populations are criminalised in Myanmar, and therefore particularly marginalised and difficult to access through governmental interventions. We need your help to enable community-based organisations (CBOs), who have access to these populations, to reach their clients without having to rely on disappearing donor funding in the long term.
Who will you help:
CBOs are often comprised of key population members, giving them access to people living with HIV (PLHIV) . They play a critical role in connecting clients to government facilities where they can get treatment, and supporting clients through the patient journey with education, counselling, adherence support, and financial support for things like hospital fees, transport costs and funeral costs.
Spectrum (also known as Khunarrthit) and Arrmanthit, are CBOs that are doing incredible work in Mandalay, a city with the second highest prevalence of key populations (Pepfar, 2016) and one of the highest rates of new HIV infections in Myanmar (ASEAN, 2016). Set up in 2007 and 2010 respectively, Spectrum and Arrmanthit have previously received donor funding to resource their work.
The problem:
The donor funding that CBOs have up till now relied upon is becoming increasingly sparse - particularly in the current international political climate - and was terminated for Spectrum and Arrmanthit at the end of 2016. They are now working for their communities purely on a voluntary basis, but on a much smaller scale, meaning many clients are left behind. Last year they were able to carry out 350 home based visits to clients in need per month between them. So far this year they have only been able to manage four or five visits per month between them. During these visits they monitor their clients, and ensure the most severe cases are admitted into hospital. It costs about $12 per month to support a client in the hospitalisation process.
The solution:
But Spectrum and Arrmanthit are not going to take this lying down, they are going to fight the odds with clever entrepreneurial spirit! They want to start their own businesses so that they will no longer be as reliant on dwindling donor funding to keep their activities running. Indeed, they have already begun small business ventures. Spectrum has a warehouse and sells rice and Arrmanthit sells lottery tickets on the street. The profits are saved and used for emergencies, such as to pay poor clients' hospital bills. They now feel it is time to launch businesses on a larger scale so that they can increase their impact. 
Our plan:


With your help for seed-funding, Spectrum will open a shop selling amenities such as oil and rice. Some of their members already have experience of running a shop, and they plan to open theirs in an area of Mandalay where many of their clients live and that is currently sparsely populated with shops.
Arrmanthit will start a pig farm, as pork is very popular in Mandalay, and the business is lucrative from the experience of some of Arrmanthit's members who have worked with pigs.
With these unique entrepreneurial efforts, both CBOs will achieve the following three objectives:
1. They will use the new sources of income to carry out home-based visits and provide hospitalisation support for their clients. They calculate that with their profits they will each be able to support 60 clients per year with hospitalisation, over 25 times the number they can support now. 
2. They will hire some of their clients (PLHIVs) for their businesses, providing employment to individuals who would struggle to find work elsewhere. They will also offer subsidised prices to HIV clients who need financial and nutritional support
3. They will be able to sustainably carry out their core activities without needing to rely on donor funding in the coming years
The nature of the businesses may evolve should new opportunities arise, though the aims encapsulated in the above three points will not. Both CBOs have had business training from an internationally accredited expert and have built solid business plans (Dr Nay Lin Tun, ILO trainer, 2017). HIV related activities will be supported by Alliance Myanmar, which has overseen successful projects run by these CBOs for several years, and has been working with CBOs to tackle HIV in Myanmar since 2004. Business support will be provided by Opportunities Now (
http://www.onowmyanmar.org/
), which has supported the growth of over 250 small enterprises in Myanmar.
Advice from the British Council, International Labour Organisation, and Opportunities Now suggests that the CBOs will each need between $10,000 and $15,000 of start-up funding to ensure success for these projects. The budgets for the investment costs are flexible depending on crowdfunding outcomes, but initial spending will be on materials such as shop stock, rent, pigs and pig feed.
Pepal will funnel the seed money to Alliance Myanmar, who will ensure Spectrum and Arrmanthit receive the funds in a timely manner and continually monitor the CBOs' social impact. Donors will be provided with period updates on the progress made by these CBOs.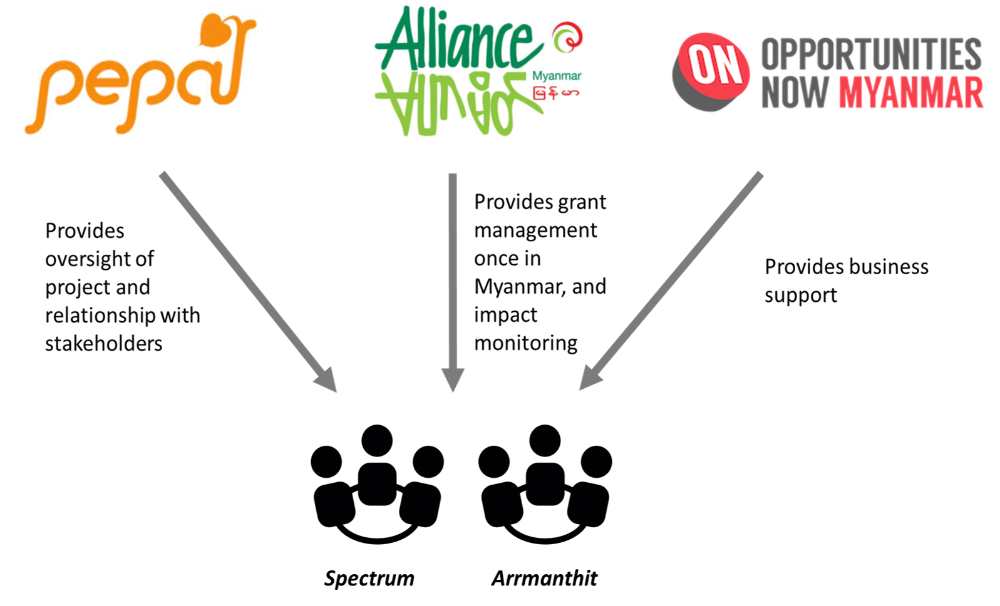 Who we are:


Pepal (
www.pepal.org
), is a London-based organisation promoting sustainable social change through innovative pilots since 2009. Pepal is working to help key populations in Myanmar in partnership with Alliance Myanmar (
goo.gl/91gxpd
), which plays a leading role in helping people living with HIV (PLHIV) in Myanmar through supporting CBOs.

How you can help:


Now Spectrum and Arrmanthit just need your help for start-up funding! Please donate today to support these passionate people and help the most neglected and vulnerable communities in Myanmar! And afterwards, stay tuned, for regular updates on how the CBOs are progressing. At a time when parts of the developed world are becoming more and more inward looking, you have the chance to reverse the trend, be the change and embrace humanity.
Organizer
Pepal 
Organizer
Act Productions Ltd, Greater London, United Kingdom