Rebuild Steve's Farm Workshop
"I keep reaching for something, I need to use it, and it's not there. It's all melted. Needed to cut a wire, nope, guess my splice kit burned too. The stuff just ain't there." - Steve Palmer.
Steve has lived on the family farm his entire life, tending to both crops and critters. Handy, frugal, and resourceful, Steve fixed everything on the farm himself - and over the course of decades, accumulated a lifetime of experience, tools, and equipment specific for the needs of the farm. This workshop kept the farm going - it was the heartbeat of the operation; Steve's lifetime work; his entire livelihood. The workshop was in one corner of the Blue Shed, which also housed farm equipment and items historic to the family operation.
On September 6  2018,  the Blue Shed burned down.
Steve was working in the shop, and had walked to the main house to take a short break. While he was in the house, there was an explosion in the shed that caused a fire. Within ten minutes, the entire structure had collapsed. Steve was able to get one truck out. Everything else burned.
Steve is OK. The dog, Lucy, is OK. The farm is not OK.
The most critical losses were the farm workshop, certain large pieces of equipment, and the building structure itself. It is these items we are asking for help in rebuilding. Other losses are simply irreplaceable. At this time we do not know what caused the explosion.
Shown here: Steve's feed grinder, used for processing cattle nutrition. Beyond the critical function of the grinder, the specific capacity and speed of this model makes it especially difficult to replace.
The workshop is a devastating loss for the farm, because Steve built or fixed absolutely everything he needed. Much of the equipment was older and required specific maintenance or repairs that were not feasibly done by anyone else. Like anyone who has done a job for fifty years, Steve had tools and hardware and machinery specific to the exact needs of the farm and his experience.
We are asking for help to replace and rebuild whatever we can. Right now, we are still figuring out what will be covered by insurance; but frankly, it won't be much, and in any event cattle can't wait on insurance... they need feed. Crops can't wait on insurance... they need to be harvested. Steve and his mother, Norma, can't wait on the generator... winter is coming quickly. The feed grinder, the tools to repair and maintain harvest equipment, and the generator - they all burned.
Steve, and the farm, cannot function without the workshop.
This is not a sentimental statement. It is the reality we're battling.
Any financial contributions will be used to replace lost tools and equipment and rebuild the workshop. We also welcome any contributions of tools, machinery, and equipment. This is an overview of some of the items and best-guess prices for replacement... along with some classic Steve commentary:
A new welder - $3,000
Drill press - $2,500 - $3,000 ("I bought it for $2,300, sixteen years ago. They haven't gotten cheaper.")
Air compressor - $2,500
Torch set - $600
Big drill - $250
Hand grinder - $250 ("I didn't buy a cheap one. I used the bejeebers out of that thing.")
"All my wrenches, my pliers, my battery-operated drills."
Tires, engines, and parts for trucks and tractors
Jacks
"My big bolt cabinets. I just filled that up. Couldn't even recognize it, it got so hot. I just brought it home.
"Metric tap and die set. I just got it a week ago. It was sitting on that bolt cabinet. I had my standard one just below it. Dad bought that for me when I was in Vo-tech. The thing still worked perfect. Someone just brought up a hammer. I don't have a tape measure left."
"My brand new lawn mower. Had an hour and a half on it. Maybe. Finally bought myself a nice lawn mower, was never going to buy another one. Now it looks like everything else. It all melts the same."
Monetary donations are easiest, however any gift cards or credit at a farm supply store (Menards, Campbells, Runnings, etc.) are also extremely helpful. If you or someone you know may have machinery or tools that you would be willing to share with Steve, please let us know - like every farmer, Steve had specific tools for his specific needs.
Thank you so much for your contributions and for sharing our story.
Who is Steve?
Steve Palmer is a son, brother, uncle, cousin, neighbor, and friend that has lived his entire life on the family farm just south of DeSmet, South Dakota. He started working on the farm as soon as he could walk; and at 20, took over the entire operation after a farming accident killed his father.
Steve is the epitome of a small family farmer. He is resourceful, frugal, and hardworking, and is the only person running the farm - there is no hired hand, no farm employees. Like many farmers, he calls in friends and family to work cattle or help with loading when needed; but otherwise, it's just him (and Lucy, the dog).
He never married or had children of his own, though he is a devoted uncle to 13 nieces and nephews and 3 great-nieces/nephew.
Shown here: Steve with niece Jacki, 2 years old, in 1988. The tractor in this picture was lost in the fire.
Shown here: Steve with nieces and nephews on his birthday in 1994.
Shown here: Steve with his mother Norma; sister Sandy; nephew Steven; niece Jacki; great-nieces Ellie and Hunter and great-nephew Palmer, a few months before the fire.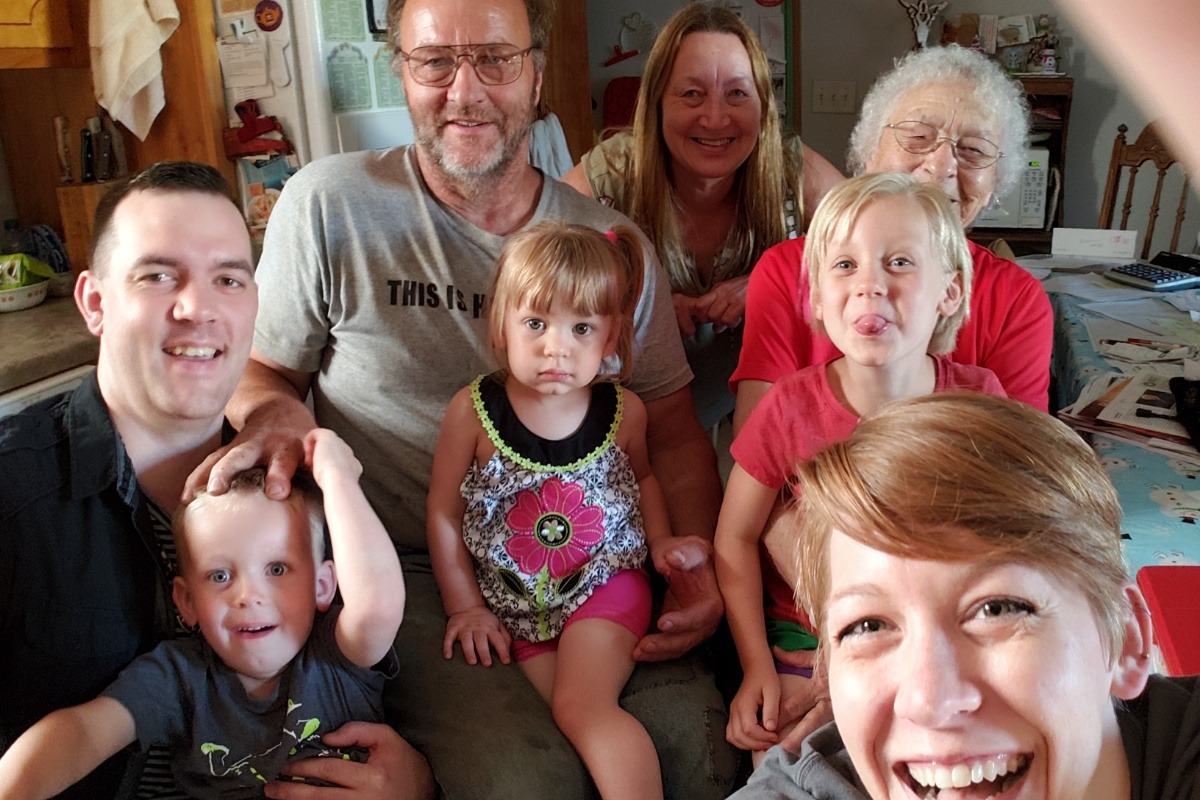 This campaign was set up by Jacki Miskimins, Steve's niece, with his permission. All funds will be routed to him directly.

Organizer and beneficiary