Near-fatal car accident now Esther needs help!
On October 22nd, 2021 about 9 am, leaving a work retreat from Mono Lake.
After spending 5 beautifully, informative days in a lovely home owned by the water restoration company, I got to learn about saving Mono Lake. The environmentalist inside of me was so moved by all that I was learning, I became a Mono Lake Committee Member.
It was filled with so much emotion learning about how the water was stolen from the different lakes up there to be used to supply LA. Although a lot of the information I received was not easy to hear I had a great hands-on learning experience. On the fifth day, my co-workers and I said our goodbyes...
and started the long drive back home. Not even 10 minutes after this picture was taken, my life could have been over. On my way home while driving my vehicle was struck and ran off the road in a ditch by a large truck. I thank my co-workers for not leaving my side & do that 6-8 hour drive to get us back to Oakland. 
I am truly blessed to still be here and
after months of physical therapy, I'm still not able to fully use my leg like I used to
. Knowing that I won't ever be the same is a hard truth to face at times.
Attempting to drive is scary and challenging but I refuse to give up.
Soon I will begin psychotherapy to help me process the emotions of the accident.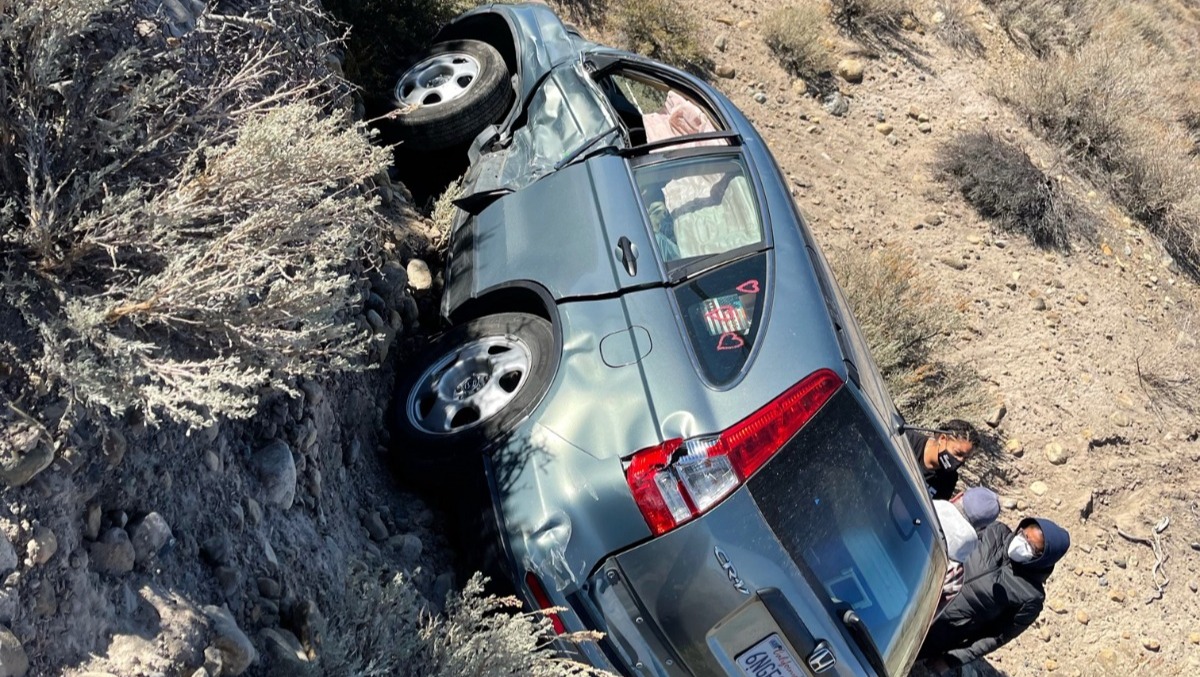 I have experienced PSD because of the accident;
nightmares and near panic attacks in the car as a driver or passenger
. I refuse to give up. I will return to me, I remember before the accident.
I miss my car so much as it was new to me,
only 4 years of owning it
, I know it would have lasted a lifetime with me.
was a close one, if the impact had been a
couple of inches to the center, I would have received the full impact of the accident and most likely killed instantly.
I feel that I was saved for a purpose and to continue the life journey of fighting for justice.
I have to be humble and ask for help.
Please help me in my challenges of not having the finances to pay for another car.
Great things are ahead for me, and I know this is why my life was saved. I found out months before the accident that I'm going to be a grandmother (for the 1st time!!!) from both of my daughters. My partner and I moved our wedding date from February 2022 to November 2022 earlier this year and are so glad because I'm still healing from the accident and will not have one of the happiest days of my life filled with my body being covered in bruises and filled with pain.
The pictures I am sharing don't do my pain and injuries any justice. The pain was at times almost unbearable and the bruises were a constant reminder. I try to let the pain and the bruising remind me of the blessing of still being on the Earth to make a difference.
I don't take any day for granted. The happiness I feel in my heart to see my 1st grandson be born, and now waiting for my 1st granddaughter to be born in February
and then marry the love of my life next November fuels me to keep going.
Please donate to my campaign. Your donation will help me be able to overcome my anxiety in cars as well as continue my life work in the community with ease. Any and all amounts will be appreciated. Please donate and share this campaign with any and everyone you know because you never know who might be moved to donate.
In whatever way feels right for you to help, know that my family and I thank you, appreciate you, and know that you are a great human being.
Become the first supporter
Your donation matters
Organizer
Esther M Goolsby
Organizer
Oakland, CA