LATEST ARTWORKS ON OFFER - August 2017

Silent Auction Item #2

We're asking a starting bid of $100 for this fused glass serving plate by Jeweliyana Reece 'Expressions'. Come by the gallery to place your bet before Saturday 9th September. View more of her glass art at
www.infusedglassworks.com

Giveaway Item - at $4000 target reach

A winner will be picked for 'Praying Mary', an acrylic painting by native artist Chris Ndn valued at $500 

Giveaway Item - Donations over $400 only

This is an unlimited offer for donations of $400 or over. 
Rob Dodds will custom make a metal sculpture (similar to the one pictured) which stands about a foot high and would retail at $500.  More of his sculpturesa can be seen on his website
www.robdodds.ca

Giveaway Item - at $5000 target reach

These two pieces by Bryan McLean, a male and a female nude figure drawings in charcoal, framed and valued at $250 each will be won as a set when we reach our $5000 target.  Learn more about Bryan - who is also a writer on his Instagram page
@lyinghere

Giveaway Item - at $4500 target reach

This large 6ft x 4ft oil painting by Rick Rosario, originally valued at $1000 (now $800) will be given to a random donor at our $4500 mark. Take a look at more of Rick's art on his website
www.rickrosario.com


We have at least two more paintings to add to this list, a large painting by Marie Manon and a painting by Aradhana Parmar, both to be won when we reach our $5000 target. 

Please share the news with friends!

All donors will be entered for all our draws, each increment above $25 = 1 draw (for example $100 = 4 draws for give away prizes).  

____________________________________________________________

UPDATED ARTWORK OFFERS - July 2017

Giveaway Item - at $3500 target reach 

We have a new painting donated by Marie Manon, valued at $425 which will be given away to one person who donates to our campaign - but only when we reach $3500
.  
Take a look at her Instagram
@mariemanon.art

Silent Auction Item #1

Bidding has started at the gallery for this exquiste palette knife painting 'The Fairway' by Brenda Banda Johnson valued at $1550. The bidding started at $300 and ends at the end of August 2017.  75% Of the proceeds will go to Motion Gallery's campaign, and the other 25% to a charity of the bidders choice (+ tax receipt inc.).
www.bandajohnsonart.com
Giveaway Item - Donations over $300 only

Joseph Ross is offering donors the choice of one of his paintings (we have three), or he will do a custom piece if prefered. See more of his work
HERE
  This is an unlimited offer from him - for as many donations as we get over $300.

Giveaway Item -  at $3000 target reach 

Christina Lavigne has generously donated her two piece painting valued at $400 to our campaign and we will be giving this beauty away to one lucky donor when we reach our $5000 mark, or if you absolutely must have it, you are welcome to purcase it for $400 with all proceeds going to the gallery.
https://www.facebook.com/lavignesartstudio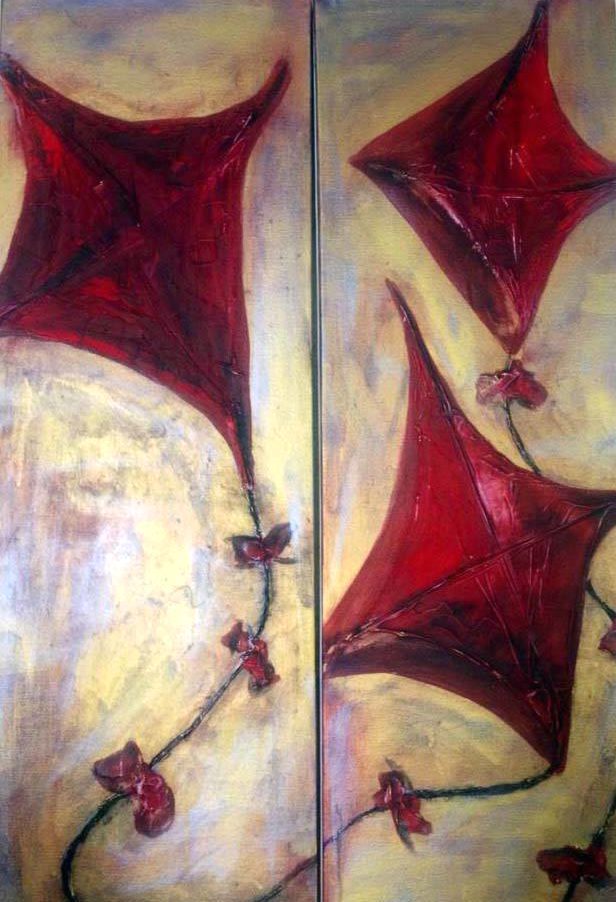 (The detail and texture is lost in this picture so we will take a better photo for you soon)


Numbered Audrey Button Pins 

Joshua Alexander's hand painted 'Audrey' can be yours if you purchase a $5 button pin at the gallery from now, until we move, or until the 100 buttons are gone, so make sure to pick one up soon. Check out his Instagram page
@myhandsgallery
____________________________________________________________
As some of you know, Motion Gallery has been encountering road block after road block this year. We were asked to move out of our space, and then lost a substantial amount of our artists due to downsizing to a smaller space.
We have found a perfect new space to move into though, but we are lacking the funds to get it off the ground. We are now facing closing if we can't come up with the money. We are asking for your help to raise a bit of money to act as a cushion until we get this thing off the ground. 
Motion Gallery is a not for profit artist support gallery providing local artists a space in which they can thrive. We promote each artist as much as possible, documenting their artworks online and writing articles so the public can learn about them too.
http://www.motiongallery.ca
Our mission has always been to promote local art, we believe that doing so enriches the whole community and creates culture, and allows artists to grow with our developing city.  
You can help by donating anything from $5 to $500, or even $5000! Whazaa!!
The money you donate will go into making sure we can cover our rent for the next three months - while we're in the small space and up until we move into our brand new space in August. Once we're in the new space we should be fine to cover our bills and carry on as we did.  
We really don't want to close, with 87 artists on our wait list alone, a bunch of exciting kids classes and amazing art shows and events for years to come, we want to keep showing you what Calgary artists have to offer. 
OFFERSWe will give a free painting class valued at $25 for every donation of $100 we recieve. That's 200 free classes. And if you don't have kids, we will give 10% off any artwork over $100. 
This is our gallery now. We're doing the best we can in our temporary space but we miss our events and show. 
This is what we do best:
Opening receptions and art shows, live art demos, a huge variety of local art and lots of art classes. 
 Thank you for your ongoing love and support.
Organizer