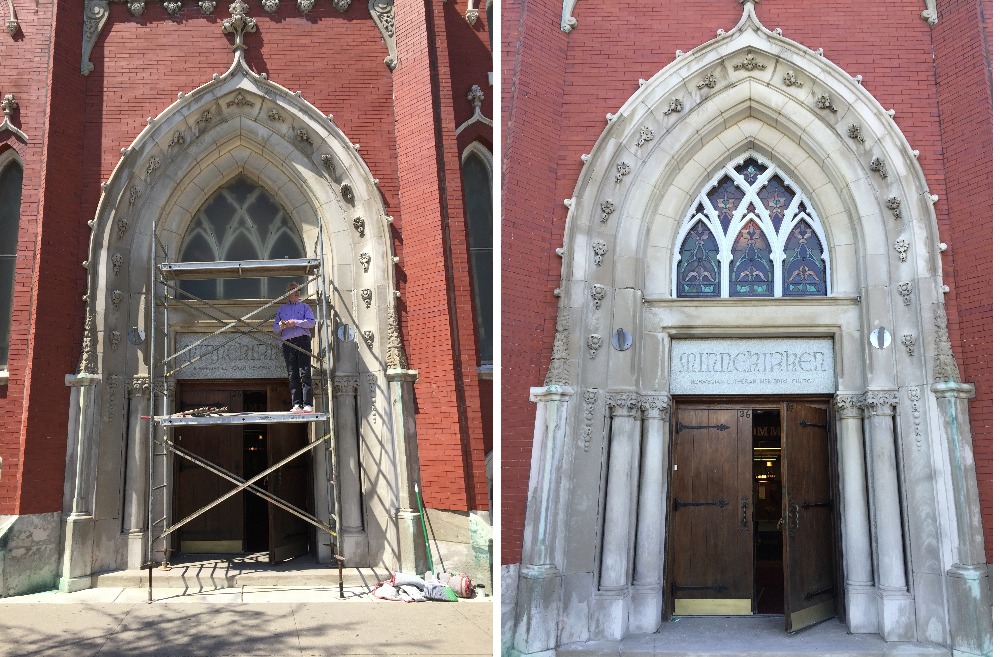 The Minnekirken (Norwegian Lutheran Memorial Church) is one of the most prominent landmarks on Logan Square and
the only church in our landmark district that is protected from demolition.
Working with experts, Logan Square Preservation (LSP) has determined that the windows throughout the church are in need to substantial restoration. The church plans to restore the sanctuary windows, while LSP has committed to raising funds to restore the windows facing the Square.
If we're successful, the Minnekirken will backlight their windows at night, creating a striking backdrop for our square.

LSP raised $5,000 from its members to restore the first window, which was re-installed May 5, 2016.  The change not only restored the window but also put the elaborate fretwork on display for the first time in more than half a century. Restoration of all the windows will transform the facade of the building. 
As a 501 (c) 3, LSP decided to partner with the church to enhance the built environment of the landmark district and aid a legacy congregation, the sole church in the district that opted in to landmark designation in 2004. 
Phase one of the project, the restoration of the large window about the church's entrance is now complete.  Phase two requires another $25,000  to restore the remaining windows on the front façade and all funds raised through this effort will go towards those windows.