Operation: Military Matters
(Graci Tubbs with the 143rd Sustainment Command in Orlando) 

Operation: Military Matters was started in November 2015, as part of a fourth grade school gifted project by nine-year-old Graci Tubbs. 

After hearing and seeing veterans speak at a school Veterans Day assembly, Graci felt the need to support our military and let the men and women sacrificing their lives for us, know people back home cared about them. What started out as a school project collecting supplies from the community and sending care packages from home to the military overseas grew into a nonprofit. 


(One of the airman Erik we sent care packages to)



(Our care packages arriving overseas. )


In December 2016, Operation: Military Matters became a corporation and a 501 (c) (3).

Today, Graci speaks to civic organizations and the military to let them know about OMM. Her efforts help raise support and donations to continue sending care packages overseas to our military.


(Graci met with Sentaor Jeff Brandes to talk about ways to work on shipping costs. He helped her get in contact with Amazon.)

Care packages sent since 2016 = 2400
Money raised since 2016 = $73,000
Cost to send each package = $12.00


(Packing party with friends and family)

Grants received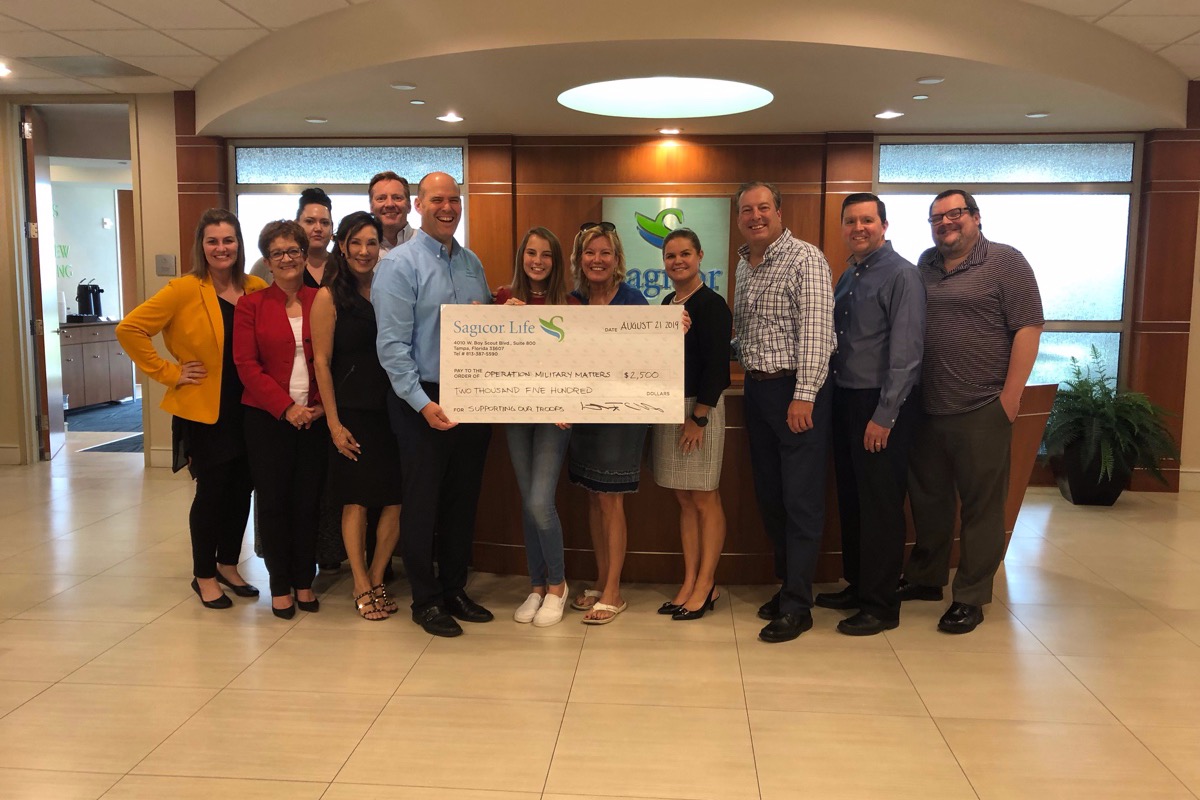 -In August 2019, Sagicor Life Insurance in Tampa matched the Tampa Bay Rays donation with a $2,500 check.


-On July 4, 2019, Tampa Bay Rays Baseball Foundation presented OMM with a $2,500 check.

-November 3,  2018, The National Aviation Academy donated $4,225.67 as part of their student and community fundraiser.


-September 13, 2018 Royal Neighbors of America and their Nation of Neighbors empowerment grant presented for $10,000.

-On February 21, 2018, we were picked as the charity of the quarter by the 100+ Women Who Care Pinellas County. This donation was $17,600 plus an additional $5,000 match from the Best Buy founder Richard Schultze and the Richard Schultze Family Foundation.

-On June 5, 2018, GoFundMe gave a special $1000 donation as part of their "Give Back" Campaign
-In December 2017, we received our biggest donation to date from Flightdocs in Bonita Springs, FL. They donated $2,500 to Operation: Military Matters.

-In November of 2017, Amazon donated $500 to Operation: Military Matters. Graci spoke to the Veterans who work at the Amazon Distribution Center in Ruskin. 

-$200 grant from Royal Neighbors of America and the Difference Maker Fund Project (August 2016 and May 2017, June 2018)
(Special check presentation with Amazon)

On February 20, 2018, Operation: Military Matters was selected as the charity for the quarter by 100 Women Who Care Pinellas County.  In March they presented OMM with $11,500.
(Left to right: Randy Hendricks, Ben Tubbs, Kadi Tubbs, Graci Tubbs and Brenda George and Julie Webster from 100 Women Who Care)


Special Recognition:
*On June 6, 2019, Graci received the Inspiring Youth Award from the Central Pinellas Chamber of Commerce at
their Inspire Awards
*On June 4, 2019, Graci was Spectrum Bay News 9's Everyday Hero with Bill Murphy
*On May 16, 2019, Graci received the Mayor's Youth Showcase Top Achievement for Middle School Citizenship Leadership Award for her volunteer work with OMM.
*February 5, 2019, President Donal Trump awarded Graci the President's Volunteer Service Award
*In February 2019, SGM David Cavanaugh presented Graci with a flag flown over Northern Syria and Erbil Iraq as part of Combat Operations for Special Operations Joint Task Force during Operation Inherent Resolve.
*On February 28, 2019, Graci was awarded a finalist for the Rising Star Award in the WEDU Be More Awards
*On September 13, 2018, St. Petersburg College held a Community Connections Concert is support of OMM.
*On September 13, 2018, Major Duane Stamm with the Last Force Gauntlet, Combined Joint Task Force Operation Inherent Resolve presented a flag to Graci flown over Baghdad, Iraq.
*On September 4, 2018, Graci was awarded the Daily Points of Light Award #6342 by former President George H. Bush.
*On June 17, 2018, Graci was given a flag flown over Northern Syria by The Special Operations and Joint Task Force and Operation Inherent Resolve.
*In May 2018, Graci received the Mayor's Youth Showcase Top Achievement for Middle School Citizenship Leadership Award for her volunteer work with OMM.
*On March 6, 2018 Graci received a Future Leader of America tag from Bernie Hillard, President Future Leader of America, Corp.
*On December 16, 2017, 143D Sustainment Command (Expeditionary) gave a certificate of appreciation to OMM for the work and dedication to our Unted Statess Armed Forces.
*On June 21, 2017, Sergeant Patrick C. Peacock of the United States Marine Corps had a flag flown over Iraq and Syria during a combat mission in honor of OMM.
*On May 13, 2017, the soldiers of Charlie Battery, 3rd Battalion, 4th Defense Artillery Regiment flew a United States flag over a patriot missile site in an undisclosed area in Southwest Asia in honor of OMM.
*On October 26, 2016, Congressman David Jolly presented a certificate and flag flown over the United States capital in appreciation of the work of OMM.



Connect with Operation: Military Matters                                                                

Website www.operationmilitarymatters.com

Go Fund Me www.GoFundMe.com/militarymatters

Facebook www.facebook.com/operationmilitarymatters

Instagram is MiltaryMattersCorp

Twitter is OMMCARES

Email at [email redacted]

 
What we need:

**Items to send in care packages: toiletry items, shampoo, soap, deodorant, toothpaste, toothbrushes, snacks, hard candy, wipes, games, instant coffee, creamer, romen noodles, beef jerky, tuna or salmon packs, tea, gallon zip lock bags, hand lotion, trail mix, socks etc.

**Money to send care packages (each package is $12.00 for shipping)

**Handwritten cards   *Clear transparent tape to tape boxes


(Graci with Mayor Leslie Watters at the Kiwanis Field of Honor Ceremony 2017. Mayor Waters has helped OMM with several "Sock it to the Mayor" sock drives)

*Drop Off Locations

Seminole City Hall
9199 113 th Street, Seminole, FL 33772
8 a.m. - 4 p.m. M-F

Hendricks Enterprises
(Inside Belcher Park Apts.)
7800 Belcher Road S., Suite 114, South Pasadena, FL
9 a.m. - 5 p.m. M-F

Answered Prayers Project
400 23rd St. S., St. Petersbrug, FL 33712
(727) [phone redacted]

St. Petersburg Tennis Center
650 18th Ave S
Saint Petersburg, Florida
(727) [phone redacted]

Faith Community Church
11501 Walker Ave,Seminole, FL 33772
(727) [phone redacted]

Advanced Bay Area Medical Associates
8207 113 Street N. 
Seminole, FL 33772
(727) [phone redacted]

Realty Experts
7600 131st St
Seminole, FL 33776
(727) [phone redacted]

Carriage Cleaners
5675 Seminole Blvd.
Seminole, FL 33772
(727)392-2175



Thank you for all your support!

Graci 


(Graci with Capt. Stanley J Beach, US Navy, retired and Bill Fagerquist with VFW Post #9272 at Kiwanis Field of Honor Ceremony 2017)



(Graci with members of the Air Force Security Forces Association (AFSFA) Central Florida Chapter Master Sgt. James Kamrad and Carl Gingola)
Organizer