Mickey the boxer - fractured jaw
Mickey is a 6.5 year old boxer.  He is playful and lovable, even though shy at first.  Kids LOVE Mickey and he lets them play with his toys and even jump on his bed.
Last Sunday, November 29th, 2015, we were visiting relatives, where Mickey is always welcome to roam around.  While we were on the 2nd floor, we heard a loud noise and a dog's cry.  We ran downstairs to find Mickey in the kitchen, blood dripping from his mouth.  We looked to see if he bit anything hard, but there were no signs of broken things around. He must have slipped coming off the stairs and hit his head on the granite floor. 
Emergency visit to the clinic showed a fractured jaw.  Poor Mickey was given pain medication and rushed to Red Bank Veterinary Hospital in New Jersey. 
Mickey underwent a dental procedure of about 4.5 hours long.  Wires secured the bones of the jaw and were covered with acrylic.  This was to stay on for 6-8 weeks.  About a week later, on December 9th, just a day before the 7-day check up, Mickey's acrylic broke.  Tomorrow (December 10th) we are going back to Red Bank Veterinary Hospital for a procedure to repair the break.  I am hoping that it is only acrylics that is impacted and that all the wires holding his fractured jaw are secured. 
A final procedure will take place in another 6-8 weeks  (mid-end January, 2016) where the appliance will be removed.  
So far an estimate for Mickey is about  $7,000.  Unfortunately, I do not have insurance for Mickey. Hospital expects payment in full after each procedure before releasing a pet.  I am determined to get Mickey necessary care both in the hospital and at home, so that he can heal, eat and drink on his own.   So far, Mickey is eating bland food with my help and drinking from a syringe.  He is my loyal friend and I want him to go back to being happy and healthy as every dog should be. 
Your help is desperately needed.  Mickey means the world to me!!!  I will provide updates on Mickey and proof of all the expenses to anyone interested.    
With love and sincere appreciation,
Dana and Mickey
Mickey posing this fall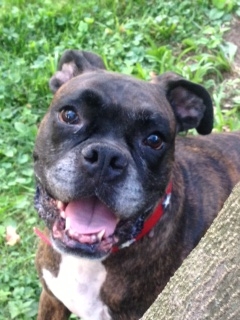 1st X-ray done during the emergency visit at the clinic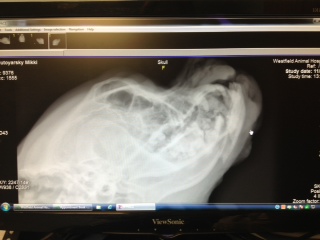 Mickey's acrylic broke a week after his jaw was repaired
My loyal furry friend
Mickey healthy and curious