Michael Beachwood - Stage 4 Cancer
Michael Beachwood's Cancer Fund

Aloha Kakou!
This is a fund raiser for Michael Beachwood, singer/songwriter/producer, who has Stage 4 Colon Cancer.
I am Rev. Kolleen Wheeler
and for a large part of my 36 years of living on Maui, I have been blessed with a precious friendship and wonderful working relationship with both Michael and his devoted wife, JJ, aka Sheryl Preston. Together, for the past six years, they have been fighting the good fight against Michael's Stage 4 colon cancer. But now the winds of fortune have shifted for them and they no longer can go it alone and need our help and support to go forth. Won't you please join me today in making a contribution towards Michael's continued Well Being!  
Every contribution, large or small, is most gratefully appreciated!
It was in 2013 that Michael's Stage 4 cancer was first diagnosed. Since then he has undergone 70+ chemo therapy treatments and five surgeries that have worked up to this point to keep him stable. Now, all those standard cycles of treatments have been exhausted. To go forth with needed treatment, all that is currently available to Michael are even more aggressive forms of cancer treatment, that will not be covered by insurance and will be outrageously expensive!
To compound matters, the side effects from his long-term treatment have caught up with Michael and he can no longer work. Along with his loving wife, JJ, they have done and sacrificed everything they can to keep funding their life and Michael's medical needs. Those winds of change have made it necessary for JJ to also stop working to become Michael's full time caregiver. This leaves them with no income. As very private people, it is not easy for them to publicly share their personal struggles, but they truly are at a cross roads in life where the world needs to know that it is time for others, like you and me, to step in and help. So, let's go and let's do this for them!
They need our contributions to:
1. First and foremost, get the additional cancer medical treatment for Michael that will not be covered by insurance.
2. Help pay for continuing insurance and medical bills (insurance never covers all of it!)
3. Contribute to his and JJ's on-going living expenses.
4. Help them to forestall foreclosure on their home.
With my whole heart, I thank you for joining me in making your contribution to Michael's "Well Being" Fund today, and then please continue to help by
SPREADING THE WORD
via all your social media platforms! Together, we can make a huge difference for-the-good in their lives!
And, in closing, may I say thank you, thank you, thank you for opening your hearts to help Michael, as he is really and truly one of the Good Guys!
Mahalo nui loa, Rev. Kolleen Wheeler
Enjoy: Michael's Song and Music Video,
"Waiting For The Cure"
, (below).... a positive, "must see", message of hope for anyone who has been touched by cancer!
Above: Sheryl & Michael - Oahu - Desensitization Chemotherapy - 2019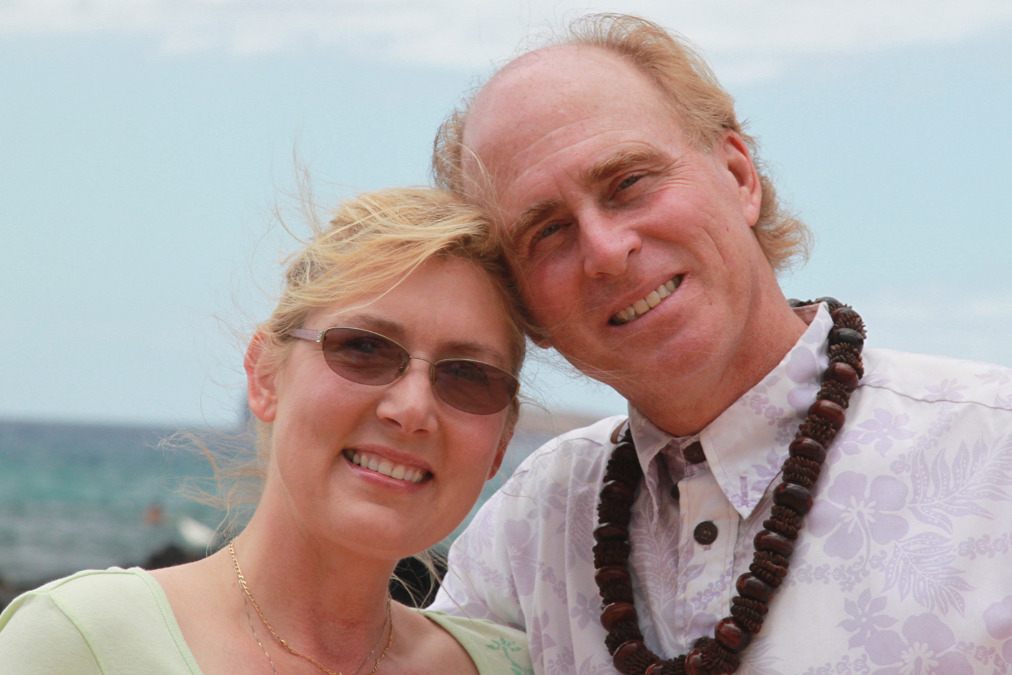 Above: Michael and Sheryl before his diagnosis in 2013.
Please let Michael's and Sheryl's music videos below... show you what they are all about,
and if you love what you see, just know there is so,  so much more to come... Music Making A Difference!
And, in their own words:
"Please support our cause and help us keep the lights on, help Michael to move forward to his next round of treatment, and help him keep the music flowing! They say a picture is worth a 1000 words, well, add a music video to it and its worth a million heartfelt feelings. Please let our music videos above... show you what we are all about – Music Making a Difference! And, if you love what you see, just know there is so much more to come. We also invite you to visit our website:"
PrestonBeachwood - About Us
"
You can be a part of our journey!!!
Everyone making a donation has the option of being listed in our "THANK YOU CREDITS" on the MUSIC VIDEO we are producing at the time of your donation. We will also, happily list a name, "
in memory of
", for your loved one or friend who has been touched by cancer, too. These videos will remain posted forever on YouTube, sharing, paying forward, and playing to generations to come!"
"Bless you for blessing us and being a part of our Well Being Journey,"
Sheryl (JJ) Preston

Organizer