EMERGENCY, LIFE-SAVING FUNDRAISER!
Please help us raise the $1836 needed to fund Meatball's emergency surgery and save his life! We only have until Tuesday, January 20th!
The day after Christmas, our Olde English Bulldog, Meatball, began feeling very ill. For the past few weeks, we've struggled to keep him eating, to keep him comfortable, and to fund the various tests and nausea medications that we've needed to care for him properly.
After a few weeks of him struggling, and Meatball not eating for 48 hours and frequently burping up bile, we brought him back to the vet today (Saturday, January 17) for blood tests and an x-ray, and we learned that he has an obstruction in the upper portion of his digestive system. 
The vet recommended immediate surgery (a gastotomy) to enter his stomach and clear the obstruction. She wanted to begin immediately, but we requested a couple days to make arrangements. She suggests that we have, at the latest, until Tuesday, January 20th to get him into surgery.
If we are unable to fund his surgery, we will have to put him down next week (and grant him a more compassionate end than to let him starve over the next week and spend his last moments suffering).
Please read about Meatball and what's going on with him below...
DONATION REWARDS!
All those that donate to Meatball's crucial surgery will be invited to a party at our home in early-February to celebrate Meatball's recovery and YOU, the generous people that contributed to it! We'd like you to come by, enjoy Anthony's fabulous cooking and Chris' wonderful bartending, receive our personal thanks, and pat the dog on the head whose life you helped save this week!
All donors will also receive a personalized thank you card from Meatball himself!
Any money raised beyond the goal will be put toward paying for Meatball's diagnostic tests (his blood tests, fecal test, and x-ray) and recovery costs.
Meatball: A History
Meatball is an adorable, cuddly, snorting and sneezing, nap-loving, 5 year old Olde English Bulldog who has enjoyed fantastic health until only very recently. My partner, Anthony Occhionero, adopted him prior to him even being born. He learned that a friend of his had an Olde English Bulldog (a female named Jasmine) that was soon to deliver a litter, and Anthony had first pick. He chose Meatball just a few hours after he was born. He was the first of his litter to come into the world (but the last one to start walking!).
He chose Meatball intuitively, and if you know Anthony and Meatball personally, you know how much of a great pair they make together. They have an amazing connection.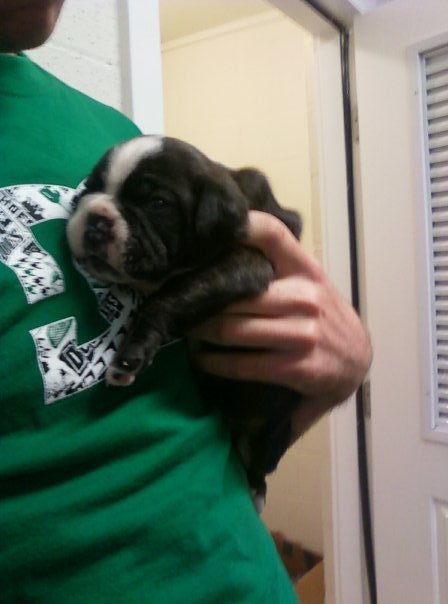 As a puppy, Meatball was a big blob of wrinkles and pouty faces.
As a teenager, he was a wild runner and a lover of toys, chases, and tug-of-war. It was when he discovered his love of tree branches and dog parks.
He especially loved the beach as a youngin'. He still does.
Anthony and I were in the military and were both stationed in Hawaii when we met. Anthony's family watched Meatball until he was able to get him moved over to stay with us. He was a bit shaken up after the flight, but he came to love Hawaii.
We celebrated Meatball's 3rd Birthday in Hawaii. He loves cupcakes, of course (which he only gets once a year), but the lit candle made him extremely nervous.
We like to call him a "water bull," because whether its a pool, a lake, or an ocean, Meatball loves to be in it!
Meatball is one of the original members of our little family of animals that we currently reside with in Gresham, Oregon. He is still adjusting to the rain ("water bull" or not, the rain of the Pacific Northwest makes him nervous), so at this time of the year, he is often seen napping on one of his dads.
He also enjoys napping with his little brother, Duke (the Miniature Pinscher) and his two feline sisters-from-the-same-misters, Cheryl and Meryl.
He also enjoys playing dress-up (or, at least, Anthony and I do). This character here wearing the headcloth is named Olga.  She's a old, tired, lower class Russian bulldog that worked an onion and beet farm with her husband until he died in World War II. Now, her sons are all gone and a recent drought claimed the farm. All she has left in life is arthritis from working the soil, a head cloth, debt, and memories.
Meatball also celebrated his 5th Birthday here in Oregon. "What am I supposed to do?" he wonders. He still doesn't trust that candle.
Christmas 2014: The Day He Got Sick
We had a great Christmas together. Santa brought Meatball and Duke their own toys (though Duke was caught stealing them from underneath the tree on Christmas Eve and hiding them in his bed).
Meatball received a supposedly indestructible cloth, squeeking pterodactyl for Christmas (he goes absolutely NUTS for squeeking toys).  As he usually does with cotton-stuffed and squeeking toys, he ripped it to shreds within a day after many rounds of tug-of-war (because, obviously, his little brother wanted the pterodactyl too). We cleaned up the cotton, took the remaining bits of the toy away, and thought nothing of it.
Unfortunatley, the day after Christmas, Meatball began feeling ill. He threw up nearly a dozen times throughout the house and huddled in his dog bed because he thought he was in trouble. He was hot and absolutely exhausted. We wrapped him in blankets, cooed at him softly to re-affirm that he didn't do anything wrong, and hoped for the best. We thought he had just come down with something.
After a couple days, he began feeling better! After two days of vomiting and refusing food (but still drinking water though), he began to eat again. He wouldn't eat dog food, but we could entice him with a few treats and bits of chicken. Over the next week, we monitored his water intake and kept enticing him with savory treats. But he still kept losing weight, and he still seemed tired.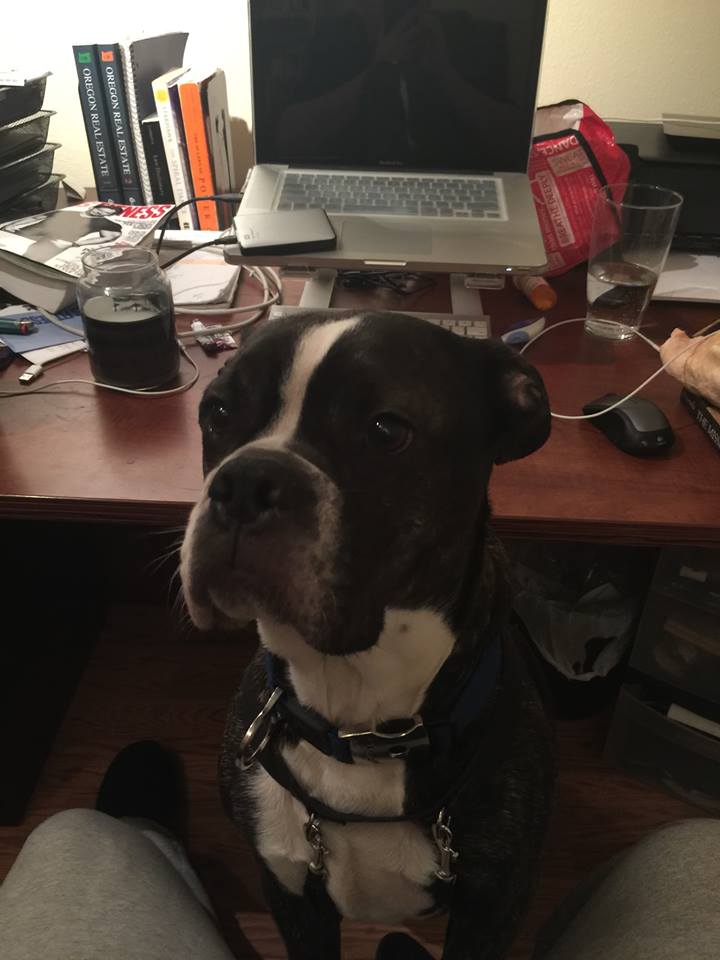 He began throwing up again. Then, he didn't eat for two days. So we brought him to the vet at the 48 hour mark suspecting parasites (as is pretty common around here). Meatball had lost at least three pounds.
The vet suggested a comprehensive treatment plan that included a fecal test, de-worming, blood tests, a special high-fiber wet dog food, anti-nausea medication, and flea medication. The $550 bill was completely out of our league, so we decided to treat him step-by-step. We ordered the fecal test and bought the bland, high-fiber food.
He wouldn't eat the food though, then his fecal test results came back negative for parasites. We began to worry, so we got a couple doses of the anti-nausea medication, thinking we could get him to eat the special food.
He regained an apetite and would eat the chicken and rice dish we were preparing for him (though he absolutely loathed the smell of the high-fiber wet dog food-- we couldn't even trick him into eating it with chicken).
But after the nausea medication ran out, he began refusing food. After 48 hours, we brought him back to the vet (today).
We were approved for a $500 CareCredit account that we used to pay the $420 bill for x-rays, blood tests, and a couple more doses of anti-nausea medication. The veterinarian found what they suspect to be an obstruction in his stomach. The procedure estimate to remove it, which includes anesthesia, antibiotics, medication, the whole drill... comes to $1836.38, and we don't know what to do.
So, we're desperate. We're embarrased to ask, but if you've met Meatball and Anthony, you know how much they deserve it.
Anthony Occhionero: Doctor Doolittle
Anthony has been an avid animal lover his entire life. He is literally one of the most caring, gentle men I have ever met.
When we first moved to the Portland area in September 2013, while Anthony was unemployed and going to school full-time, he was volunteering regularly at the local animal shelter. He spent his extra time comforting abandoned animals: cleaning and caring for them when they were first dropped off, giving them shots and vaccinations, and cleaning their cages.
Last winter, the animal shelter received a feral kitten that was too aggressive for them to put up for adoption. They were planning on putting it down, so Anthony asked if he could spend a few days with it.
The kitten was absolutely TERRIFYING the first night he was with us-- he was all hisses and scratches. 24 hours later, the kitten was eating out of Anthony's hand, running around the house, and climbing onto our shoulders. He saved it's life. It was adopted by a family soon thereafter.
A month later, the animal shelter needed help taking care of a brand new litter of kittens that were far too young to be adopted. Anthony volunteered to care for five of them. For two months, he nursed and cleaned up after five utterly adorable but filthy little kittens that spent most of their day pooping or burying their full faces into wet cat food. They all found homes after they were big enough to be adopted.
Anthony deserves this... Meatball deserves this...
Please help us save him...
Please help Meatball...

Organizer
#1 fundraising platform

More people start fundraisers on GoFundMe than on any other platform. Learn more

GoFundMe Guarantee

In the rare case something isn't right, we will work with you to determine if misuse occurred. Learn more

Expert advice, 24/7

Contact us with your questions and we'll answer, day or night. Learn more