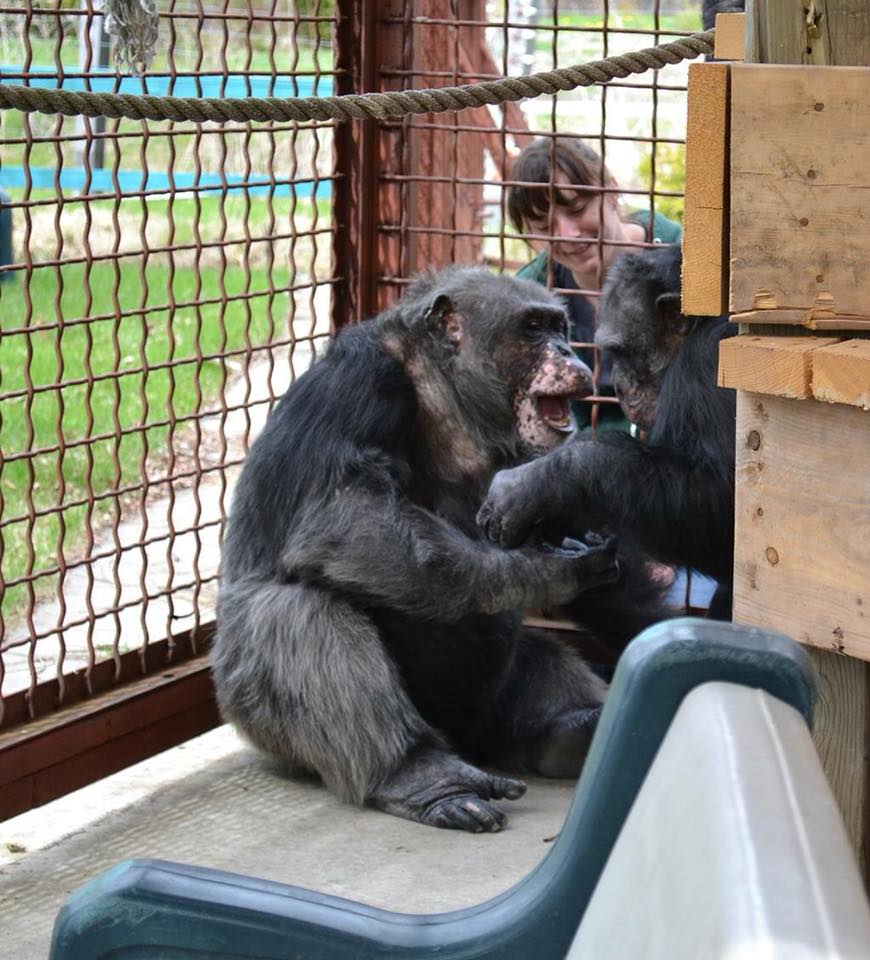 Meg's story is an interesting story filled with chimpanzees, a vacation gone wrong and brain aneurysms...so bear with me as I describe recent events that lead to a very scary situation....
On February 1st, 2018 Meg flew to Montreal from Florida to visit two of her long time friends, Tatu and Loulis. Tatu and Loulis are two chimpanzees. Meg has known Tatu and Loulis since 2009. They moved to a sanctuary in Montreal and Meg came to help them acclimate. After a year, Meg made the difficult decision to return home to Florida. Her move did not come without hesitation but she knew Tatu and Loulis were in good hands. Meg returned to Wauchula, Florida to continue her work with chimpanzees at the Center for Great Apes. 
Meg's brief stay in Montreal this February to visit old friends turned into an extended stay. On the night of February 2nd, Meg began to experience a sudden, intense headache. As the night progressed, things took a scary turn and Meg passed out. The paramedics were called and we quickly learned she had experienced a ruptured brain aneurysm. If you read the statistics of brain aneurysms, they can be VERY scary. Luckily Meg pulled through the original incident but continues to face the struggles of the aftermath. A drain to remove remaining fluid build up, vasospasms, severe headaches, etc. The doctors are keeping her in the ICU for a minimum of 2 weeks....this recently turned into 3 weeks or more.  Her mother, Lisa Robinson Mas and father Ramon, came and stayed with her for the entirety of her stay! Talk about wonderful parents!
Not only is Meg far away from home, but she's even further from her true passion, chimpanzee caregiving. As a primate caregiver, working for a non-profit doesn't always have the highest salary. Medical bills and being out of work can add up quickly! This GoFundMe is to help Meg get back up on her feet when all this is finally over! Our goal is to get her back home and close to her chimpanzee (and human) family and not have to stress about medical costs or rushing back to work too quickly!

Organizer and beneficiary