What started out as a hole
It all started out as hole under my kneecap and through the cartilage down to the bone. My 2 choices to correct the problem were:
#1:  break my leg in 2 places, re-align it, screw it together and fill the hole in with a cadaver part and hope it heals. 
#2:  do a 2 part surgical process which would involve cleaning the dead cartilage out from my knee and removing a healthy piece of cartilage from my leg which would then be duplicated and implanted at a later date and hope that the implant takes.
Neither one of these options thrilled me, but I had to do something so I could walk again.  I had lost my ability to walk correctly in March of 2016.  The more I spoke with my surgeon and my family, the more encouraged I became to do the implantation.  It made a lot of sense at the time to allow my body to receive its own cartilage back.  There would be much less chance of my body rejecting something that was my own over something that was foreign.  And I was told it would make my knee "like new" again. 
I decided to go with option 2 and my first surgery was on October 25th 2016.  The hole through my knee was cleaned up from fragmented pieces of cartilage, the dead cartilage was removed and a healthy piece of cartilage was taken from the side of my leg and shipped to Boston to grow for the next couple of months. The cartilage that was sent to Boston was deemed healthy and the growing  part of the process began.  We needed over a million cells to be grown for the implantation over the next several weeks.
The second surgery, called an ACI, was finally performed on January 31, 2017.   I had some complications initially to meds but I eventually was discharged home.  I went home with a platform walker and was told I could bear as much weight as I could tolerate onto my leg.  I was so ready to do this and get myself better so I could walk again.  The first couple of weeks I was pretty amazed how well I was  walking around my parents house and getting through my home therapy exercises that were given to me from the hospital.  But when actual visitations with a Physical therapist started at the home things started going backwards. I tried hard to get through the exercises but there was one exercise that I kept having problems with.  It caused problems for me along the interior side of my leg immediatley below my knee.
One day, while my home therapist was with me, something went horribly bad and before I knew it, I was in worse pain then I had been after the surgical procedure.  I couldn't walk or move without triggering intense debilitating pain.  Tylenol 3 and 4 couldn't even touch the pain.  I went to my surgeon and he stood before me in disbelief.  He could't believe the pain I was in and was shocked to see that I was no longer able to walk.  He couldn't even touch my leg without triggering excruciating pain.  He asked about my home Pt and I was informed that the exercise I was given, was one that I shouldn't have been doing right away for my type of surgery.   At this point, my surgeon ordered me to my bed and to discontinue my exercises. I was only allowed out of bed for meals and to go to the bathroom.  I was so devestated because my muscles had already atrophied so much, but before this situation occurred, I had been walking and I had been making great progress even with my little bit of muscle.  I didn't want or need this massive setback and my doctor told me it set me back about 6 weeks.
The next several weeks of laying in bed was tough. I literally watched my leg deteriorate in front of my eyes.  The little bit of muscle I had had was completley gone.  Several weeks went by and I was finally told to go to outpatient Pt and see what they could do for me.  With the skin hanging off of my leg, I started the grueling process of Pt.  I couldn't do much in the beginning due to weakness everywhere and no muscles but eventually I was able to do away with the walkers and transition over to canes and walking sticks.  But even with that being said something still never seemed right.  
As I went through my days, I started getting concerned about the amount of pain that I was still in and the lack of muscle coming back.  I also couldn't master walking and it was driving me crazy because I was doing everything my Pt told me to do and was doing my home program religiously.  I spoke to my surgeon and my primary about these concerns and my surgeon literally told me he didn't know what to do for me.  He didn't understand why I was in the pain that I was in and he didn't understand why I wasn't progressing well.  He had absolutely no idea what to do for me and my primary duplicated his thoughts.  My surgeon literally told me that this was out of his hands.  This was extremely frustrating for me.  I felt helpless and hopeless but I knew, at that moment, I needed more help.  I was not getting better, the pain wasn't going away and no matter what I practiced in Pt and at home, I still couldn't walk and get my strength back.  It was becoming obvious to me that I was no longer dealing with a recovery from having had a hole in my knee.  Something more had to be going on that was keeping me from recovering and healing and western medicine at this point in time was getting me nowhere. I had to find doctors that were masters in thinking outside of the box and figuring out the root cause of my problems.  After much contemplation, I decided it was time to meet with specialists that believed in alternative remedies and healing.  
I am currently seeing specialists for autoimmune diseases, lyme diseases and specialists that will work with patients that are considered medical anomalies.  I have been deemed a medical anomaly and want to wipe this title away. I've been told, that whatever is going on in my body, the surgery was the "straw that broke the camels back."  
With the need to see specialists to figure this mystery out, comes some seriously hefty price tags.  Last year alone we paid over $26,000 in medical bills trying to get me better.  Many alternative specialists are not covered by insurances and many of their protocols are also not covered by insurance. This year, I have started IV therapy.  I am doing this because we learned through numerous lab results that my body doesn't absorb amino acids, good healthy fats, micronutrients, magnesium, and other essential nutrients.  We found out that my gut isn't working due to something I don't understand genetically and my body is holding onto environmental toxins and leaching out everything and anything of quality.  I've been told that as I go through my Pt and my body "works out" and gets little micro tears, I have little ability to heal these micro tears.  My IV's consist of amino acids, glutathione and what is called a Myers Cocktail. These IV's alone cost close to $600 a week and I've  been told I need to do them for at least 6 months.  My needed supplements are costing us close to $1000-$1500 a month (on good months), I am still going to physical therapy, my specialists are costing anywhere from $350-$750 a visit or per phone consult.  I am also being treated by massage therapists ($80-$100 a massage) (3-4 x's a month) to try to keep my muscles relaxed and the spasms at bay as I continue on this journey to learn to walk again.   My muscles don't always seem to remember their job and so they fire and misfire and this causes lots of issues for me. There is also possible talk of getting prolotherapy injections ($600 an injection), stem cell injections ($3500 an injection), going to a treatment center in Kansas, which I really want to do ($10,000 not including airfare, meals, room and board and a rental car) plus the need to follow up at least 3-4 times within the year ($3500-$5000 not including airfare, meals, room and board  and rental car) and then there are more lab tests being done which I am having to pay for out of pocket because my insurance wont pay for them.   The majority of lab tests that are being done, are being deemed "alternative" and so my insurance won't pick up the expenses.  To top it all off, we are still getting bills coming in from last year that we have to pay as well.  
We don't know what the future has in store for me as far medical needs, exact treatments and therapies etc... but we know we need to keep trying things to help me recover, heal and even more importantly, to keep something like this from happening again. 
The financial burden that has hit my family has become overwhelming.  We are a one income family and we are trying to pay off my medical bills as they arrive but now they are coming in consistently and we are having a difficult time with all of the expenses.  Plus, there are the regular costs of living such as groceries, mortgage, utilities etc...
What started out as a hole in my knee has turned into so much more then we ever could have imagined when this all started. 
I still have my goals for my future and want to believe I will recover, heal and walk again but I am getting incredibly anxious and impatient at this time because of such little progress.  
Here are my short and long term goals:
1.  to go for a nice walk on my own 2 legs, pain free with my family for as long as I want  
2.  to swim in the lake in Maine again which I have not done for the last 2 years and kayak out to Blueberry Island and pick fresh blueberries 
3.  to walk in nature again and photograph the beauty within it.  I love "stalking" critters and getting their photographs.  I miss being able to do this
4.  to go with my family on little escape weekends to get me out of my house and recliner chair.  The monotony of my life right now is making me batty.  I need moments to just be away in order to renew and refresh myself from these medical challenges 
5.  to be healthy and strong enough to go to Alsace in 2019 to celebrate 30 years of friendships with my French families
6.   to gain my health back as close to 100% as possible so I never have to go through any of this again.
I feel like my goals are incredibly realistic but for some unknown reason, I have not accomplished any of them yet.  I pray that in the very near future I will be walking again.  
I really really want to walk again.
If you are able to help me in anyway, it would allow me to continue my IV therapies, my massage therapies, my visits with my specialists,  my physical therapy, the costs of my supplements and medical supplies, specialized injections, possibly help to send me to the treatment center in Kansas and finally to get me on the path of making these goals of mine become a reality.
I thank you in advance for your generosity and support.  It means the world to me. 
The hole in my knee discovered in the spring of 2016
Immobilized in the spring of 2016 after discovering the hole
Day 1 after the ACI
January 31 2017
My first steps after the ACI surgery 
Nessie  came to visit me after a code red from medications.  She definitely brought a smile back to my face
Lots of electric stimulation
Trying to keep scar tissue from building up and to keep my range of motion going
My platform walker
Stuck in bed. I didn't get approved to the inpatient rehabilitation center so I was sent to outpatient Physical Therapy
Walking with no brace and pedaling a bike for the first time.
To date (February 2018) I am only able to pedal the bike with 0 resistance
Getting rid of the platforms from my walker.  This took some getting used to

My favorite part of Pt.  Ice ice baby
My skinny little leg. First time out of my massive brace 
March of 2017
. I was very scared about traveling but because I knew Sophie (my French girlfriend) was going to be in Maine, I got on the airplane and went cross country to see her.  Even though I couldn't do anything, I was thrilled to be Sophie.
July of 2017
My French sister Sophie "throwing my cane into the lake."  Trying to find humor in the situation
Enjoying Monterey.  Just wish I could have walked around with everyone. So ready to get rid of the wheelchair.  (October 2017)
Sweet Presto taking care of me
Gray shirt was in March of 2017
Red shirt was in June of 2017
and leg shot was October of 2017
(to see my leg better in the gray shirt just scroll up about 4 pictures) 
Comparing my leg muscle 
My first infusion therapy
December 2017
Magnesium in my Meyers Cocktail makes me sleepy
Glutathione day
January 2018
February 8 2018
Treating my legs at home
This is my "keg" of amino acids. I do not get them from my food because of complications in my gut so I get them through an IV now.
My first walk holding my hubbies hand in over 2 years. 
Treating my adhesion capsulitis. Lots of ice and electric stimulation.
The first time being on my knees in over 2 years. It felt so unnatural. My left knee actually handled it better than my right knee.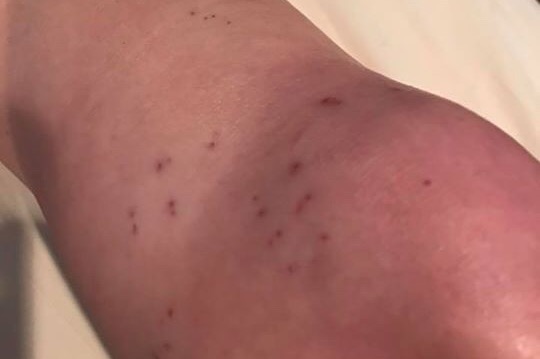 What my right knee looked like after prolotherapy injections. Unfortunately, it didn't help. Now I am trying to save money for a PRP injection because I DO NOT want to have to have surgery on my right knee at all. Not after this experience with my left knee.
Trying to enjoy the outdoors in my wheelchair but it's so hard when all I really want to do is walk on my own two feet and legs.
Organizer
Meredith Molokie
Organizer
Lincoln, CA