We bought Luna from an AKC breeder in hopes of helping our older Labrador, Phoenix, who is 13 years old and was feeling sad and certainly not getting around too well. My hope for Luna was to have another Labrador pup to add to our household and hopefully teach my children how to be patient, kind, and compassionate as we try to train her. My other hope has been to train her to be a therapy dog so she can work with me in my counseling sessions with children who are on the Autism Spectrum, in addition to having high rates of anxiety and depression. In all areas, she has gone above and beyond and is really the most loveable and sweet dog I have ever met.
We brought Luna home in early October and she quickly became a part of the family. She loves to snuggle, play fetch, and cuddle up to mama Phoenix. She also loves to go to the bus stop to pick up her boys.
Things were going really well for Luna and she really enjoyed going to the kids' soccer games, trips to the store, dog obedience classes. She has been really motivated to learn new tricks and has lots of energy. She loved going on her first road trip to see family in FL and Phoenix even taught her how to swim.
But on March 1st, Luna got really sick. She went for her morning walk and ate like normal. When we got home, she started shaking, yelping and bit me. She then threw up a kid's glove, but not one that I noticed from my own kids. She was very scared and in pain but I had no idea what was wrong. I sat with her for several hours then took her into our vet. Later in the day we found out that the vet thought she may have something still in her stomach. They opened her up, said they found nothing, and sent her home.
For the next 15 days we were on an emotional roller coaster. She was given over 12 different medications to treat everything from a high fever of up to 104, to nausea, diarrhea, and pain. There would be good days and bad, but she never really got back to herself. I just knew that something was still not right with her and wondered if there was something still stuck inside of her. We went back to our vet 15 times over the course of 5 weeks but she just wasn't getting better.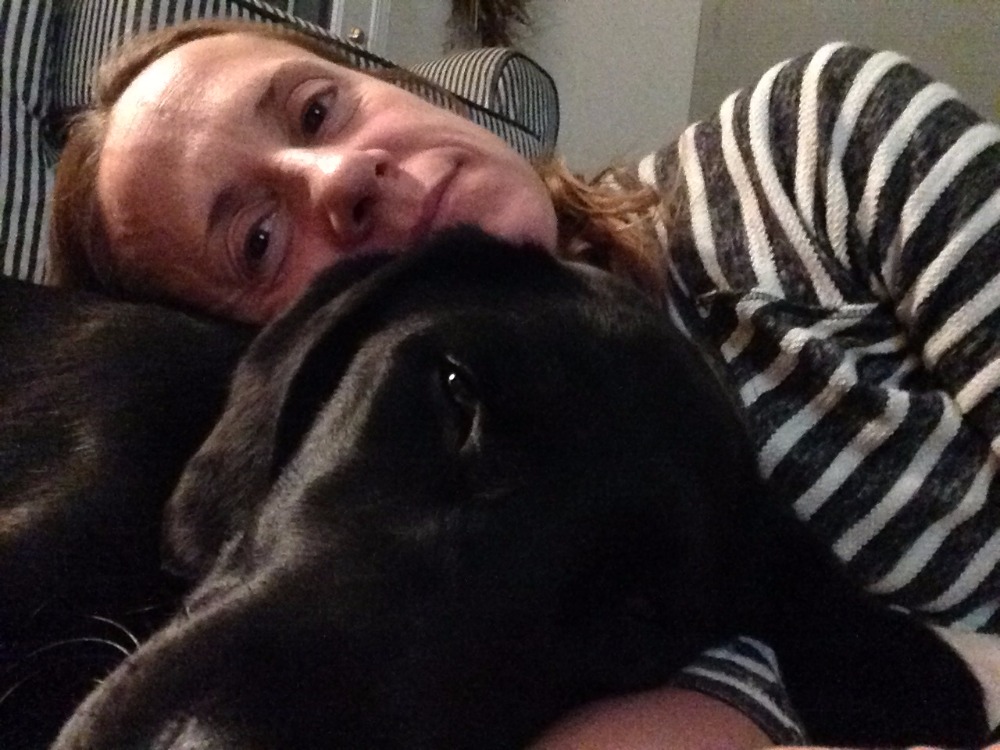 She eventually stopped eating all together and wouldn't get up out of her crate. So I took her to the Dogs and Cat's Hospital in Bowie, MD to see if they could find out what was wrong with her.
The staff and doctors at Dogs and Cats Veterinary Referral have all been wonderful from the moment we stepped in the door. They quickly felt a mass in her intestine and through ultra sound and another surgery; they found the other kid's glove (which matched the glove she threw up at our house on the morning of March 1st). After the surgery, Luna ran out of the back to see us and looked much more like her. After a few days on IV medication and fluids she was ready to come back home to us. She quickly got back to her normal routine, began gaining weight back, and was happy to snuggle up to Phoenix and watch the boys play outside.
Dogs and Cats hospital doctor's followed up with us on the biopsy's they took from Luna and found that she had a genetic condition called Copper Storage Disease, where her liver does not process copper and it accumulates in the liver until the liver dies off. This is a condition often found in older animals who present with liver failure. The doctors found this out on accident due to her second surgery. They immediately advised she be put on special medication to protect her liver and help take the excess copper out of her liver. In addition to eating a very strict diet to support her liver function. She recovered fully from the surgery to remove the glove and began to get back on track with this new regimen to help support her liver condition.
The boys and I continued to be worried about her and they coped by taking good care of her and checking her out daily.
As we continued with this new regimen and closely monitored Luna because we were all fearful that she would eat something she shouldn't, we continued to do things as a family and worked with her on her training. She enjoys going on hikes, walks, play fetch, and run.
Luna also enjoys learning and practicing commands such as sit, stay, come, down, watch me, touch, and turn around. She also enjoys beginning her practice and training towards the Pet Partners Therapy Dog Test, which she hopefully takes this fall.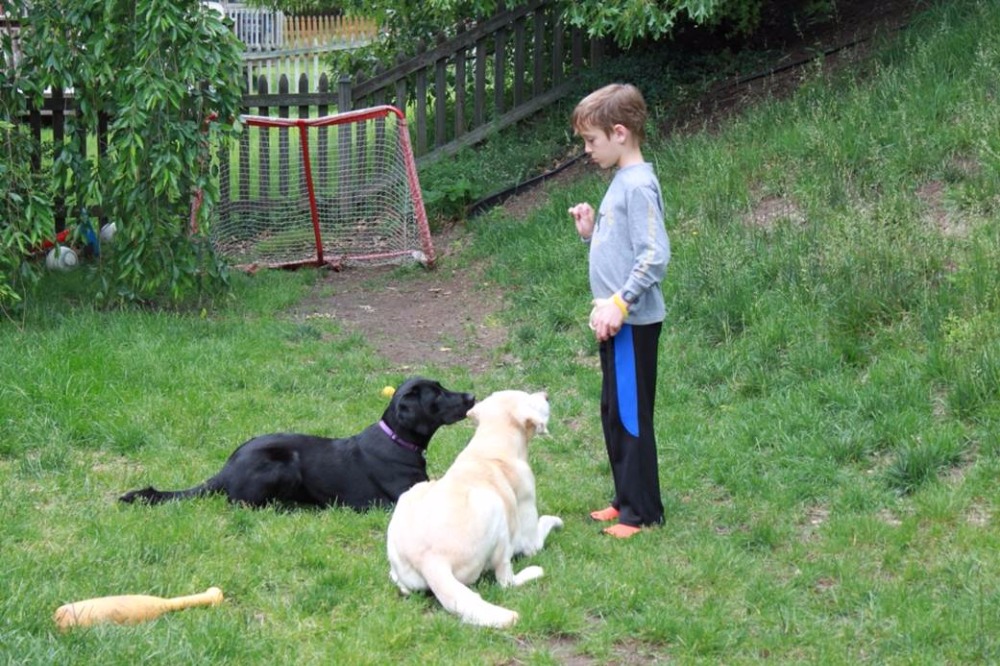 At the end of April she went in for her checkup and her bile test went successfully, which indicated her liver was functioning normally and things were looking good. In this time she was able to make her first visit to the Ivymount School, where I work, to visit and get some exposure to where she will hopefully be working with the children later this fall. Luna quickly realized that therapy dogs also need lots of rest.
This is her in mid-May at the boys' last soccer game.
On May 30th, I came home from work late and Luna had a high fever and could barely pick up her head to see me. She had diarrhea during the day but things were much worse that evening. I took her back to Dogs and Cats Hospital the next day where they ran tests to see where the infection was coming from.
Due to her prior history, she required a few additional tests and the good news is that her liver looked good, organs looked fine, and she did not have any foreign body stuck in her stomach or intestine. She did have some signs of pneumonia in her lungs but wasn't showing some of the traditional symptoms. The tough part was that with all of the blood/urine tests, X-rays, and ultrasound there really was no way to tell where the infection was coming from and why she had such a high fever of 105.5. They decided to keep her and provide her with IV fluids, antibiotics, and additional medications.
When we visited her that evening, she was still very sad, tired, and had a fever of 103. We were all so sad to see her like this. This was not the happy, go-lucky, energetic puppy that we know and love. She continued to be so very sad.
Yesterday, the doctors noticed that she continued to look like she is in pain and had some swelling in her wrists. Her fever is beginning to stabilize and she was so happy to see us last night that she showered us all with a lick bath. But she still was not well enough to go home.
Today I am waiting to hear back from the doctors to discuss next steps. I hope and pray that she is going to be on an upswing and this infection will clear up. I worry that this is yet another genetic condition and we will be forced to make the unthinkable choice of whether we can help her. Financially, we are over our limit and still have not paid off the first set of surgeries from back in March and April, which is why I am asking for your help to support her. Many of you know and love Luna and believe in my hopes in dreams for her. Not only she is an incredibly loveable and compassionate animal, I really do believe that she was put here on this Earth to help many more people than the ones just in my family. Anything that you could do to help would be greatly appreciated.
Thank you all for your love, prayers, and support. I really am thankful to have such a caring group of friends, neighbors, family, and professional colleagues.

Organizer
Christy Sullivan Donley 
Organizer
Silver Spring, MD