Laura Needs Your Support With Medical Bills & More
06/08/2020

Help Laura Fight Her Endless Co-Pays, Prescription Medicines, Doctor, Hospital, Medical Bills and Dreams of  Getting a Special Handicapped Van to transport her and her wheelchair!
Laura suffers with:
End Stage Renal Disease,  24/7 Chronic Pain, Advanced Diabetes and Thyroid Cancer...

Meet Laura...Her immediate need is a wheelchair van. Right now she drives on the broken sidewalks that cause her extreme pain here in Pembroke Pines. Since most people do not notice the sidewalks being broken up no one realizes how hard it is to drive an electric wheelchair over them. Then in many areas she has no choice but to drive on the actual city streets. She drives herself to and from the hospital for all of her blood work which is often for her doctors. She has to go see her chronic pain specialist once every month because of strict regulation here in our state. That takes her the complete opposite direction from her other doctors offices. The drive in Laura's wheelchair takes 45 minutes just to get to that doctors office. If she had a wheelchair van it would take less than 10 minutes PLUS she would be 100% safer!

My name is Matthew Raynor. I am writing to you and the entire world to tell you about my fiancee Laura Shifrin. We have been together for 19 years and I need to tell you about this amazing woman. 
Over the last few years life has become very challenging and Laura has had to endure so many medical procedures, surgeries and now life saving treatments.  But I am so thankful that there are these types of medical treatments that keep Laura alive both for her and I admit selfishly, for me. I cannot imagine my life without her, but now she needs your help.
We have chosen GoFundMe to manage this fundraiser for her. You are here because someone that cares about YOU cared enough to tell you about Laura through this link. 
We live in Pembroke Pines, Florida. We met in 2001 through a friend of a friend. She is so sweet and kind to everyone that she meets.  She makes everyone feel like they are special.  I hope that you will get a chance to meet her, you will be all the better for it.

When I met Laura you would never have known that diabetes had been a part of her life, but she was doing everything that the doctors asked of her despite that fact that it had never been properly diagnosed early enough. Her father had diabetes yet she had no idea that this disease was doing so much damage to her for almost twenty years before a real medical doctor diagnosed her with it. I can honestly say that she has diabetes, but diabetes does NOT have her.  Laura also suffers from other diseases but she won't let them define her either. She works very hard to make our lives normal and she has taught me over the years that life is not about tangible things but how much we enjoy every minute we share together.

Laura's 35 year struggle with diabetes has (like so many other people that have diabetes unfortunately) destroyed her kidneys. Both of her kidneys barely function at only 3% and the damage is permanent as per the doctors. Her diagnosis of end stage renal failure requires more than the average person on dialysis. Her doctors prescribe her 4 days of treatment with 5 long hours on the dialysis machine. So much of that time that we could be together is taken away by this medical procedure, but it is dialysis and without it she would NOT live. For that I am thankful. When she made the decision to have the first surgery and live, I was so proud of her. I promised that I would be here for her always, to not only love her (which I would have anyway) but to take care of her no matter what!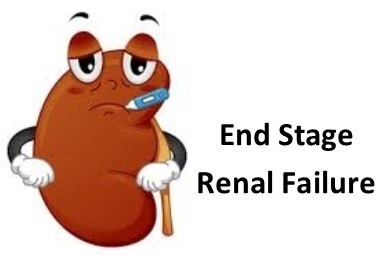 Laura's kidney doctors have assured us that there are no other choices, no possibility of a transplant. Therefore, she must be on dialysis for the rest of her life.  I want her to have everyday with less worry and burden. She has so many things to worry about like CHRONIC PAIN. She has had this awful unimaginable pain for so many years. It is from a bad injury to her neck and back in so many places. She has 11 herniated disks. This pain is so chronic that for over 25 years, she has been and is prescribed both fentanyl and oxycodone. She has been on this combination of drugs since before we met and she is very careful to follow the doctors prescriptions carefully. She takes the very least that she needs each day. 

Clearly our country must find a better way to provide for everyone's healthcare, but until they figure this all out...Laura's medical costs are through the roof. Yes, insurance does cover 80%, but it is the rest that is so difficult to manage with multiple illnesses and diseases. 

This is where we NEED YOU! Please donate to Laura's Fundraiser. 

I am hopeful that this fundraiser will continue to grow and assist Laura. Thank G-d for the loving people who have already reached out to help her in the first year since we started. Because of the way that Facebook and the Internet works, as people continue to SHARE this page and donate what they can, I pray that the goal of this fundraiser will be reached. The best thing that you can do is to SHARE the link to this page with your friends, business associates and family members. Just a few personal words about why others should also give will make a huge difference in our fundraising success. Sharing always influences friends to act and that is what she needs.  Most of the money raised has gone so far to greatly reduce her medical bills. Initially Laura had a huge pile of bills from four surgeries over the last two years. She had three surgeries that were needed for her dialysis access in her left arm. In addition, she had one surgery to remove her entire thyroid. Unfortunately Laura was diagnosed with thyroid cancer in late 2017, further complicating her medical treatments with kidney dialysis.

Thank G-d that her thyroid surgery removed it entirely. Despite the good news, after the radiation treatment that all of the cancer had been removed, she was told that protocol will will require her  going through the same radiation and testing every year on her anniversary date.  No matter what they say, she is strong and she believes that her faith will help this all work out. So the bills keep coming in for the doctor visits, tests, injections (one shot was required before the radiation and the cost was thousands for that one shot) and so much more.

Laura WON'T EVER GIVE UP because she is a super strong woman and the most caring, loving person that I have ever known. She also will never stop smiling, so do not even try to ask her to stop it.

Thank you for your donations, your time and PLEASE SHARE with others! 

Matthew Raynor 

www.GoFundMe.com/LauraShifrin 

You can email Laura at [email redacted]

You can call Laura at [phone redacted].