LANCE DIAMOND Charity Music Album
Achieving Lance Diamond's dream: Please help us release Lance Diamond's first all-original album, LANCIFICATION!  All proceeds to benefit Buffalo music students.

Everyone knew Lance Diamond as one of Buffalo's most legendary entertainers. But few people knew that prior to his untimely passing, he was finishing his first-ever album of original music. Sadly, Lance did not get to complete his lifetime-awaited project. But with your help, we will. Please donate today to help us press and release this incredible album for Lance's memory, for Buffalo, and to benefit WNY's next generation of talented music students.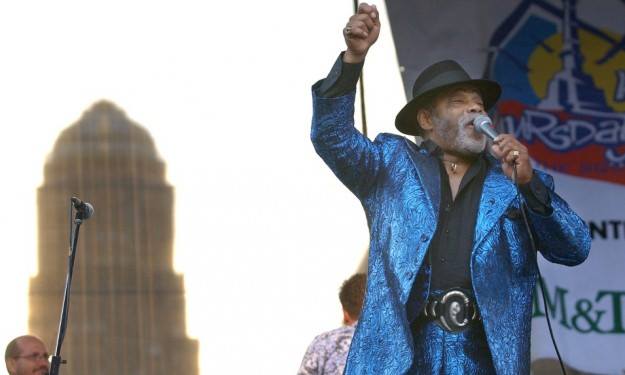 My name is Bryon Federick and I am the producer of
Lancification
 .  
100% of every dollar generated from the album will go to the Lance Diamond Memorial Scholarship Fund.

Now, a little back story...
Many years ago, Lance Diamond approached me, and drummer, Fen Ikner, about working on material for an album of all original songs.  Fen and I jumped at the opportunity. We brought on the talented Ryan McDonough and began writing songs for Lance.  We encouraged Lance to join in the writing process.  
Although resistant at first, Lance eventually began to put pen to paper.  
It wasn't long before he revealed himself to be an extremely creative and talented songwriter.
 It was as if he had decades of songs all pent up inside of him that were finally being released into the world.  
In true Lance fashion, he dubbed the collection of songs, "Lancification."  

Tragically, Lance passed away before he could see his project to fruition. He left this world on January 4, 2015. Not a day goes by that those of us who were lucky enough to work with him do not miss Lance. He was an extremely talented entertainer, songwriter, and most importantly, a great friend. 
For the last two years, I have made it my mission to finish the album that Lance started.
This project has already been a transformational Buffalo story of collaboration and heart.
When I put out a call for help to other musicians, singers, and recording engineers, there was no shortage of people willing to volunteer. Robby Takac allowed us the free usage of his amazing GCR Audio recording studios. Recording engineers like Brad Lauchert, Tony Iannone, and Justin Rose have spent countless hours in the studio ensuring that the album sounds amazing.
And some of Buffalo's best musicians and singers generously donated their time and talent, and are featured on the album.*
Thankfully, we recorded Lance's vocals before his passing. Everything you hear on the album is the way that Lance intended it to be heard.
This project brought Lance extreme joy and pride. I know that he would be beaming to know his fans across WNY and the country are helping to make this possible. He would especially be proud that all funds raised by the album's sale will support the
Lance Diamond Memorial Scholarship Fund
. The fund was created by Lance's family with help from Robby Takac and his Music is Art not-for-profit organization.
The scholarship is designed to provide high school students with funding to further their musical education. We are currently preparing to announce the 2017 recipients of the scholarship.  
You can choose from any of the reward levels listed here, but know that any donation amount can be given.  If we exceed our goal, all extra funds will be donated to the scholarship fund.  
And with your help, Lancification will help to fund that scholarship fund for years to come.
Almost everyone in Buffalo has some kind of connection with or memory of Lance Diamond. It is my greatest hope that this album will allow his voice to sing on forever.  
On behalf of Lance Diamond and everyone involved in this wonderful project, I thank you for your time and donation.  
"Come on y'all, take the ride, everybody must get Lancified!"- Lance DiamondThe Chairman of the Board
*Musicians who graciously donated time and talent to the recording of the Lancification project included: Fen Ikner, Ryan McDonough, Bryon Federick, Rod Bonner, Bobby Jones, Wade Hawkins, Van Taylor, Emile Latimer, Geraldo "GC" Castillo, Eric Wozniak, Mike Ihde, Alan Jaenecke, Joe Parisi, Joey Diggs, Sharon Banks, Vernon Bunch, Michael "Smooth" Gibson,  Joyce Nixon, Melissa Kate, Dolly Durante, Tanya Diona, Sandra Toussaint, and The Old School B Boys. Horns and strings were arranged by Tony Iannone and Richie English, while vocals were arranged by Joey Diggs.  

Organizer